Uniswap is one of the most popular decentralized exchanges in the cryptocurrency ecosystem.
In terms of trading volume and number of users, Uniswap is currently the top Ethereum-based decentralized exchange.
Binance, on the other hand, is one of the most popular centralized cryptocurrency exchanges.
With hundreds of listed cryptocurrencies and very high liquidity, it is the best cryptocurrency exchange for most people.
Well, which one to use? What are the differences between Uniswap and Binance? In this comparison, you can find answers to these questions.
Uniswap vs Binance
Fees
Uniswap has a flat fee of 0.30%. Regardless of your trading volume, trade size, etc., you'll be always charged a 0.30% trading fee when you make a trade on Uniswap.
Binance, on the other hand, has very low trading fees starting from 0.10%. If your trading volume in the last 30 days is above 50 BTC and you have 50 BNB or more in your wallet, you can pay a 0.09% fee for your trades.
But you don't even need to make such trading volume to pay lower fees on Binance. You can simply open a Binance account with a 20% fee discount and/or hold BNB in your wallet to pay fees in BNB.
When you trade on Uniswap, you need to pay transaction fees for each trade since trades are carried out on the Ethereum blockchain through smart contracts.
Before making a swap on Uniswap, you also need to first allow the smart contract to spend your token using the "approve" button, which will again incur a transaction fee.
To calculate Uniswap and Binance trading fees, you can use our Uniswap fee calculator and Binance fee calculator.
If you want to trade on Binance and reduce trading fees, check out the tutorials below:
Trading volume & liquidity
First of all, if you want to trade cryptocurrencies except Ethereum and ERC-20 tokens, there is no liquidity for you on Uniswap.
Uniswap is an Ethereum-based decentralized exchange and used to swap ERC-20 tokens. But there are tokens like WBTC, which is backed by Bitcoin and tracks Bitcoin price.
So you can actually use and trade Bitcoin on the Ethereum blockchain thanks to WBTC.
If you want to trade major pairs like ETH/USDT, LINK/ ETH, etc., you can find enough liquidity on both Uniswap and Binance.
But, if the token/pair you want to trade is not that popular yet, you can first check if that token is traded and there is enough liquidity on Uniswap.
To check the trading pairs and the liquidity on Uniswap, you can refer to this page.
Sometimes the token you want to buy or sell may not be listed on Binance. In that case, you can check if it is traded on Uniswap.
Shortly, Binance is the cryptocurrency exchange with the highest liquidity and Uniswap is its decentralized equivalent. You can use both exchanges depending on your needs.
Security
Binance is a centralized cryptocurrency exchange. So you don't need to worry about securing your wallet and cryptocurrencies.
As long as you set up 2FA on your Binance account and use some common sense, you're safe.
Binance has also a fund for users, aka SAFU, which provides insurance to potential breaches and makes users feel safer on Binance.
But, when you use decentralized exchanges like Uniswap, you are the only one who is responsible for the security of your cryptocurrencies and wallet.
If you are sure about the security of your computer and use popular and safe wallets like MetaMask, chances are you will not face any security problem or the loss of cryptocurrencies.
But the problem is that you can never be sure about the security of your computer, which is connected to the internet and open to threats.
If you have and trade really large amounts of cryptocurrencies, you can get a hardware wallet like Ledger Nano X, which will isolate your private keys in the secure chip and never expose them to the internet and computers.
You can also connect your Ledger wallet to MetaMask and use any Ethereum-based dapps including Uniswap in a much safer way.
Supported cryptocurrencies
As a decentralized exchange powered by smart contracts, Uniswap only supports ERC-20 tokens.
But it does not mean that you can't trade other assets. There are also pegged tokens such as WBTC and renBTC on Uniswap, which are ERC-20 representations of Bitcoin.
To check the top tokens by liquidity and volume on Uniswap, you can refer to this page.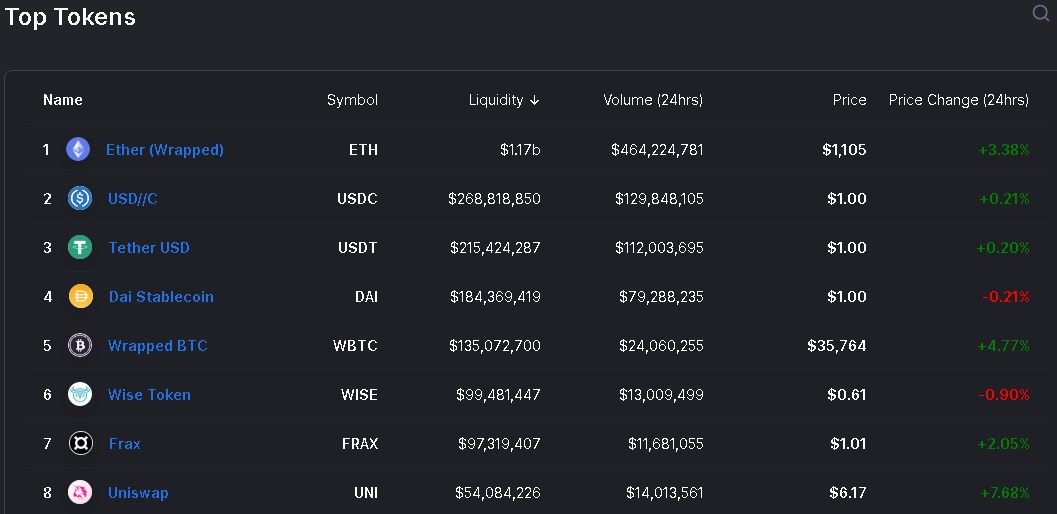 As Binance is a centralized exchange, you can find many cryptocurrencies based on different blockchains in addition to ERC-20 tokens.
Binance has also fiat currencies such as EUR and GBP, which you can't find on decentralized exchanges like Uniswap.
To check all of the supported cryptocurrencies by Binance, visit Binance's markets page.
Conclusion
Binance and Uniswap are the most popular cryptocurrency exchanges and each has various pros and cons.
One is decentralized and utilizes an AMM model and the other one is a centralized exchange working in a much different way.
As Uniswap and Binance are very different at the core and suit different needs, neither one is the winner.
For traders, it is best to make use of both Uniswap and Binance to find more trading opportunities and make profit.
To start using Uniswap, the only thing you need is a cryptocurrency wallet that you can use to access dapps such as MetaMask.
If you want to trade on Binance, you can click this link to open your Binance account with a 20% fee discount and check out our Binance tutorial.