Compound is a decentralized, blockchain-based lending protocol that allows users to earn interest and borrow cryptocurrencies.
The Compound protocol has been integrated into various applications and services such as Argent, Binance, Ledger and Exodus.
The protocol has also its own user interface which can be accessed by clicking on the "app" button on Compound's website.
In this review and tutorial, I will show you how to use Compound Finance and give you information about Compound interest rates and COMP token.
What is Compound Finance?
To put it simply, Compound Finance is basically a DeFi app that allows users to earn interest by supplying cryptocurrencies to the protocol and borrow cryptocurrencies.
But it is much different than P2P lending. The protocol rather consists of liquidity pools to which users can supply Ethereum assets. And users borrow cryptocurrencies directly from those liquidity pools.
Interest rates for lenders and borrowers vary depending on supply and demand in each market and are determined algorithmically.
You can connect your wallet to the Compound Finance app and check out supported ERC-20 assets and interest rates (APY).
COMP token explained
COMP is a ERC-20 token that is used for the governance of the Compound protocol. COMP token holders can vote on proposed changes to the protocol.
The maximum supply of COMP token is 10 million. More than 4 million COMP tokens are already in circulation, which have been distributed to users, team members and investors.
COMP token could also be seen as an incentive as both lenders and borrowers who interact with the protocol receive COMP tokens.
But it is more like distributing COMP tokens to users to allow them to participate in the governance of the protocol rather than a reward.
For more information about the distribution of COMP token, and supply and borrow APys for COMP token in each market, you can refer to this page.
How to use Compound Finance?
Step 1: Connect your wallet to the dapp
First visit the platform and click on the "connect wallet" button located at the top right corner of the page to connect your wallet to the platform.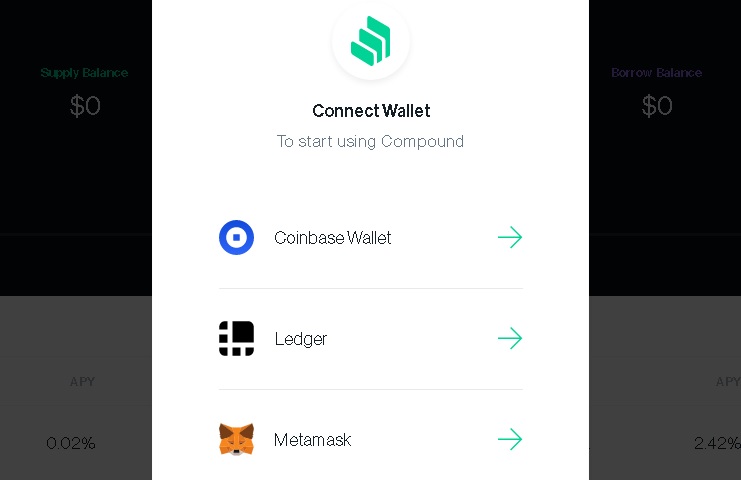 You can use the platform with MetaMask, Ledger and Coinbase Wallet. The safest option for using Compound Finance is Ledger. If you have a Ledger wallet, you can also connect it to MetaMask.
If you will use the platform with MetaMask as most people do, click on "MetaMask" and then choose the MetaMask account that you want to use on Compound and click on the "next" button.
After that, simply click on the "connect" button to connect your MetaMask account to the dapp.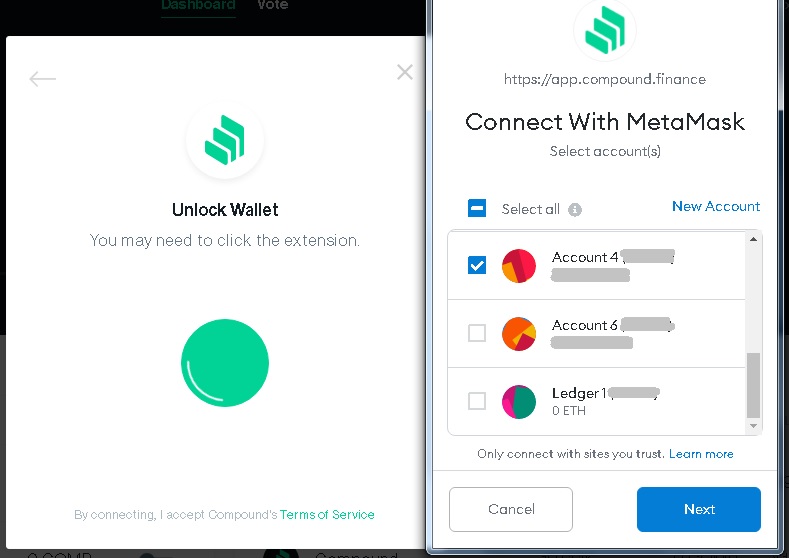 Step 2: Lending and borrowing cryptocurrencies on Compound Finance
Supplying cryptocurrencies to Compound Finance
After connecting your wallet to the platform, you can check out interest rates (APY), which are algorithmically determined based on supply and demand.
For example, if you want to supply a token like Uniswap to the protocol and earn interest, click on that token under the "supply markets".
You will see APYs for both the token you want to lend and COMP token you will receive in return for your participation in the protocol, which can be seen in the image below.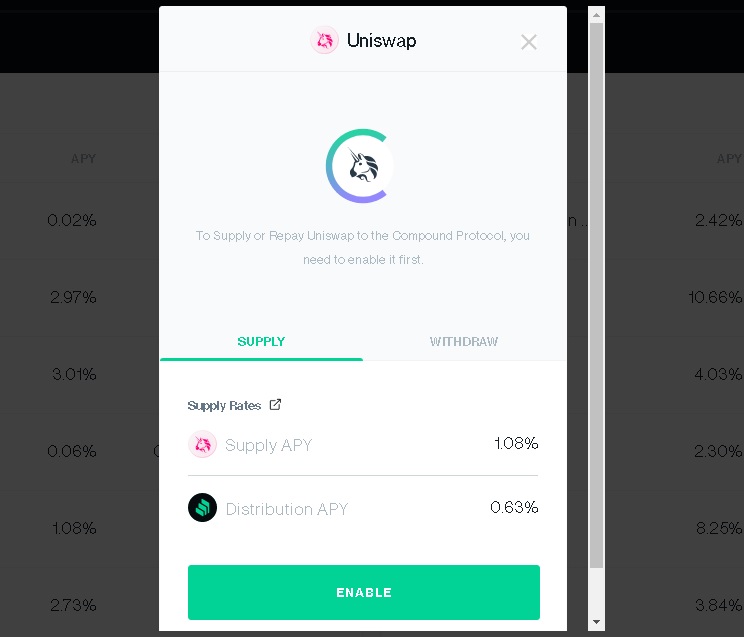 As usual, you first need to enable/approve the token so that the smart contract can spend it.
After enabling the token by confirming a transaction that only requires a transaction fee, you can supply the token to the pool.
After supplying tokens to the Compound protocol, you will receive cTokens such as cUNI which accumulate interest.
You can withdraw the token you supplied to the protocol any time which will redeem your cTokens. By returning your cToken to the protocol, you can get your tokens back along with accumulated interest.
cTokens are also used as collateral to borrow cryptocurrencies from the protocol. So, if you want to borrow cryptocurrencies, you first need to supply a token to the protocol.
Borrowing cryptocurrencies from Compound Finance
To borrow a particular cryptocurrency from the Compound protocol, you first need to supply any other cryptocurrency to the protocol that you will use as collateral.
You will be basically lending your tokens and earning interest, and then locking your cTokens as collateral to borrow cryptocurrencies from the protocol.
When you borrow a token using your supplied assets as collateral, you will still earn interest, but your cTokens will not be redeemable.
For example, let's say you've supplied 100 UNI to the protocol and want to borrow Ethereum. The maximum amount of Ethereum you can borrow will be 60 UNI worth of ETH as the collateral factor of UNI is currently 60%.
Collateral factors for each token in the protocol can be seen on the "markets" page. You can enable an asset to be used as collateral using the toggle button that I showed in the image below.
You can repay a borrow by clicking on the token under "barrow markets" and then "repay". Once you repay a borrow, you can get back your collateral.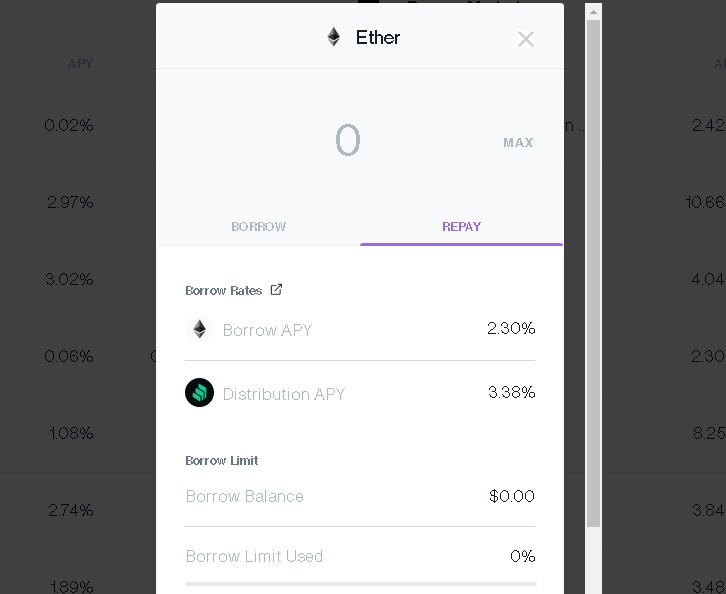 Compound Finance liquidation
If the value of your collateral decreases, or the token you borrowed goes up in value, your borrow balance may exceed the limit allowed by the collateral factor.
In such cases, you can get partially liquidated by other users who can repay a portion of the outstanding loan in order to receive a portion of your collateral.
Compound's liquidation incentive for liquidators is currently set at 8%.
Is Compound Finance safe?
The protocol has been reviewed and audited by various companies such as OpenZeppelin, Gauntlet and Certora so far. It has also a bug bounty program, which you can check out here.
The most used and established dapps such as Uniswap and Compound are usually regarded as safe. And it is much less likely that there is an undiscovered security flaw in their smart contracts.
But it is not always about smart contracts. Price oracle attacks may cause great losses to users too, which have happened to the Compound protocol and other dapps.
So, is Compound safe? It is safe and not safe at the same time, especially considering the very sophisticated attacks in DeFi.
This basically means that you should not play with too much money if you don't understand what kind of risks you might be taking.
Compound Finance is overall one of the best and most popular decentralized lending apps one can use right now. You can start using it with an amount that you can afford to lose.
How to buy COMP tokens?
COMP token is traded on several centralized and decentralized cryptocurrency exchanges.
You can get COMP tokens from Binance, Coinbase Pro and Huobi Global. You can also buy COMP tokens on decentralized exchanges like Uniswap and Mooniswap.
Check out other dapp reviews: