Trezor Model T is one of the best hardware wallets in the market. I'll unbox and review Trezor Model T, and show you how to setup Trezor Model T and compare Trezor Model T, Ledger Nano X and Trezor One.
Trezor Model T – Overview
Trezor Model T is Trezor's next generation cryptocurrency hardware wallet, an evolved version of Trezor One which is the world's first hardware wallet.
Unlike Trezor One, Trezor Model T doesn't have any button, instead Model T has a touchscreen. This important addition means a lot for enhanced security.
With a Trezor Model T, you will never need to type your recovery seed or any other sensitive information on computer keyboards, so you can be sure about leaving no trace on such vulnerable digital environments.
Trezor Model T is overall a very secure and easy-to-use cryptocurrency hardware wallet with its touchscreen and faster processor. Model T supports over 1000 cryptocurrencies and from the hardware to the software, it is fully open source.
Trezor Model T unboxing
Trezor Model T comes in a box that is small enough to fit into the hand.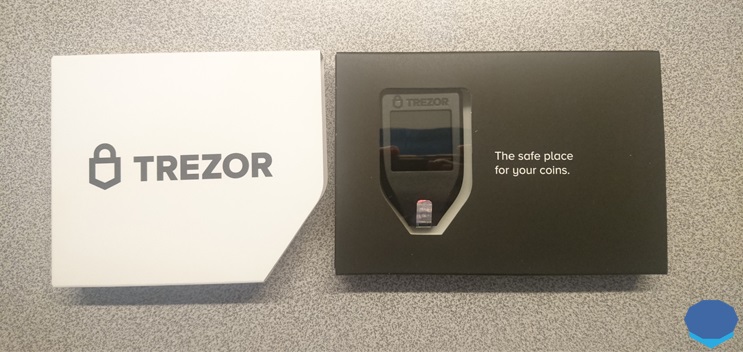 The box includes Trezor Model T wallet, a USB-C cable for connection to a computer or mobile device, a magnetic dock and two sheets of paper for your recovery seed. In addition, you can find Trezor stickers in the box.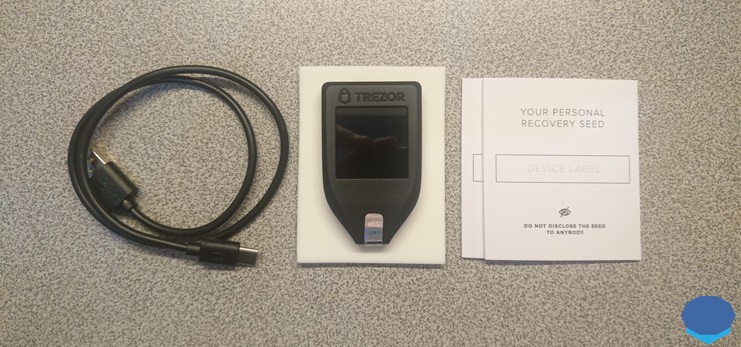 You can use the magnetic dock located just under the wallet to keep the wallet anywhere you want. Once you have removed the tape from the magnetic dock, you can stick the dock anywhere.
However, it is very difficult to remove it as the adhesive is very strong, so you should be sure about the place you are going to stick it.
You can then place your Trezor Model T wallet on magnetic dock as shown on the right photo below.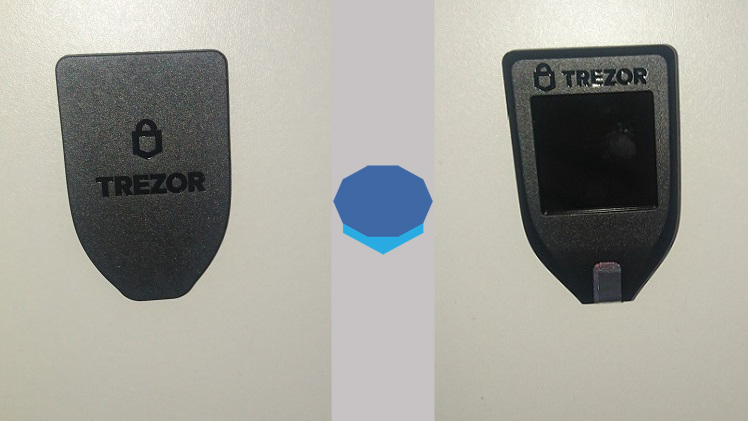 How to install Trezor Bridge? Trezor Model T setup guide
First connect your Trezor Model T wallet to your computer with USB-C cable. To begin the installation, go to trezor.io/start as you can see on the wallet. You can then install the wallet by following the steps below.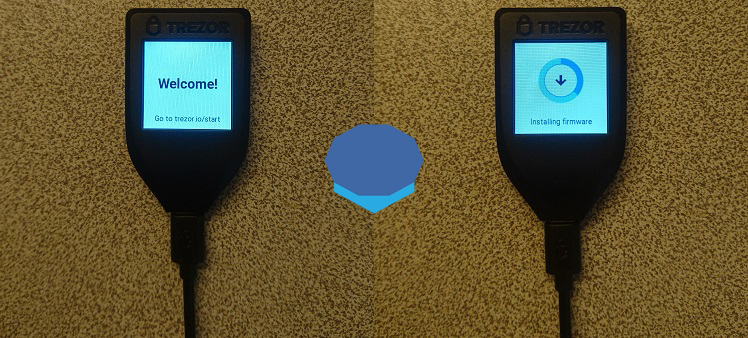 Select Trezor Model T to begin the installation: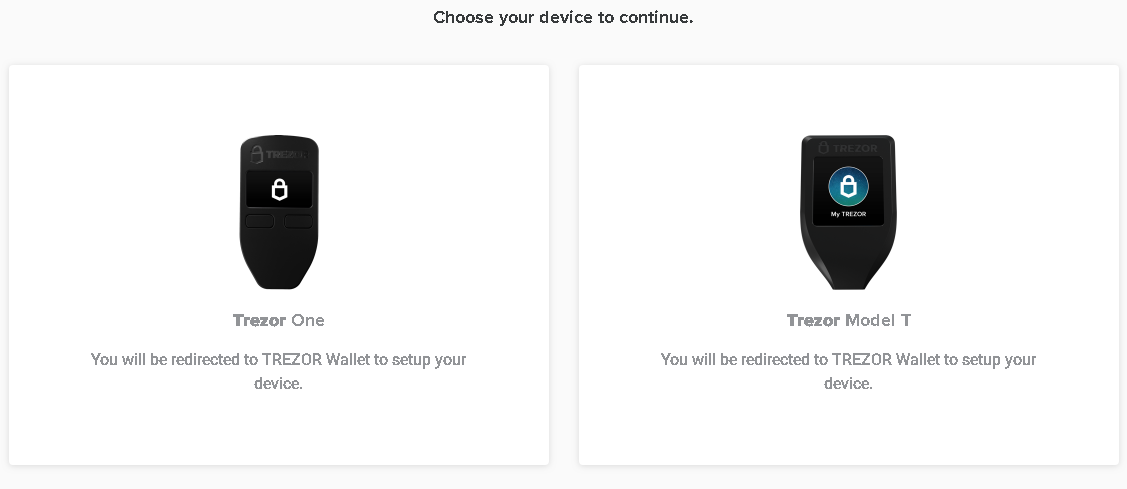 Download Trezor Bridge and install it on your computer. During the installation process, you need to disconnect your device from the computer.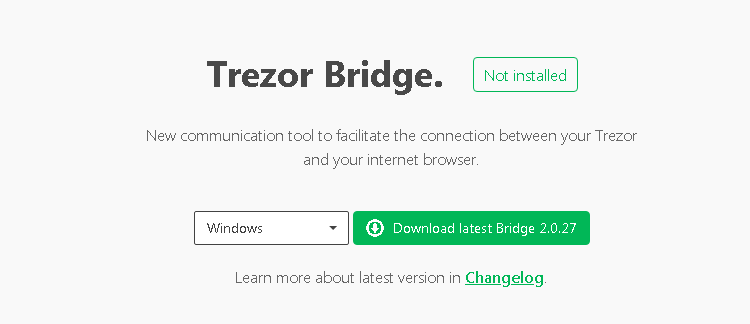 Refresh the page after Trezor Bridge is installed.

Click on the button to install the firmware in your wallet.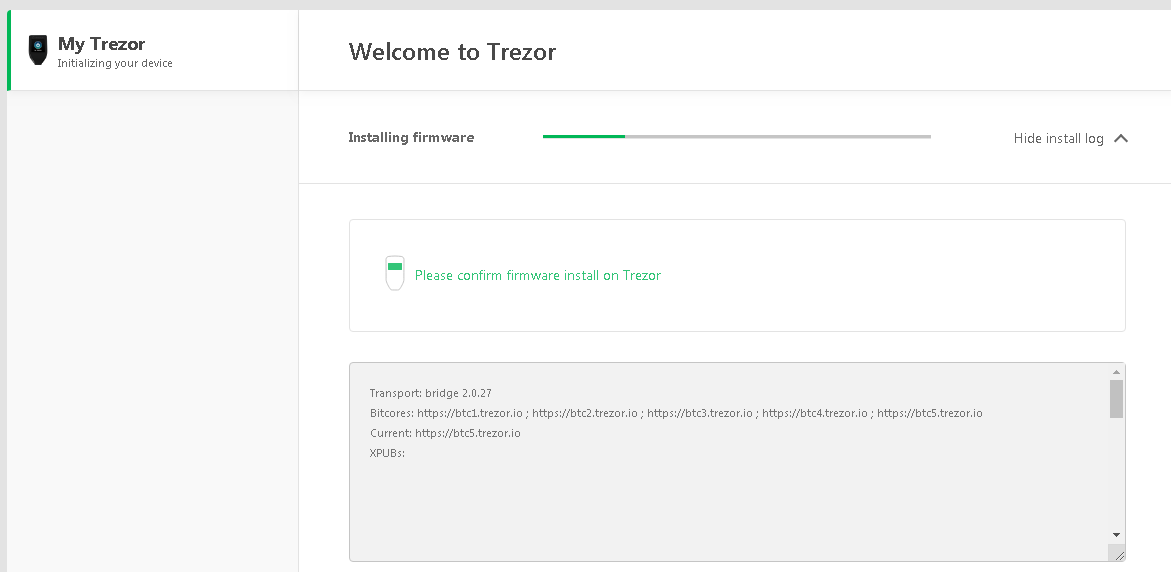 Once the firmware is installed, you can create a wallet by clicking on the "create wallet" button.

After your wallet is created, you can view cryptocurrencies on the left of the page. Now the most important stage is creating a backup. Press 'create a backup in 3 minutes' to start backing up your wallet.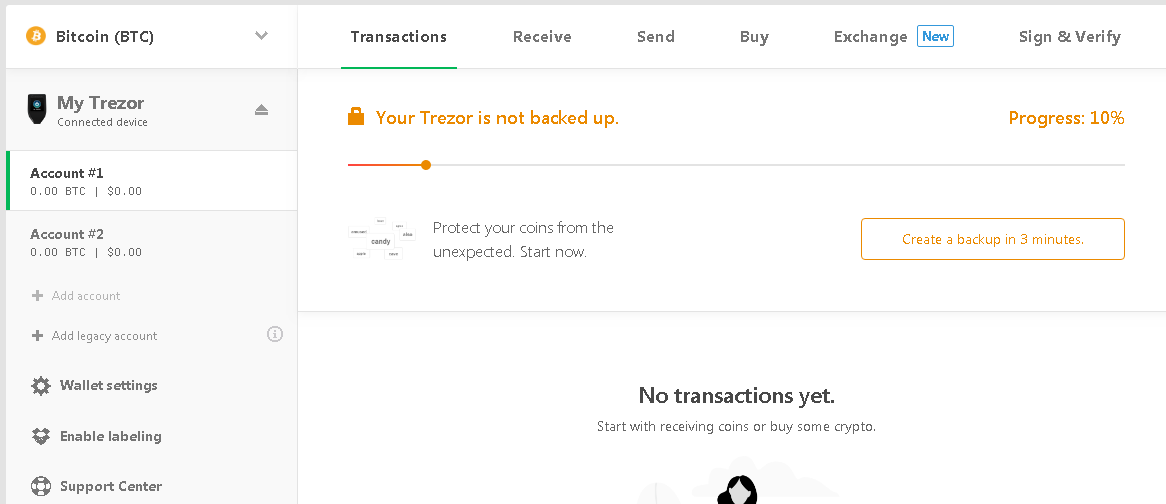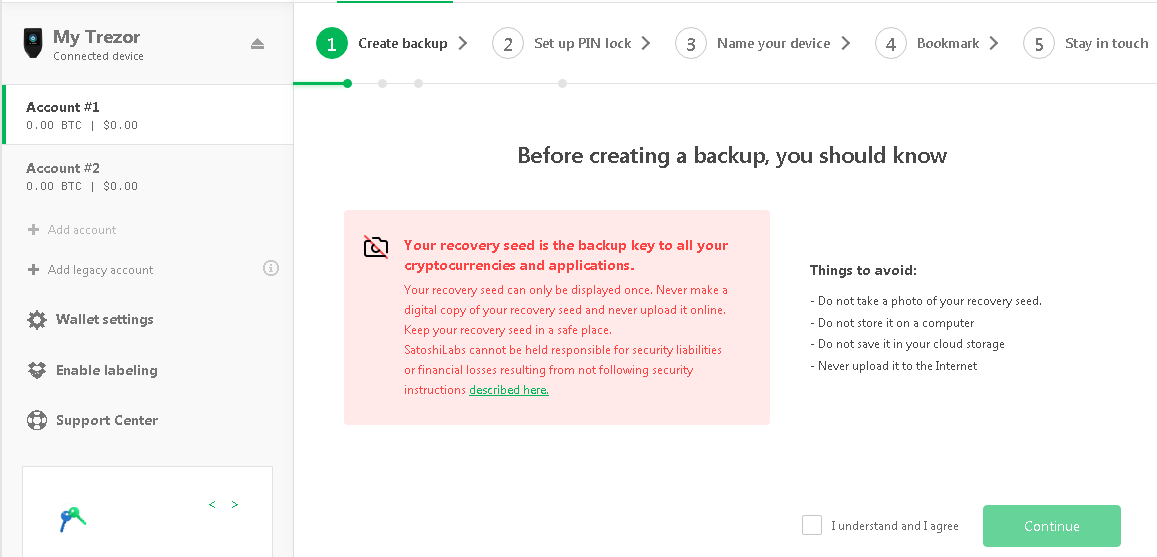 Start the backup key creation process by clicking on 'continue' button. After this step, you will perform many actions on your device. You do not need to enter the backup key on the computer thanks to touchscreen of Trezor Model T. With this feature, Trezor Model T maximizes safety.
Start by pressing the "I understand" button on the screen as follows. Then write down 12 words on a paper by swiping down.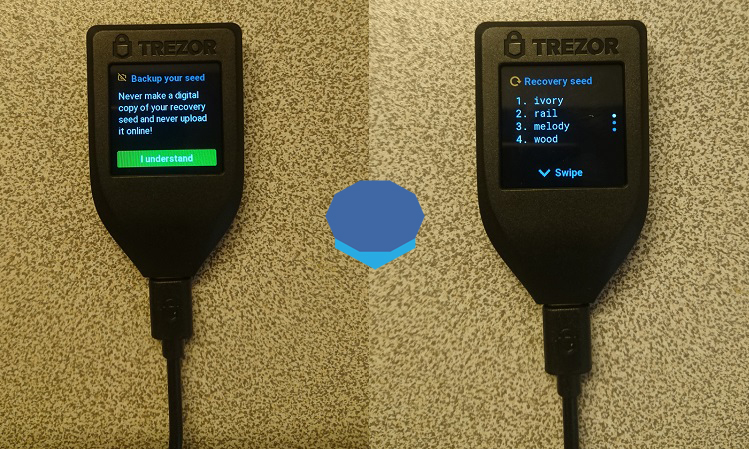 You can then finish the process by creating a PIN code and naming the wallet for extra security.
Trezor Model T supported cryptocurrencies
Trezor Model T supports over 1000 cryptocurrencies. You can store many popular cryptocurrencies such as Bitcoin, Ethereum, XRP, EOS and Stellar on Trezor Model T.
The complete list of coins and tokens supported by Trezor Model T: Trezor supported cryptocurrencies
In the "Wallets" section you can see which sites you can use to manage cryptocurrencies. For example, for Ethereum and ERC-20 tokens, you need to connect your device to Trezor Beta or other wallets such as MyCrypto and MyEtherWallet.
Trezor Model T price
Trezor Model T costs 164 EUR. Depending on the country you live in, there might be a shipping cost and VAT.
If you live in the US, The Model T is shipped with DHL Expedited and there is no shipping cost, so Trezor Model T costs 164 EUR in total for US orders.
You can buy a Trezor Model T on the Trezor's official website.
Is Trezor Model T secure?
The most important feature of Trezor Model T is its touchscreen. Thanks to the touchscreen, you do not need to enter any critical information such as the recovery seed and the pin code on computers which are exposed to many different threats.
As you never enter the recovery seed on a computer, you have no chance of leaving any mark on a vulnerable digital environment. In this sense, Trezor Model T is the best option for a higher security.
Unlike Ledger, hardware wallets produced by Trezor are completely open source from hardware to software. That means everyone can review all the codes any time.
Ledger Nano X vs Trezor Model T
Both Trezor Model T and Ledger Nano X are very secure hardware wallets, produced by very reputable, established companies.
If you are an average user who is interested in cryptocurrencies and wants to buy a secure hardware wallet for storing and transferring cryptocurrencies safely, both of these hardware wallets including other models of these companies, Ledger Nano S or Trezor One, would work for you.
However, if you are interested in dapps such as decentralized exchanges, DeFi apps etc. You may get a Ledger Nano X which is compatible with many decentralized applications.
It is also possible to use Trezor Model T to access and use almost all dapps through MetaMask integration, so both hardware wallets can be used with dapps.
On the other side, Trezor Model T might be seen as the most secure hardware wallet as you will never need to enter any critical information on any devices but Trezor Model T itself.
You can also make use of the passphrase feature to avoid sophisticated attacks on your physical device. So, if you own large amount of coins and want the highest security possible, getting a Trezor Model T would be better option for you.
For more information about Ledger Nano X, check out the Ledger Nano X review:
Trezor One vs Trezor Model T
Trezor Model T is different than Trezor One and other hardware wallets with its touchscreen feature.
There is an obvious hardware level addition to the Trezor's next-generation hardware wallet, Model T, which may make some people prefer Trezor Model T over Trezor One.
You can buy a Trezor One if you prefer a cheaper hardware wallet, but the main problem with Trezor One is that it does not support some big coins such as XRP, EOS, Tezos and Monero.
If you don't mind holding those coins in your hardware wallet, then Trezor One would also work for you.