Coinbase Wallet is one of the most popular mobile cryptocurrency wallets in the market. It is used not only to store cryptocurrencies like BTC and ETH, but also store ERC721 tokens and use dapps.
In this review and guide, I'll show you how to set up Coinbase wallet, store collectibles on Coinbase Wallet and use Coinbase Wallet dapp browser.
What is Coinbase Wallet?
Coinbase Wallet is a mobile cryptocurrency wallet and Web 3 DApp browser. Users can store, send and receive supported coins and ERC-20 tokens on Coinbase Wallet.
Coinbase Wallet is a non-custodial cryptocurrency wallet. Private keys are owned by users and stored on their mobile devices, so users have full control over their cryptocurrencies.
Besides being a cryptocurrency wallet, Coinbase Wallet also allows users to store crypto collectibles (non-fungible tokens) and explore and use dapps on their mobile devices.
Most people use MetaMask to interact with dapps on their browsers. Mobile dapp browsers like Coinbase Wallet make it possible to use a lot of dapps and trade cryptocurrencies and collectibles on mobil devices in an easy way.
In this guide, I'll show you how to install Coinbase Wallet, and use it to explore dapps and buy / sell crypto collectibles.
If you are interested in dapps, you can check out the most popular decentralized exchanges, DeFi apps and blockchain games.
One thing I should mention before getting started is that the dapp browser feature is only available on the Android version. If you have an iOS device, you can still use dapps with Coinbase Wallet through WalletLink.
How to set up Coinbase Wallet?
First you need to get Coinbase Wallet from App Store or Google Play. After downloading it to your mobile device, you can easily setup Coinbase Wallet in just two steps.
Step 1: Click on "create a new wallet" button and accept the terms
Open the app and click on "create a new wallet" button. Continue to the next step by accepting terms and privacy policy. You can also import a wallet with your recovery phrase if you have one.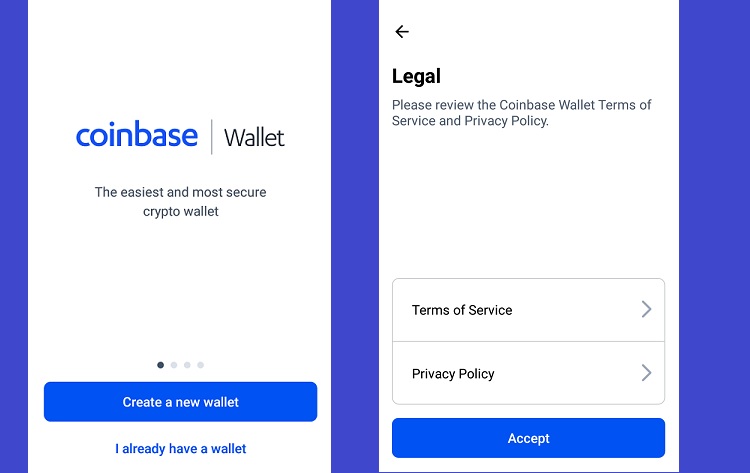 Step 2: Pick a username and a PIN
Pick a username and press enter to continue, then you need to choose a PIN which you will use to open your wallet and confirm transactions.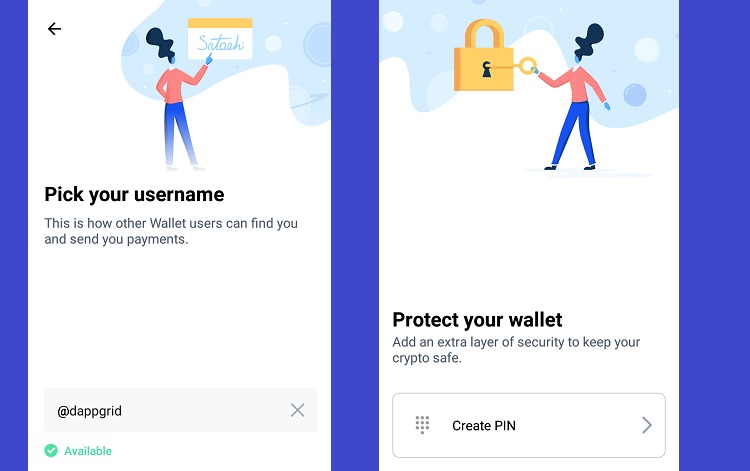 After creating the PIN for your wallet, you are done. You will see a simple user interface where you can check your cryptocurrencies and crypto collectibles.
You can simply explore and use many dapps such as blockchain games, decentralized exchanges and DeFi apps in the dapps tab.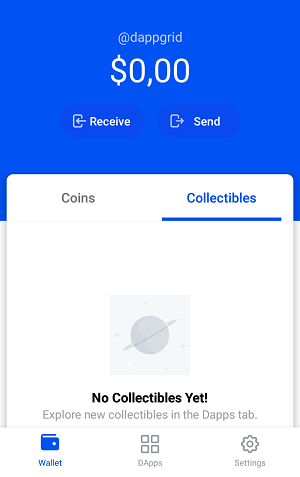 If you lose your mobile device, you need your recovery seed to restore your wallet. This is why it is important to keep it in a safe place.
If you will store large amounts of cryptocurrencies in your wallet, consider getting a hardware wallet like Ledger Nano X, which is much safer than wallets that are connected to the internet.
How to buy crypto collectibles using Coinbase Wallet?
The first thing you need to do before exploring dapps and buying crypto collectibles is sending some ETH or WETH to your Coinbase Wallet.
No matter what kind of dapp you will use, be it a blockchain game or a DeFi app, you always need some ETH in your wallet to at least pay for transaction costs.
You can use various ERC-20 tokens on dapps but most of the time you need ETH, which is also needed to pay gas. You can click on the receive button in your wallet and send some ETH to your Ethereum address.
After getting enough ETH, you can visit a blockchain game under the DApps tab to buy a crypto collectible, or you can try using decentralized exchanges such as 1inch and Uniswap.
Let's purchase Gods Unchained cards from the ongoing presale by using Coinbase Wallet. You can follow a similar logic to try other dapps.
Step 1: Visit the dapp you want to use
After sending ETH to your Ethereum address, click on Gods Unchained which is listed under popular dapps and click on "visit godsunchained.com".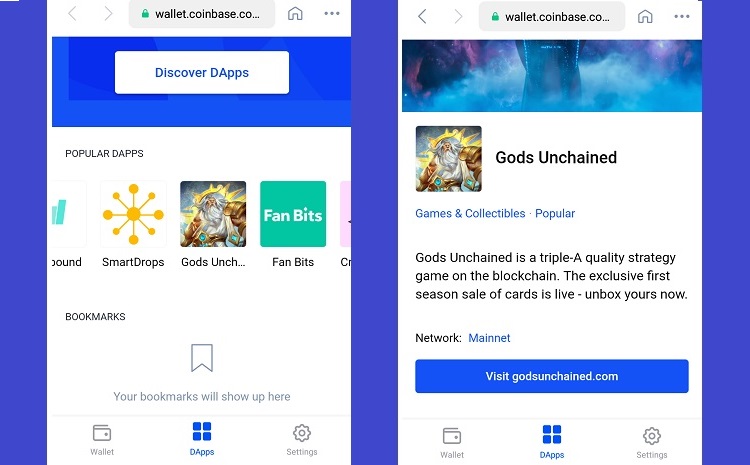 Step 2: Buying crypto collectibles
Find the presale page on the site and click on buy now button. After that, you can select the number of pack you want to buy and purchase it.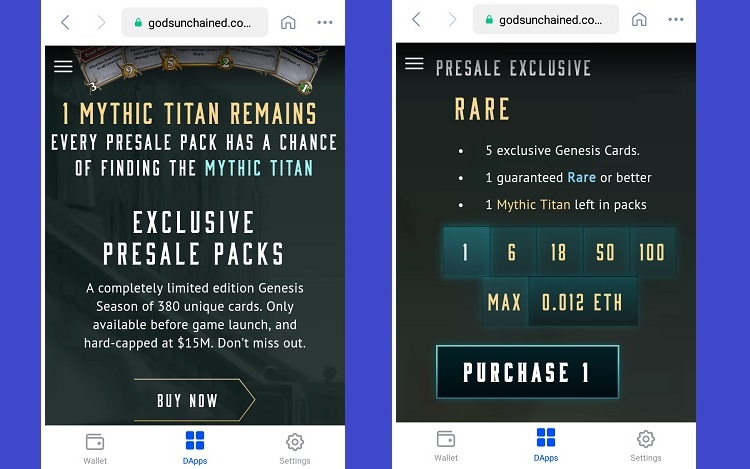 Step 3: Confirm the transaction with your PIN
Step 3- After clicking on the purchase button, you need to confirm your payment with your PIN. This step may make your mobile device a bit laggy, I recommend waiting to see if the transaction is done before trying again.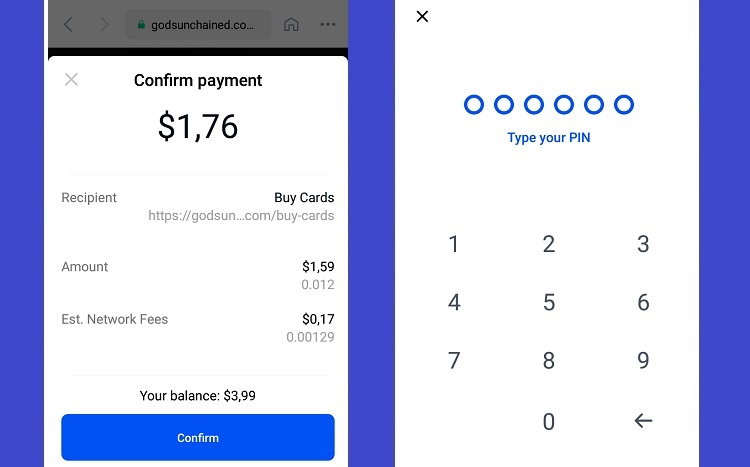 Step 4: Convert your cards into ERC-721 tokens (non-fungible tokens)
After you confirm the payment and buy the cards, you need to convert your cards into ERC-721 tokens through the activation process which you can find in the sidebar menu. That requires gas as well.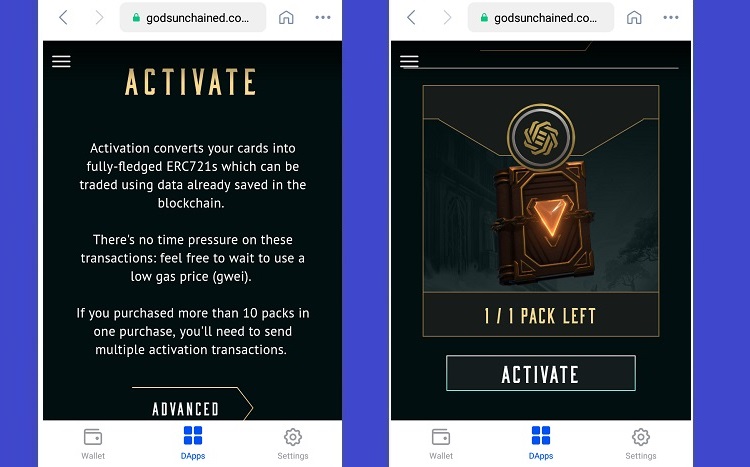 After the activation, you can see your cards, which are now non-fungible tokens on the blockchain, in a single gallery on your Coinbase Wallet: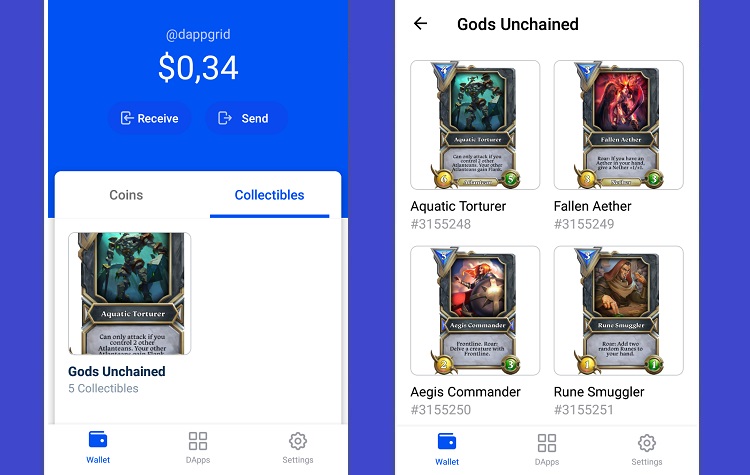 As long as you know about dapp you are using, using dapps with your browser or mobile wallet is not complicated. All you need to do is make transactions and pay gas. Here are some of the most popular dapps you can check out:
How to sell a crypto collectible?
You can sell your ERC-721 tokens on marketplaces for crypto collectibles such as OpenSea, which is the largest digital marketplace for crypto collectibles right now.
If your crypto collectible is very rare, you may not need to do anything except accepting an offer. Collectibles like those of Gods Unchained are automatically listed on OpenSea once they are created and everyone can bid on them.
To sell the crypto collectible you've bought, first visit OpenSea on Coinbase Wallet, which is listed under marketplaces. You can see your items by clicking on "my account" and then on "my items" which can be found under OpenSea icon.
There are two options for selling your items: setting a fixed price or starting an auction. You can also put a bundle of items on sale through the bundle option. The good point is that listing is free, you only pay fees when your collectibles are sold.
You can also check the transactions on Etherscan and see your crypto collectibles on OpenSea by simply visiting the address below in your browser:
https://opensea.io/accounts/pasteyourEthereumaddress
For more detailed information about buying and selling crypto collectibles on OpenSea, you can refer to the guide below. I used MetaMask in the guide below but it does not matter which wallet you use, it is pretty much the same.
How to use dapps with Coinbase Wallet on iOS devices?
If you have an iOS mobile device, you can't access and use dapps on your mobile device through Coinbase Wallet as the dapp browser feature has been removed from the iOS version to comply with the App Store guidelines.
But you can still use many popular dapps on desktop browsers with your mobile wallet by linking your wallet to supported dapps through WalletLink.
WalletLink is an open protocol that acts as a bridge between dapps and mobile cryptocurrency wallets like Coinbase Wallet. You can check out the supported dapps on its website.
Some of the supported dapps by WalletLink are 1inch, Uniswap, IDEX and Kyber. I'll show you how to use 1inch exchange with Coinbase Wallet.
How to use 1inch exchange with Coinbase Wallet?
First visit 1inch exchange in your desktop browser and click on "connect wallet" located on the top right corner of the page.
Tick the box to accept the terms and click on "WalletLink". You will be given a QR code that you need to scan with your Coinbase Wallet to connect your wallet to the dapp.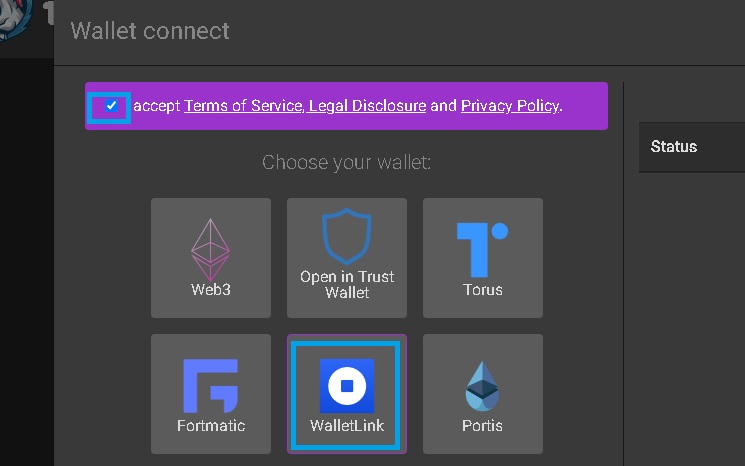 Open the Coinbase Wallet app on your mobile device and click on "WalletLink" on the settings. Now you can scan the QR code on your computer screen.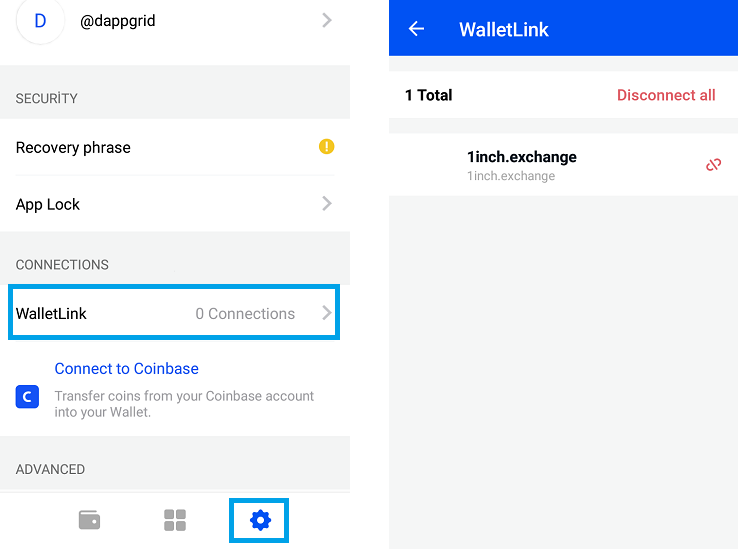 After scanning the code, your wallet will be connected to the 1inch and you can start trading on the exchange.
Check out our Trust Wallet and Ledger Nano X reviews below: