OpenSea is the largest digital marketplace for crypto collectibles (NFTs) and rare digital items.
You can buy and sell non-fungible tokens (NFTs) including ERC721 and ERC1155 assets and discover various digital items on OpenSea.
In this review, we will show you how to buy and sell crypto collectibles on OpenSea, and give you information on OpenSea fees and the auction mechanism.
What is OpenSea?
Founded in November 2017, OpenSea is today the largest marketplace for crypto collectibles and other rare digital items with over 300+ asset types and 10,000,000+ digital assets on the market.
You can buy, bid on and discover crypto collectibles and other assets such as domain names and membership NFTs on OpenSea.
If you have crypto collectibles, aka non-fungible tokens, in your Ethereum wallet, you can also sell them on OpenSea.
Collectibles of many popular blockchain games such as Sorare, CryptoKitties, Gods Unchained and Axie Infinity are available on OpenSea.
OpenSea is not just a good place to trade crypto collectibles, but also a good place to discover many different blockchain games and digital assets.
More importantly, as crypto collectibles are not fungible assets like Bitcoin or Ethereum, users can get an idea about the value of non-fungible assets on OpenSea.
If you are a developer, you can also create your own marketplace for ERC721 or ERC1155 assets on OpenSea.
How to buy and sell on OpenSea
To use and buy/sell crypto collectibles on OpenSea, you need a cryptocurrency wallet that you can use to interact with dapps.
If you have MetaMask installed in your browser, you can use your MetaMask wallet to access OpenSea.
If you have a Ledger Nano X or Nano S Plus, you can connect it to MetaMask and use OpenSea with your hardware wallet, which is a safer way of using dapps.
MetaMask currently supports the cryptocurrency wallets below and various other less popular wallets: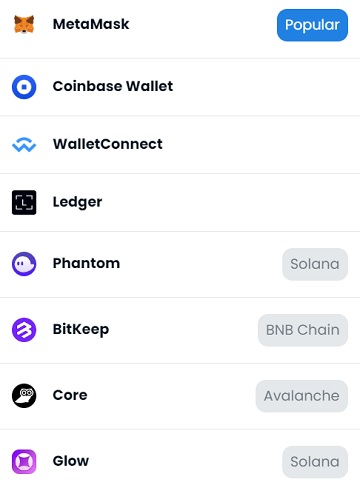 If you don't have MetaMask yet, you can install MetaMask in your browser by following the steps below.
How to install MetaMask
In order to use OpenSea, you first need to install MetaMask in your browser. There are also other wallet options, but the most popular one is MetaMask.
MetaMask is a browser extension which allows users to interact with Ethereum dapps in their browser.
MetaMask is used by many people to access dapps such as decentralized exchanges and DeFi apps. You can also get a Ledger Nano X to use in conjunction with MetaMask for a greater security.
You can simply add MetaMask to your browser from Chrome Web Store or Firefox Add-ons. After adding it to your browser, you can follow the steps below to install your MetaMask wallet:
Step 1: After adding the MetaMask extension to your browser, click on the "create a wallet" button.
Step 2: Choose a strong password for your MetaMask wallet. You will use this password to log into your MetaMask wallet.
Step 3: Back up your seed phrase. You can write it down on a piece of paper or store in a USB flash drive.
Step 4: Confirm your backup phrase and you're all set.
If you remove MetaMask from your browser, you will use your backup phrase to restore your wallet. You can log in to your wallet just by entering the password that you created in the second step.
If you don't know exactly how to use MetaMask, you can refer to our MetaMask tutorial before using OpenSea.
Now it is time to navigate OpenSea while logged in your MetaMask wallet.
But, before that, you should fund your wallet with some Ethereum if you will buy a crypto collectible or any other rare asset.
You can also fund your wallet with some ERC20 tokens like DAI to buy particular collectibles that are listed for sale in DAI or other tokens. If you don't have such token in your wallet, you can simply make an offer with ETH.
If you're interested in buying and selling NFTs in different networks other than Ethereum, you can add those networks to your MetaMask wallet and then fund your wallet with cryptocurrencies of those networks.
How to buy crypto collectibles on OpenSea
After logging in to OpenSea with your cryptocurrency wallet, click on the "browse" tab and choose a category or view all.
You can discover crypto collectibles and other rare items, and buy or make an offer for a particular item.
Some crypto collectibles are sold through an auction mechanism like the one below. If you are the highest bidder at the end of the auction, the payment will be automatically made and you'll receive the asset.
But, if there is a higher bid in the last 10 minutes, the auction is extended by 10 minutes. So, if you really want a particular collectible, you should not just make a bid on and then forget about it.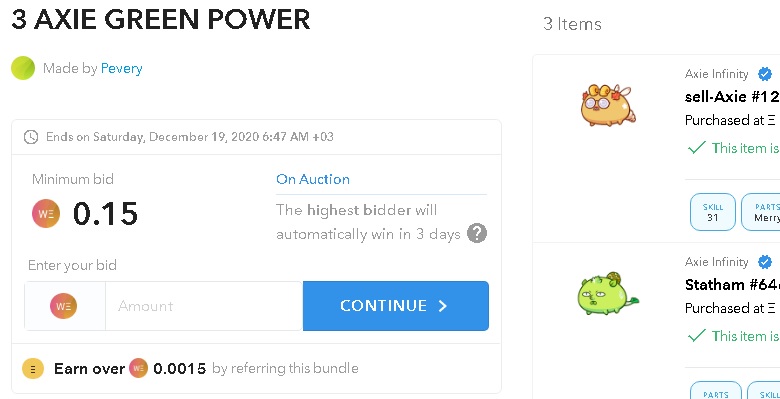 After picking a crypto collectible, click on the "place bid" button. Before making your first offer, you should convert your ETH to WETH.
You also need to allow OpenSea to access your WETH when a sale occurs. These transactions only require gas and will not be required again.
You can make an offer for crypto collectibles that are not even on sale, which is a very good feature for users who can't simply set a price for their items. Besides, you can make an offer for more than one items with the same ETH.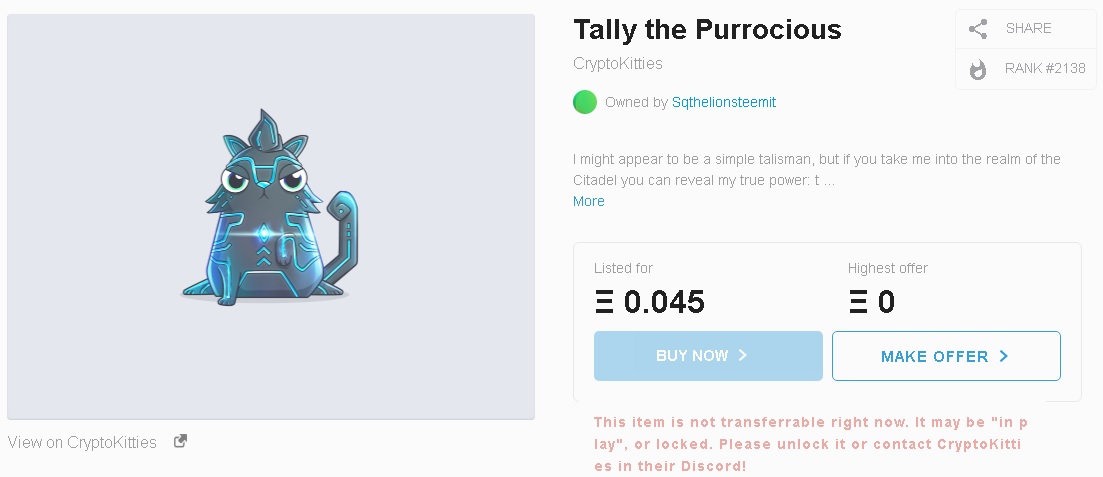 There are also many assets that are sold for a certain price like the Diego Maradona card below. You can just pay the price and get the item.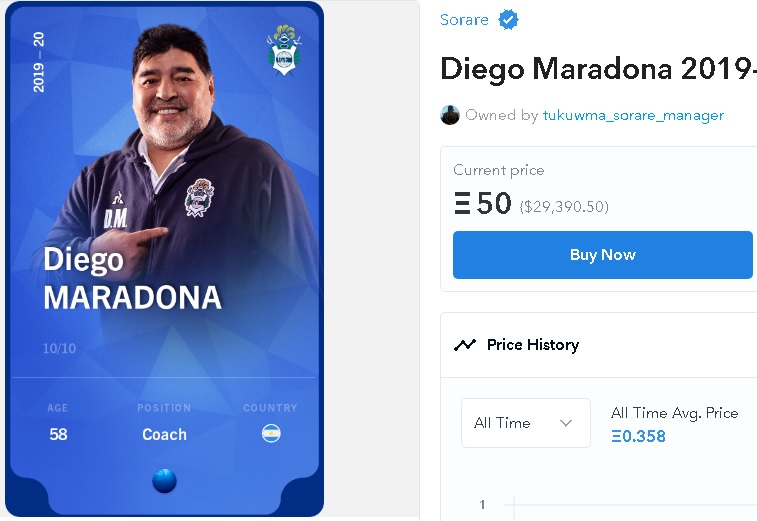 How to sell crypto collectibles on OpenSea – Selling on OpenSea
If you have ERC721 non-fungible tokens in your wallet, you can sell them at a certain price or through auctions on OpenSea.
First log in to OpenSea with your wallet that contains ERC721 tokens and click on "my items" on OpenSea. After that, click on the item you would like to sell and then click on the "sell" button.

You can set a fixed price or use the auction mechanism for your item. If you will set at a certain price for your collectible, you can also include an ending price and an expiration date.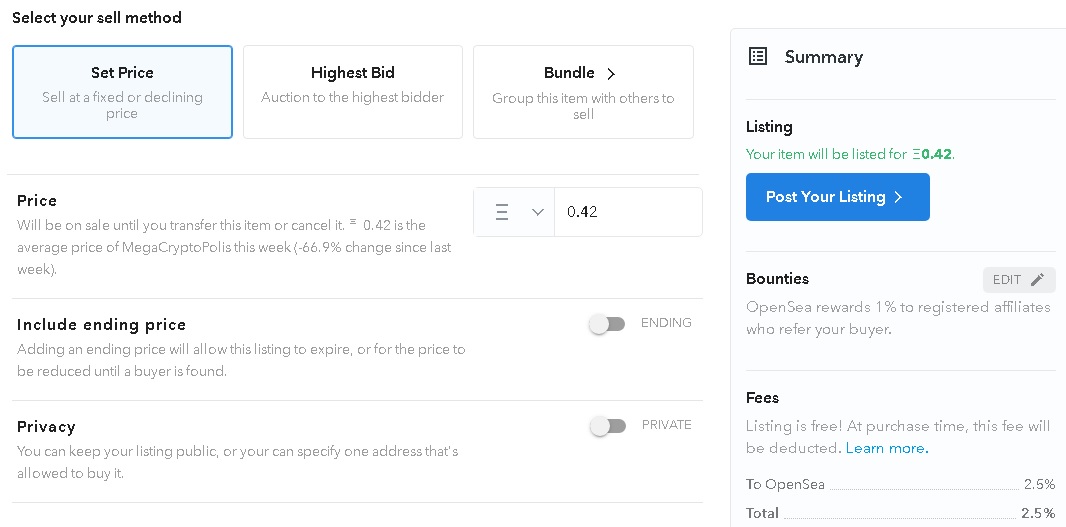 After choosing the method of sale and setting a price, click on the "post your listing" button. You will be required to make two transactions that only require gas before finalizing your listing.
First transaction is required to initialize your account for making sell orders, which only needs to be done once per account.
The second transaction is needed to allow OpenSea (smart contract) to access your crypto collectible that you are putting on sale.
After making these two transactions, with a last signature request, your non-fungible token (crypto collectible) will be listed for sale.
If you think the price you set for your item was too high after listing the item, you can change it without making any transaction.
Also, all assets on OpenSea are biddable, so you don't necessarily need to list your item for sale or price your item.
Besides that, depending on the item, you can continue using some items in games while the auction continues.
OpenSea fees
OpenSea takes 2.5% fee from every successful sale. An additional fee may be taken by the developer of the game as well.
You can check if there is any additional fee on the selling page.