Aave is one of the largest DeFi lending apps that you can use to lend and borrow cryptocurrencies. In this review, I'll give you information on Aave protocol and fees and show you how to use Aave.
What is Aave?
Aave is a decentralized, open-source protocol for lending and borrowing cryptocurrencies. You can use Aave to lend cryptocurrencies and earn interest or borrow cryptocurrencies.
Aave is basically an open protocol that is powered by the smart contracts on the Ethereum blockchain. Anyone can build products on top of the protocol or interact with it for various purposes.
This guide concerns Aave's own user interface and will show you how to use Aave to lend and borrow cryptocurrencies.
You can also find various information on Aave such as Aave fees and supported wallets below.
Aave supported wallets
To start using Aave, you need a cryptocurrency wallet that allows you to interact with dapps.
Aave supports Ledger, Coinbase Wallet, Trust Wallet, Fortmatic, MEW wallet and various browser wallets such as MetaMask.
You can use Aave with mobile wallets such as Trust Wallet through WalletConnect on iOS devices.
MetaMask is the most popular wallet for using dapps. To learn how to set up and use MetaMask, check out the tutorial below.
If you have a hardware wallet like Ledger Nano X, you can also connect it to MetaMask and use dapps in a safer way:
Aave fees
When you borrow cryptocurrencies on Aave, you'll pay a 0.01% fee. For flash loans, this rate is 0.09%.
You also need to pay Ethereum transaction fees (gas) for your transactions.
Is Aave safe? Risks of using Aave
There is basically only one risk except the risk of liquidation while borrowing cryptocurrencies on Aave which is unforeseen bugs.
Any vulnerabilities in smart contracts that have not been discovered yet might result in the loss of user funds if exploited.
But smart contracts of the top DeFi apps like Aave are usually well audited by various companies before going live.
So you should not worry about it much. But you should acknowledge that there are some risks that are associated with using smart contract based apps.
Because of that, you should not put all of your assets in Aave or any other decentralized application.
To avoid liquidation of your collateral after borrowing cryptocurrencies on Aave, you can keep an eye on the health factor which shows the risk of liquidation of your position and repay the loan or add collateral if needed.
How to use Aave?
First log in to your MetaMask wallet on your browser or any other wallet that is supported by Aave, and then visit Aave.
Click "connect wallet" to connect your wallet to the app. To use Aave with MetaMask, click "browser wallet" and confirm the connection on MetaMask.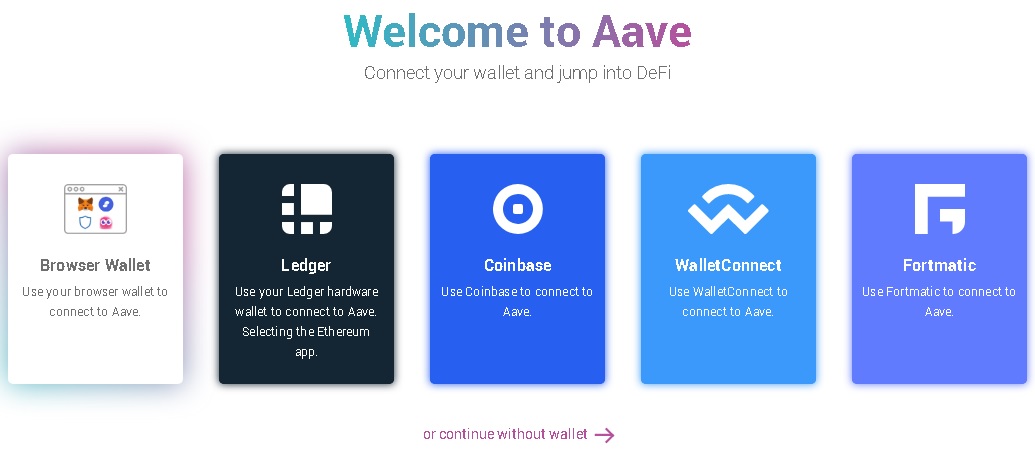 You can check out APYs and APRs of cryptocurrencies on the home page. To start earning interest or borrowing cryptocurrencies, you first need to deposit a cryptocurrency into the platform.
You can see if the cryptocurrency you'll deposit can also be used as collateral on the deposit page.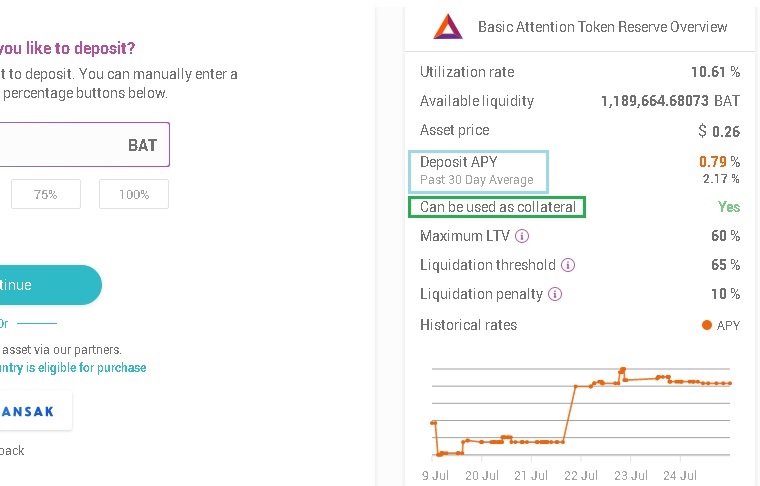 On the deposit page, you can see the cryptocurrencies on your wallet and their APYs. You can deposit them into the platform (the smart contract) by clicking "deposit" and start earning interest.

When you deposit a cryptocurrency into the platform, an aToken such as aZRX, aDAI, etc. is minted that is pegged 1:1 to the cryptocurrency you deposited. They will accrue interest in real time, directly in your wallet.
For more information on depositing and borrowing, you can refer to Aave's FAQ page where you can find detailed information about various topics related to the platform.
Check out other dapp reviews: