Founded in 2014, Poloniex is one of the oldest cryptocurrency exchanges in the cryptocurrency market.
Poloniex today operates under the umbrella of TRON and attracts traders with its revised KYC requirements and newly launched products which I'll talk about in this review.
Before going over Poloniex fees, limits, KYC requirements, etc., let me first sum up the recent history of Poloniex.
As a US based, regulated cryptocurrrency exchange, Poloniex was acquired by Circle in 2018 and continued to operate as a fully regulated exchange.
But, due to the extensive competition in the market, Circle basically gave up Poloniex and with the support of Asian investors including Justin Sun, Poloniex became an independent, international company, leaving US regulations behind.
Today, Poloniex allows users to trade cryptocurrencies and engage in futures trading without requiring KYC and offers a pretty competitive fee structure.
Poloniex fees
Poloniex has very low trading fees compared to most cryptocurrency exchanges and even Binance which has a fee structure starting from 0.1%
The standard fee rate on Poloniex is 0.125%. But, if you hold more than $49 worth of TRX in your account, you'll be paying a fee of 0.0712% for your trades providing that you opt-in to paying fees with TRX.
By holding TRX in your Poloniex account and opting-in paying fees with TRX, you can receive a 25% fee discount on Poloniex. Also, if you register on Poloniex with the code "7LD7U8UZ", you'll get a 10% trading fee rebate for 6 months.
TIER
30 DAY TRADING VOLUME
TRX BALANCE
MAKER / TAKER FEE
TRX

25% OFF

1
< $50K
< $49
0.125% / 0.125%
0.0937% / 0.0937%
2
< $50K
> $49
0.0950% / 0.0950%
0.0712% / 0.0712%
3
$50K – $1M
N/A
0.0850% / 0.0900%
0.0638% / 0.0675%
4
$1m – $10m
N/A
0.0500% / 0.0850%
0.0375% / 0.0638%
You can opt-in to paying fees with TRX on the settings > trading tier status page.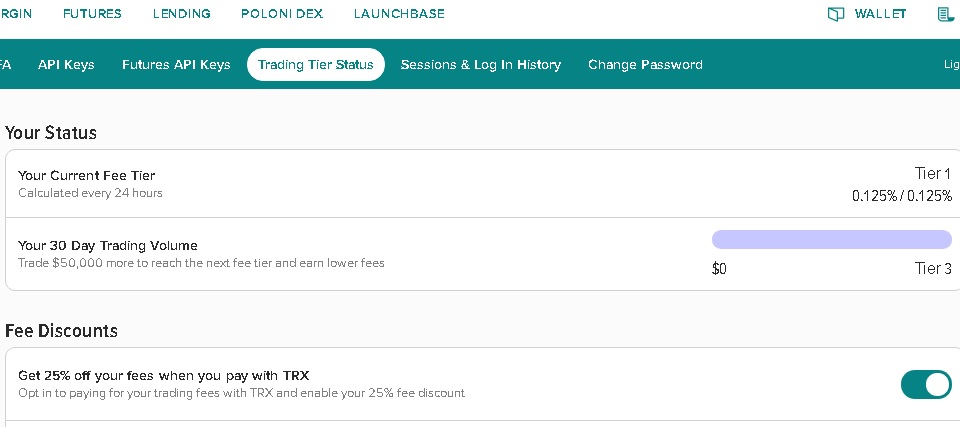 If you want to trade on Binance as well, you can get a 45% fee discount on Binance trading fees through Binance fee discount.
Poloniex futures trading fees
Futures trading fees on Poloniex are -0.026% and 0.075% for makers and takers respectively. The fee structure for futures trading is almost identical to that of BitMEX, which have a fee rate of -0.0250% / 0.0750%.
Poloniex margin trading fees
Margin traders are charged two kinds of fees. One is a regular spot fee I mentioned above. The other one is margin interest fee.
The interest rate for loans on Poloniex is specified in the loan and is paid after positions have been closed.
How to create a Poloniex account?
Step 1: Fill out the registration form
To create your Poloniex account, first visit Poloniex. And enter your email address and password of at least 8 characters in the registration form.
Use the code "7LD7U8UZ" to get a 10% trading fee rebate for 6 months. Click on the "click to verify" button to pass the robot test and tick the box to agree to the terms. And lastly, click on the "sign up" button to create your Poloniex account.
Step 2: Verify your email address
After filling out the registration form and clicking "sign up", you will receive a confirmation email to verify your email address.
Check your inbox and click "verify my email" in the mail to verify your email address. After that, you are all set! You can start trading on Poloniex.
Poloniex limits & KYC requirements
Level 1 verified users, those who verified their email addresses, can withdraw up to $10.000 worth of cryptocurrencies per day and trade futures with leverage up to 10x.
If you need higher limits or want to engage in margin trading on Poloniex, you can verify your identity by providing your name, address and phone number and enjoy higher limits, margin trading and 100x leverage.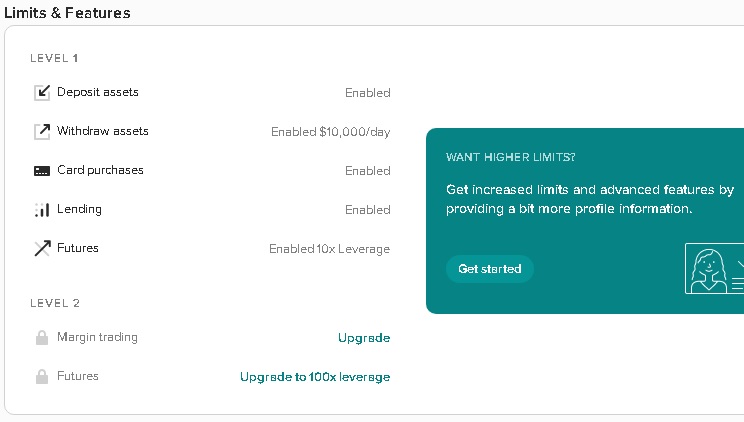 Trading on Poloniex
You can engage in various trading activities on Poloniex. Besides spot trading, the platforms also supports margin trading and futures trading.
There are mainly TRX/crypto, BTC/crypto and stablecoins/crypto pairs on Poloniex besides a few other altcoin pairs.
The platform is also available on App Store and Google Play, so you can trade on Poloniex from your mobile phone as well.
To start trading on Poloniex, you can deposit any of the supported cryptocurrencies into your Poloniex wallet.
Poloniex supported cryptocurrencies
Poloniex currently supports a wide variety of coins and tokens, and after being no longer bound by US regulatory framework, they seem to speed up the listing of new cryptocurrencies.
Poloniex supports various altcoins such as Ethereum, XRP, TRON, Cosmos and LINK and various stablecoins such as USDT, USDC and DAI.
You can view all of the supported cryptocurrencies on the platform or CoinMarketCap.
Poloniex futures trading
You can trade USDT-collateralized Bitcoin perpetual futures on Poloniex. The platform allows users to trade futures with leverage up to 100x.
But, if you have not done identity verification on Poloniex, you can only trade futures with 10x leverage maximum. To increase this limit, you need to verify your account to Level 2.
Futures trading on Poloniex is similar to Binance Futures, if you have not traded cryptocurrencies with leverage yet or want to learn more about futures trading, you can check out our guide to Binance Futures
Poloniex lending
Poloniex allows users to lend their cryptocurrencies to other users who want to trade on margin on the platform. You can go to the lending page and offer your cryptocurrencies as a loan to margin traders.

To offer a loan, you need to enter the amount of coin you want to offer as a loan, the duration as well as the rate. If you offer a loan at low rates, there is a higher chance that it will be picked up by margin traders.
If you do want to lend your cryptocurrencies on Poloniex, you can refer to this guide for detailed information and risks.
Poloni DEX
Poloni DEX is Poloniex's decentralized exchange based on the TRON network, just like Binance's Binance DEX which is based on the Binance Chain.
Poloniex acquired TRXMarket in 2019 and rebranded it to Poloni DEX. Poloni DEX is a TRON-based decentralized exchange with zero trading fees.
Poloni DEX is currently one of the top TRON-based decentralized exchanges by volume. We have not reviewed Poloni DEX yet, but if you are interested in trading on decentralized exchanges, you can check out our reviews of Ethereum and TRON based DEXes.
Check out other cryyptocurrency exchanges: