Changelly PRO is Changelly's custodial exchange platform that allows users to engage in spot trading and margin trading. Launched in July 2020, the platform offers traders a competitive fee structure and 24/7 live support.
If you want to trade cryptocurrencies and view order books, graphs, etc. instead of doing quick swaps on Changelly, you can try using Changelly PRO.
In this review, I will give you various information about Changelly PRO such as fees, supported coins and limits which will help you get started with the platform.
Changelly PRO fees
In comparison with most other cryptocurrency exchanges, Changelly PRO has very low trading fees.
Users who haven't gone through the account verification process are called "starter" and charged a fixed fee of %0.1 for their orders regardless of their trading volume.
After completing the KYC process, users can enjoy lower trading fees depending on their trading volume on the platform. The fee structure for "trader" and "pro" accounts are as follows:
Level
30-days Trading
Volume(BTC)
Maker Fee
Taker Fee
1
≥ 0 BTC
0.1%
0.1%
2
≥ 50 BTC
0.09%
0.1%
3
≥ 500 BTC
0.08%
0.1%
4
≥ 1500 BTC
0.07%
0.1%
5
≥ 4500 BTC
0.07%
0.09%
6
≥ 10000 BTC
0.06%
0.08%
For withdrawal fees, you can refer to this page. While trading fees are rarely updated on cryptocurrency exchanges, withdrawal fees are always subject to change and might be quite high sometimes depending on the network congestion.
Changelly PRO supported coins
Changelly PRO has a wide variety of markets and supports many popular cryptocurrencies. Some of the supported cryptocurrencies are Ethereum, Ripple, Cardano, DigiByte, ZCoin, Steller and Horizen.
The platform also supports various stablecoins. You can trade on the platform with USDT, DAI, TUSD and USDC. For all of the supported cryptocurrencies, you can visit the platform.
Changelly PRO limits & KYC
After you create your account on Changelly PRO, you will have a daily withdrawal limit of 1 BTC and a monthly withdrawal limit of 5 BTC. And, regardless of your trading volume, you will always be charged a %0.1 trading fee for your trades.
To increase your limits and enjoy lower fees providing that your trading volume exceeds 50 BTC, you can complete the KYC process which will ask you for personal information, residential address, proof of identity and a selfie.
For those who have completed the identity verification process, the withdrawal limits are 50 BTC daily and 500 BTC monthly.
How to trade on Changelly PRO?
To start trading on Changelly PRO, you first need to deposit cryptocurrencies into your exchange wallet. You can deposit cryptocurrencies into your wallet by clicking on the deposit located at the top right corner of the page.

You can also alternatively buy cryptocurrencies using Changelly's classic platform through various payment methods such as bank / credit card and Apple Pay.
After funding your wallet, you can start trading cryptocurrencies on the trading page. Changelly PRO has a very simple and clean user interface as you can see below, so you will have no difficulty trading cryptocurrencies on the platform.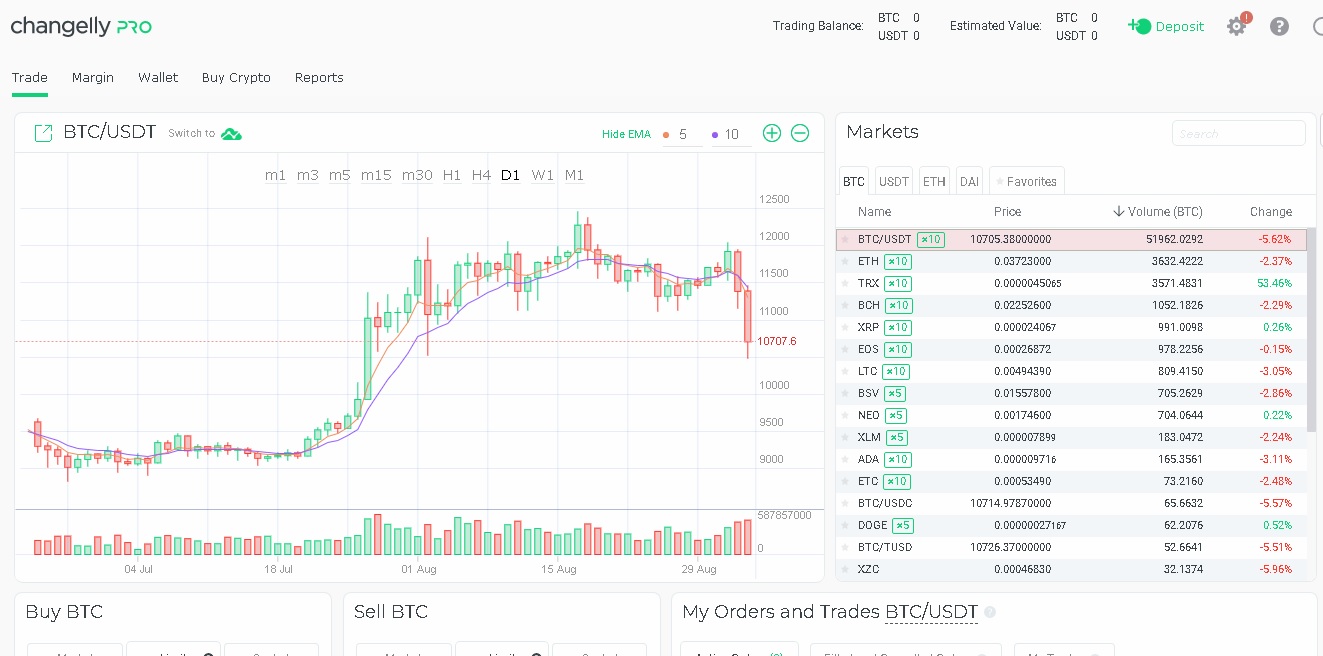 Is Changelly PRO safe?
Changelly PRO is a new and different trading platform. Unlike the classic Changelly platform, Changelly PRO functions as a custodial cryptocurrency exchange with order books and fees that vary based on users' trading volume.
As Changelly PRO is quite a new platform, the right question would rather be that is Changelly safe? Changelly serves cryptocurrency users since 2015 and it has been one of the most popular and trusted platforms for instant cryptocurrency exchange.
A lot of cryptocurrency exchanges and wallets such as Binance, Coinomi, MyEtherWallet and Trezor use Changelly to provide their users with a new exchange option or allow them to exchange cryptocurrencies right in their wallets.
Changelly is an overall trusted and established exchange platform and its new platform, Changelly PRO, which offers very low trading fees, is likely to be trusted and used by a lot of traders.
While Changelly PRO can be considered a safe exchange, there are also some security measures that need to be taken by users such as enabling 2FA, whitelisting withdrawal addresses and using a strong password.
By utilizing these security measures on your Changelly PRO account, you can increase your account security to a great extent.
Check out other cryptocurrency exchanges: