What is PancakeSwap? PancakeSwap is yet another DeFi app that allows users to exchange tokens, provide liquidity and earn fees, and engage in farming.
But PancakeSwap is not a random DeFi app. PancakeSwap is built on Binance Smart Chain and currently the number #1 dapp on Binance Smart Chain by volume and users.
What you can do on PancakeSwap? You can trade BEP20 tokens, provide liquidity to the exchange to earn fees and CAKE tokens, stake CAKE to earn SYRUP (SYRUP holders earn CAKE) and last but not least stake SYRUP to earn tokens of other projects.
Update (Nov 5, 2020): An issue has been discovered in the SYRUP smart contract few days ago and SYRUP will no longer be used. You can now stake your CAKE to earn CAKE and tokens of other projects.
Trading on PancakeSwap – How to buy CAKE tokens?
CAKE token is currently traded on Binance and PancakeSwap. You can buy CAKE tokens directly from Binance and send them to a wallet supported by PancakeSwap to stake your CAKE tokens on PancakeSwap.
You can also connect your wallet to PancakeSwap and buy CAKE tokens with your BEP20 tokens such as BNB, BUSD and BTC on the exchange.
PancakeSwap fees
Similar to other decentralized exchanges (AMMs) such as Uniswap, Mooniswap and SushiSwap, those who provide liquidity to PancakeSwap get LP tokens and earn a portion of trading fees. Liquidity provider tokens are called FLIP on PancakeSwap.
The trading fee on PancakeSwap is 0.2%. 0.17% goes to liquidity providers and the rest, 0.03%, goes to PancakeSwap Treasury which are burnt.
PancakeSwap supported wallets
PancakeSwap supports MetaMask, Trust Wallet, TokenPocket, MathWallet and WalletConnect. You need to set up MetaMask for Binance Smart Chain to be able to make transactions on PancakeSwap using MetaMask.
WalletConnect allows users to connect their mobile wallets such as TrustWallet to dapps. When I tried using PancakeSwap, WalletConnect option didn't work for me on Trust Wallet.
But I'd used PancakeSwap and staked CAKE and SYRUP tokens on mobile using the dapp browser of Trust Wallet. If you have Trust Wallet installed on your mobile device, it could be much easier to use PancakeSwap on mobile.
CAKE token distribution
You can earn CAKE tokens by being a liquidity provider or staking your CAKE tokens. The current emission rate and distribution mechanism of CAKE are as follows:
Emission rate
Reward per block — 25 CAKE (It was 40 CAKE before and has been decreased to 25 CAKE.)
Daily emission (Based on 30k blocks per day) — 750,000 CAKE per day
Distribution
Farmers — 60% of the rewards per block (15 CAKE)
CAKE holders — 40% of the rewards per block (10 CAKE)
Farmers daily — 450,000 CAKE (based on 30k blocks per day)
CAKE holders daily — 300,000 CAKE (based on 30k blocks per day)
These rates may change again with governance proposals. You can also participate in the governance of PancakeSwap by creating proposals and voting on existing ones.
How to stake CAKE?
To stake CAKE tokens, you first need to transfer CAKE and some BNB to a wallet that is supported by PancakeSwap. You should transfer some BNB to your BEP20 (Binance Smart Chain) address to pay transaction fees.
To stake CAKE, click on the "staking" tab on PancakeSwap and then click on the "unlock" button to unlock your wallet if you've not connected your wallet to the dapp yet. You first need to approve your CAKE token to the dapp. After that, you can stake your CAKE tokens.
Transaction fees on Binance Smart Chain is extremely cheaper compared to Ethereum. You'll not be paying few dollars for every transaction, so you can enjoy DeFi on Binance Smart Chain without a second thought.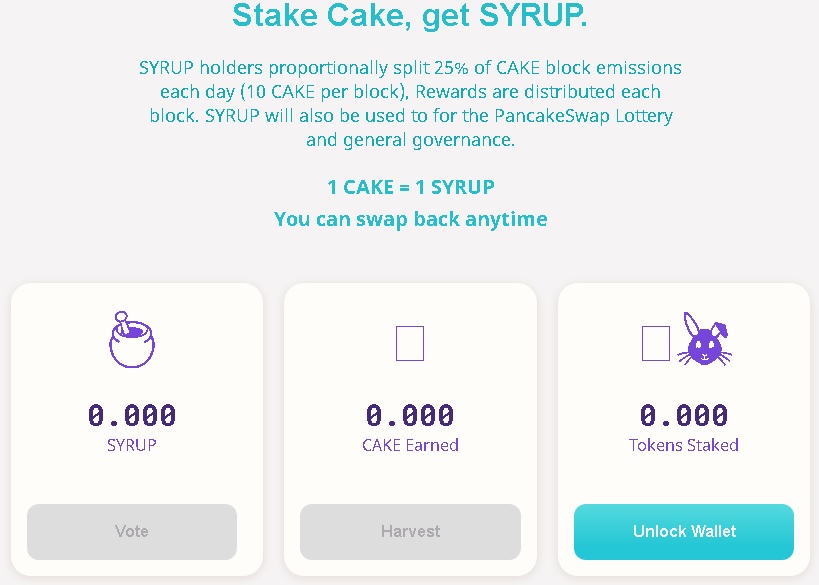 By staking your CAKE tokens in the CAKE pool, you can earn more CAKE, or you can go for other tokens such as TWT. Distributing CAKE to all of the pools is an option too.
How to stake SYRUP?
Update (Nov 5, 2020): SYRUP has been discontinued due to an issue in the smart contract which rendered SYRUP useless now. You should not buy SYRUP tokens. You can stake CAKE to earn CAKE or other tokens.
Staking CAKE tokens allows you to get SYRUP tokens and earn CAKE tokens. You can also stake your SYRUP tokens to earn tokens of other projects built on Binance Smart Chain.
You can currently stake SYRUP to earn ALPHA, TWT and XVS tokens. You can view the APY rates of SYRUP pools after connecting your wallet to the dapp.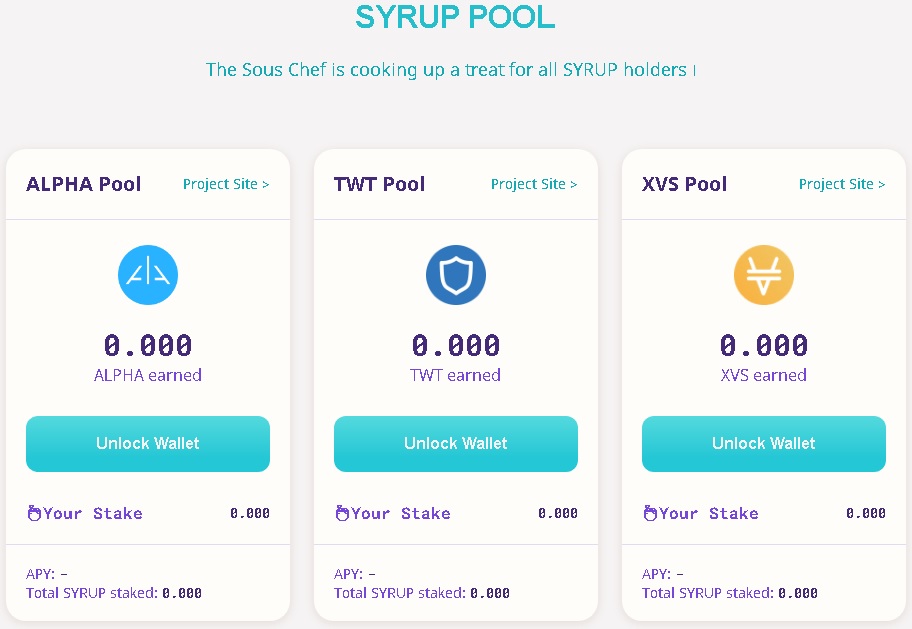 Adding liquidity to PancakeSwap pools
You can add liquidity to PancakeSwap pools to earn trading fees and CAKE tokens by staking your FLIP tokens (LP token). You can add liquidity to PancakeSwap pools on the "exchange" tab.
But you should first check out the pairs on the "farm" page to see which pool is the best for farming CAKE tokens. The reward multiplier amount for CAKE/BNB pair is 20x and currently the highest.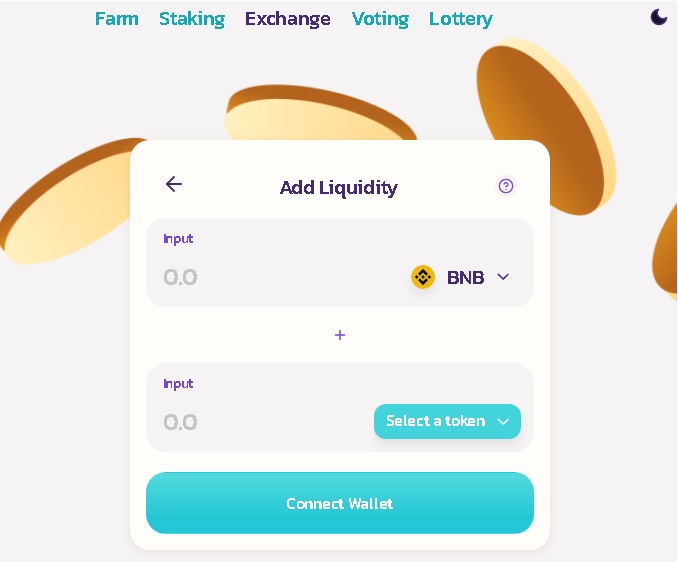 When you provide liquidity to PancakeSwap pairs, you will get FLIP tokens and earn trading fees (0.17%). After providing liquidity to a pair under the "farm" tab, you can stake your FLIP tokens on the same page and earn CAKE tokens in addition to trading fees.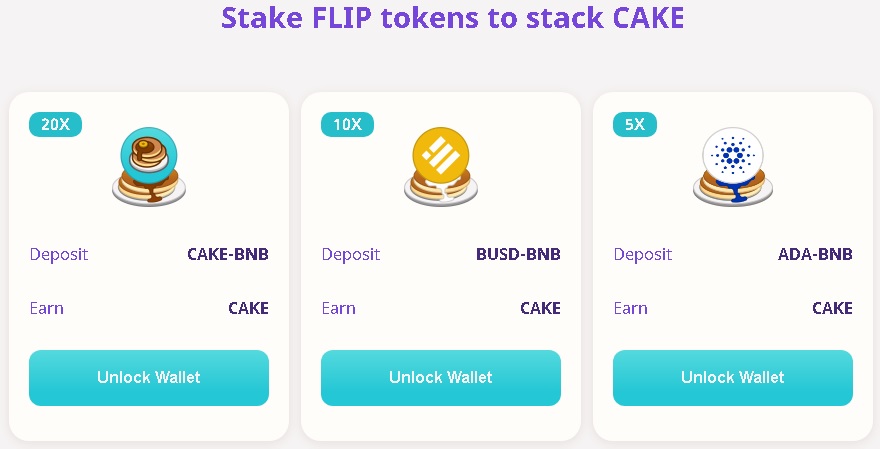 Check out other decentralized exchange reviews: