Kyber is one of the most popular Ethereum-based liquidity protocols. In this review, I'll show you how to trade on KyberSwap and give you information about Kyber fees and KNC staking.
What is Kyber Network?
Kyber is a blockchain-based liquidity protocol that aggregates liquidity from various sources into a single pool and allows users to swap tokens at the best prices.
As a liquidity infrastructure, Kyber is also used by dapps, wallets, exchanges and websites to provide their users with the ability to swap tokens instantly in a trustless way.
What is KyberDAO? Staking KNC to earn voting rewards
KyberDAO is a decentralized autonomous organization for the governance of Kyber Network. It allows KNC (Kyber Network Crystal) holders to stake their tokens in the KyberDAO and vote on proposals related to the protocol and earn rewards in ETH.
There is no minimum or maximum limit for the amount of KNC that can be staked in the DAO. You can stake any amount of KNC to earn staking rewards.
But, it may not make sense to stake small amounts of KNC to earn rewards considering the transaction fees you'll pay for staking, and voting every two weeks.
You can also earn rewards for your KNC holdings through third party apps. For example, Binance distributes KNC staking rewards to its users based on their KNC balances.
To stake your KNC in the DAO and start voting on proposals and earning rewards, first visit Kyber.org, and connect your wallet to the platform. After that, you can simply stake your KNC by clicking the stake button located at the top right corner of the page.
KyberSwap fees
KyberSwap is Kyber's own user interface for token swaps. It is also available on mobile platforms. You can use KyberSwap to swap 70+ tokens from your own wallet instantly and create limit orders.
The fee rate for successful limit orders on KyberSwap is 0.10% and the gas is included in the fee.
If you have more than 2000 KNC in your wallet, you can trade without paying trading fees on KyberSwap which is limited to 10 orders per day.
If you want to simply swap tokens at the provided rates, you'll not pay any trading fees. Kyber does not charge trading fees on token swaps. You'll only pay transaction fees for your orders.
How to trade on KyberSwap?
To trade on KyberSwap, first visit KyberSwap. And, connect your browser, mobile or hardware wallet to the platform.
KyberSwap supports MetaMask, Ledger, Trezor, Torus, Coinbase Wallet and WalletConnect. You can also use KyberSwap with your keystore file or private key, but it is not a secure method of accessing dapps.
After connecting your wallet to the platform, choose the pair and enter the amount of token you want to swap. The amount of the token you want to swap to will be automatically determined by Kyber.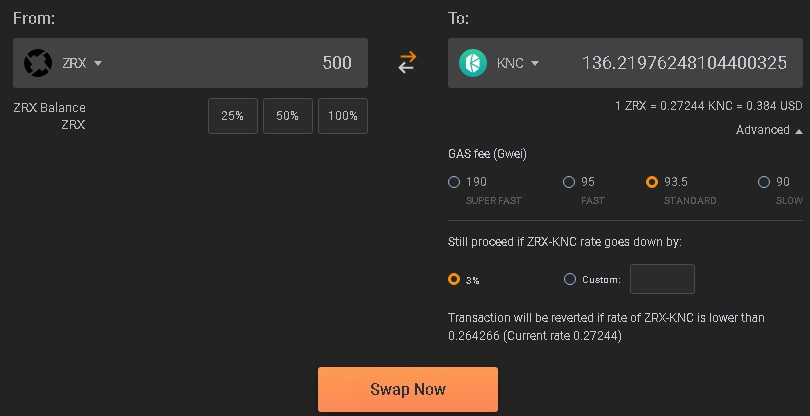 You can adjust gas fee and set a custom maximum slippage rate. To swap tokens, you first need to approve the token you want to swap after clicking "swap now", which is required for KyberSwap to spend the token.
After that, you can swap tokens by confirming the transaction on MetaMask or any other wallet you are using.
Make sure you check out the gas fees on MetaMask before approving the transaction, sometimes transaction costs for a specific order might be too high and you may not want to finalize the transaction or may prefer an alternative.
KyberSwap limit order
Instead of swapping tokens at the available rates, you can also create limit orders on KyberSwap. But, you need to register on KyberSwap to be able to create limit orders.
After creating your account on KyberSwap, click "limit order" and you'll see a page with various trading pairs and a graph showing the price fluctuations of pairs.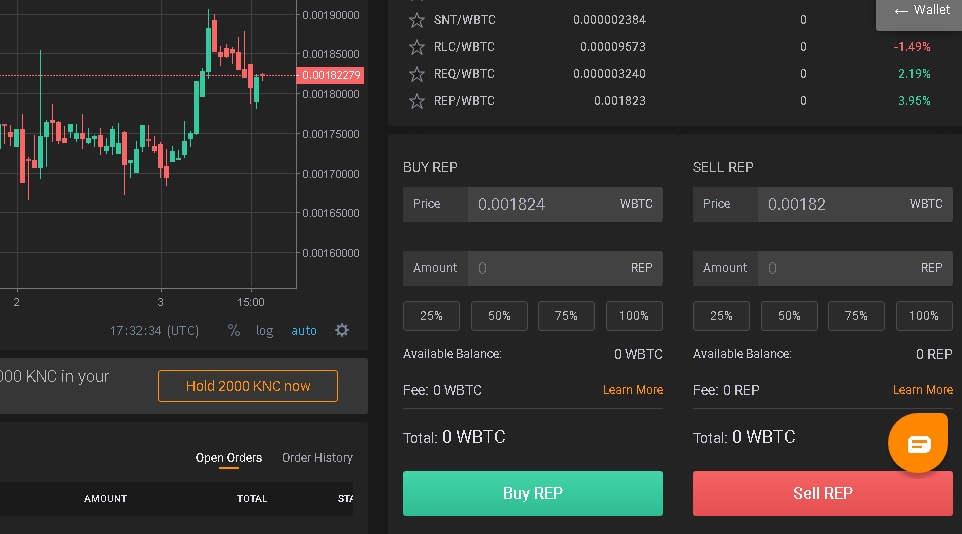 The minimum amount per limit order is 0.1 ETH. Regarding transaction fees, as you'll be just signing a transaction without actually depositing tokens while creating a limit order, there will be no fees till the order is filled by someone.
For a successful limit order, you'll be charged a fee of 0.10% which includes gas fees. Due to the nature of these limit orders, your order might not be filled for various reasons even if the price at which you want your order to be filled is hit.
You may forget about the order, and move your tokens to a different address, so in this case, the order can't be filled regardless of the price. Also, slippage tolerance for limit orders on KyberSwap is set to 0% by Kyber, so a price change during the process may cause your order to fail.
There are various decentralized exchanges you can use to swap ERC-20 tokens. For other Ethereum-based DEXes, you can check out the reviews below: