Trust Wallet is an all-in-one mobile cryptocurrency wallet that allows users to do more than just store and transfer cryptocurrencies.
You can use Trust Wallet to store, exchange and stake cryptocurrencies.
Trust Wallet also functions as a Web3 dapp browser, so you can explore and use dapps on your mobile device and also store and access NFTs, aka crypto collectibles.
In this review, we will talk about various topics that will help you get started with Trust Wallet such as Trust Wallet fees, supported coins, staking and using Trust Wallet DApp Browser.
Trust Wallet fees
There are no fees for storing or transferring cryptocurrencies on Trust Wallet.
But, as usual, you have to pay transaction fees when transferring your cryptocurrencies and NFTs to other addresses.
When you want to send some cryptocurrencies from your wallet to an other address, the application automatically sets a transaction fee based on network congestion.
So you don't have to worry about setting a transaction fee when transferring cryptocurrencies and other assets.
But, just like many other cryptocurrency wallets, you can set a custom transaction fee when making a transaction.
For Ethereum transactions, you can check out ETH Gas Station to learn about current gas prices and see if the network is congested.
You may also want to exchange your cryptocurrencies using the built-in exchange or buy cryptocurrencies via third party providers such as MoonPay inside the wallet.
With third party providers, you would usually pay high fees. So instead you can send cryptocurrencies to your wallet from a cryptocurrency exchange such as Binance, etc. which you've already been using.
While trading on Trust Wallet's built-in decentralized exchange, you will be again required to pay network fees. If you want to trade on the DEX, you can take a look at this tutorial.
Trust Wallet supported coins
Trust Wallet supports a wide variety of cryptocurrencies. You can currently store and manage 160+ coins and thousands of tokens on Trust Wallet.
Some of the supported coins by Trust Wallet are Bitcoin, Ethereum, XRP, BNB, TRON, Cosmos, Dogecoin, Polygon, Solana, Ravencoin and Tezos.
Considering the number of supported blockchains by Trust Wallet, you can basically use Trust Wallet to store and send / receive almost any cryptocurrencies on the market.
To check out all of the supported assets, you can download the app from Google Play or App Store.
How to set up Trust Wallet
Trust Wallet is available on App Store and Google Play.
To start using Trust Wallet, first download the app to your mobile device. After that, you can create your wallet by following the steps below.
Step 1: Download and open the Trust Wallet app
After downloading the app to your mobile device, open the app and click on the "create a new wallet" button.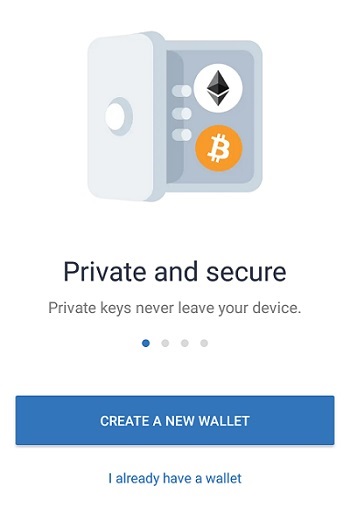 Step 2: Agree to the terms
Tick the box to accept the terms and click on the "continue" button.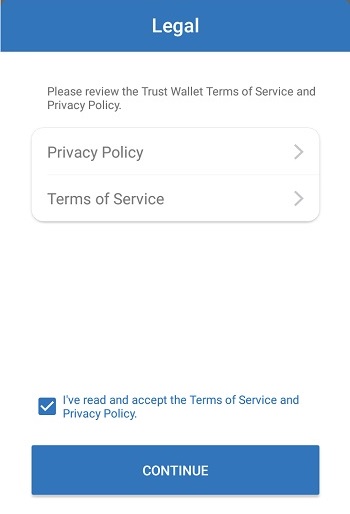 Step 3: Set a passcode
Set a passcode for your wallet, which you will need to enter when logging in to your wallet and making transactions.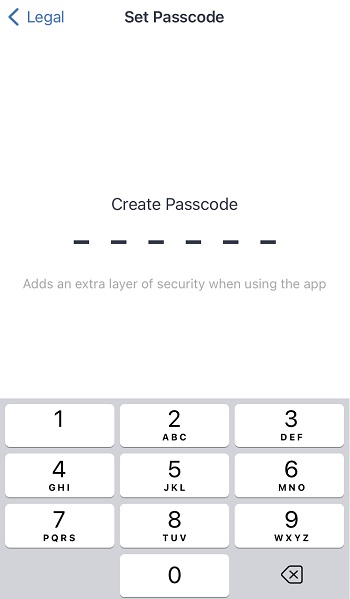 Step 4: Back up your recovery phrase
Now you will see your recovery phrase that consists of 12 words. You need to write down words on a piece of paper.
In the next step, the app will require you to enter the words in the correct order. After confirming your recovery phrase, your wallet will be created.
The app didn't allow me to take a screenshot of this step which makes sense considering that the recovery phrase should be kept offline.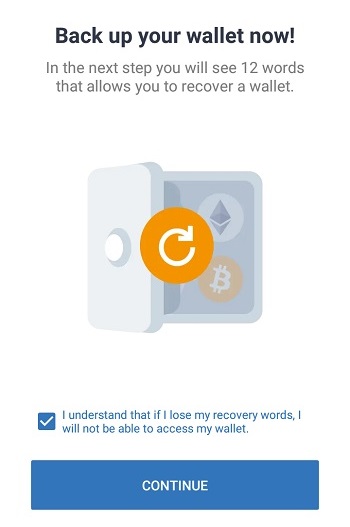 After creating your wallet, you can start exploring Trust Wallet. The app allows users to do pretty much everything with their cryptocurrencies.
You can trade on Trust Wallet's built-in DEX or swap tokens. While the built-in DEX is basically Binance DEX's mobile version, the swap feature is powered by Kyber.
Swapping tokens on Trust Wallet
Trust Wallet has built-in swap and exchange features. Instead of trading on centralized or decentralized exchanges, you can simply swap tokens on your wallet.
But, especially for large orders, there may be a high slippage which might result in significant losses, so you should consider using exchanges with order books such as Binance for your large orders.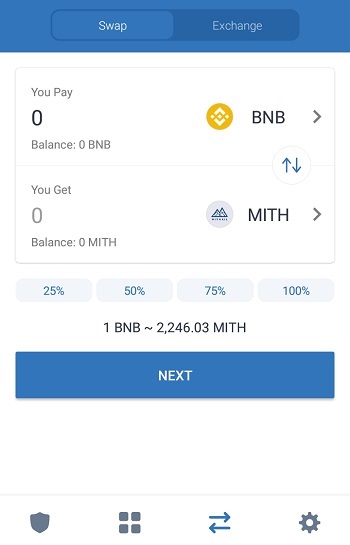 Trust Wallet DEX
In addition to the swap feature, there is also a built-in exchange in Trust Wallet. Trust Wallet DEX has a very simple, clean user interface as can be seen in the image below.
If you want to view the order book while trading and place limit orders, you should rather use the exchange. While trading on the exchange, you will be again subjected to transaction costs.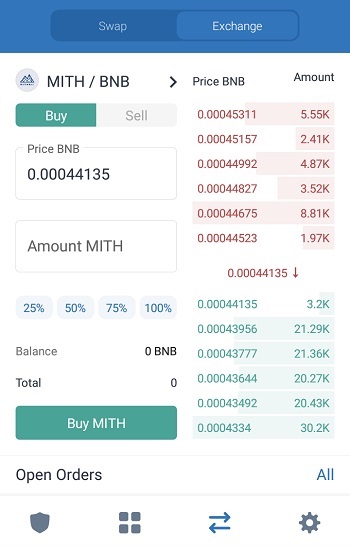 Note that as Binance DEX is no longer available, you can use other decentralized exchanges such as 1inch through the dapp browser.
Trust Wallet staking
Another great advantage of using Trust Wallet is that you can stake various cryptocurrencies from your wallet in a very simple way and start earning staking rewards.
Trust Wallet does not get any cut from staking rewards, so you will receive all of staking rewards. It currently supports staking of Tron, Tezos, Cosmos, Kava and Algorand.
You should consider the risks associated with staking before staking any of these cryptocurrencies.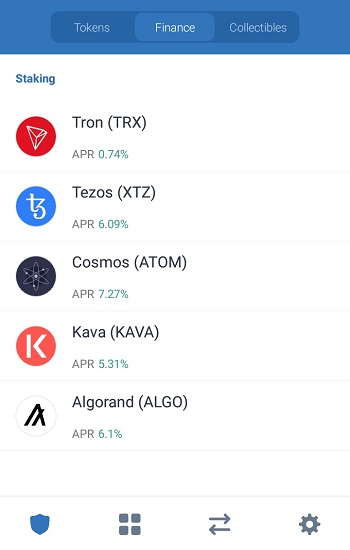 Is Trust Wallet safe?
In Trust Wallet, you are the only person who is in control of the private keys. The application uses advanced techniques to protect your private keys and never reveals them.
The backup of your recovery phrase is the most important thing for the security of your cryptocurrencies.
You should keep it offline and store it in a safe place. Anyone who has access to your recovery phrase can spend your cryptocurrencies.
As private keys are derived from the recovery phrase, you can extract the private key for any coin you store in your wallet with mnemonic code converters like this (can be run offline).
Besides taking care of your recovery phrase, you can also put a passcode on the app which will prevent others from accessing the app. You can enable this feature in settings > security.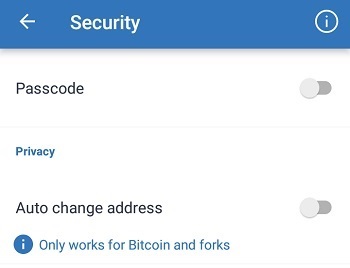 Trust Wallet dapp browser
You can explore and use dapps on your mobile device with Trust Wallet.
The dapp browser is only available on the Android version of Trust Wallet. This feature has recently been removed from the iOS version to comply with App Store guidelines.
Both iOS and Android users can also use various dapps such as 1inch.exchange with their Trust Wallet through WalletConnect.
WalletConnect connects desktop dapps to mobile wallets such as Trust Wallet, MetaMask and Coinomi with a QR code.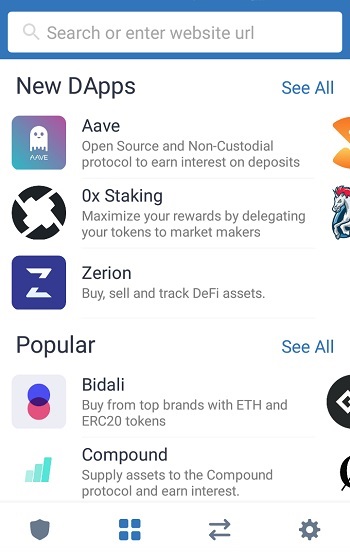 You can simply interact with various dapps such as decentralized exchanges, DeFi apps and blockchain games on Trust Wallet.
You can swap tokens on 1inch, one of the most popular decentralized exchanges, and use many other dapps in your mobile device.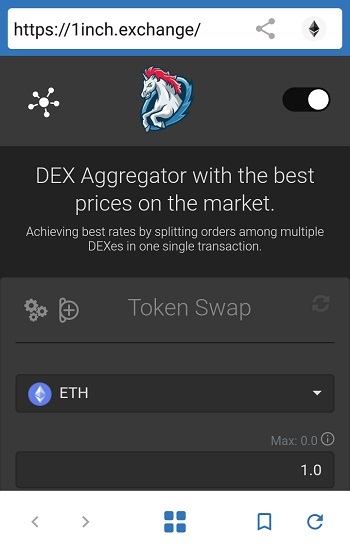 Storing NFTs on Trust Wallet
If you play blockchain games and/or have NFTs, aka crypto collectibles in your Ethereum or BNB address, then Trust Wallet is a great choice for you.
You can view all of the NFTs in your Ethereum address under collectibles tab in the app and trade collectibles on marketplaces such as OpenSea.
If you have any questions or thoughts about Trust Wallet, leave a comment below.
If you have large amounts of crypto assets and need more security, you can refer to our Ledger wallets comparison and get a cold wallet.