PancakeSwap is one of the most used decentralized exchanges in the crypto space.
The platform has a lot of users and very high volume, and supports various cryptocurrency wallets.
You can use browser and mobile wallets such as MetaMask, Binance Wallet and Trust Wallet to connect to and use PancakeSwap.
It's also possible to use hardware wallets for PancakeSwap by connecting them to MetaMask first or through WalletConnect.
There are many options. But which wallet is the best for using PancakeSwap?
Let's compare the most popular crypto wallets supported by PancakeSwap in terms of security, ease of use and coin support.
MetaMask
MetaMask is no doubt the most used wallet for connecting to Ethereum-based dapps and many other dapps like PancakeSwap.
It's pretty useful wallet as you can use it on your browser and add various other networks such as BSC and Polygon to your wallet besides Ethereum.
So it basically supports thousands of tokens from different blockchain networks and can be used to store BNB and BEP20 tokens, and interact with BSC dapps.
MetaMask is also available on iOS and Android.
But, in terms of security, MetaMask is not the best wallet for PancakeSwap.
As a hot wallet, MetaMask stores your private keys in your computer or mobile phone which is connected to the internet.
Also, as one of the most popular crypto wallets, it is much more likely to be targeted by malware, hackers and scammers.
So should you use MetaMask for PancakeSwap?
It depends. You can use it for connecting to and interacting with PancakeSwap.
But you shouldn't use it if you're going to store a lot of cryptocurrencies in it which are worth quite a bit of money that you can't afford to lose.
You can instead get and use a hardware wallet like the Ledger Nano X or the Nano S Plus.
You can connect your Ledger wallet to PancakeSwap by connecting Ledger to MetaMask first or through WalletConnect.
To learn how to connect a Ledger wallet to dapps with WalletConnect, you can refer to Ledger's article.
It's also possible to connect Trezor wallets to MetaMask and use PancakeSwap.
But Trezor does not currently have native support for BSC. So you can't manage and transfer BSC assets in its own app.
To learn which Ledger wallet is better for you and how to use MetaMask, you can check out our comparison and tutorials below:
Trust Wallet
Trust Wallet is definitely one of the best wallets for using PancakeSwap on mobile.
It may seem difficult to use PancakeSwap on mobile with Trust Wallet at first.
But it is actually pretty simple and everything works smoothly despite being on mobile thanks to the really good user interface.
Sometimes, there might be some bugs when you make transactions on PancakeSwap, but that's not a big issue.
If you have an Android device, you can directly connect your Trust Wallet to PancakeSwap by using Trust Wallet's built-in dapp browser and selecting Trust Wallet on PancakeSwap.
If you use an iOS device, you should use the "WalletConnect" option among supported wallets instead to connect your wallet to PancakeSwap.
Also, as a multi-coin wallet, Trust Wallet supports 65 blockchains and thousands of cryptocurrencies.
So, besides using PancakeSwap and storing BSC assets, you can store many other cryptocurrencies in your wallet.
PancakeSwap can also be used with the MetaMask mobile app.
If you're interested in using PancakeSwap on mobile, you can check out MetaMask's mobile app too.
Just like MetaMask, Trust Wallet is also a hot wallet which stores your private keys on your mobile device.
For storing really large amounts of cryptocurrencies, a hardware wallet is a better option.
Even if you don't use your hardware wallet to connect to PancakeSwap and other dapps, you can use it to store and secure a large portion of your crypto assets.
And whenever you want, you can also interact with dapps in a much safer way with your hardware wallet.
To learn how to set up and use Trust Wallet, you can refer to our Trust Wallet review.
Ledger
Ledger wallets are one of the best crypto wallets in terms of security as they use a certified secure chip to store private keys offline.
As a cold wallet, Ledger is definitely a must-have especially if you have a lot of money in crypto and need more security.
But is Ledger a good wallet for using PancakeSwap?
Using Ledger with PancakeSwap and other dapps is not as straightforward as using browser or mobile wallets with dapps of course.
But, once you understand how to you use your Ledger wallet and connect it to dapps through MetaMask or WalletConnect, you can use dapps with no issues.
To connect your Ledger wallet to PancakeSwap, you can first connect it to MetaMask and then connect your Ledger account on MetaMask to PancakeSwap.
You also need to set up a MetaMask wallet first if you don't currently use it and then add BSC to your MetaMask wallet.
Or you can connect your Ledger to PancakeSwap on desktop or mobile with just a QR code using WalletConnect.
The Ledger Nano X has a bluetooth feature, so it is possible to connect the wallet to mobile devices and use dapps on mobile.
Ledger's new wallet model, the Nano S Plus, can also be connected to mobile devices (only Android) with an appropriate cable.
Like Trust Wallet, Ledger wallets also support thousands of cryptocurrencies including BNB (BSC).
In terms of coin support, Trust Wallet and Ledger wallets are better than MetaMask as they support many other networks such as Bitcoin, Solana, Dogecoin and Tron in addition to Ethereum and EVM-compatible networks.
To learn which Ledger wallet you should get and how they differ, check out our Ledger wallets comparison.
Binance Wallet
Binance Wallet is another popular browser wallet that you can use for connecting and using PancakeSwap.
Binance Wallet supports BNB Beacon Chain, BNB Smart Chain (BSC) and Ethereum.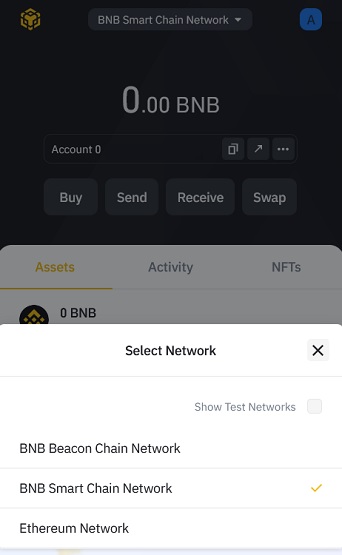 Unlike MetaMask, it is currently not possible to add custom networks to Binance Wallet.
You can add Binance Wallet to browsers like Chrome and Firefox as an extension and use all BSC dapps including PancakeSwap.
If you want to use a browser wallet that allows you to add other networks such as Polygon and Avalanche, you can use MetaMask instead.
Binance Wallet is also a hot wallet like other browser and mobile wallets supported by PancakeSwap, and should not be used for storing crypto assets of significant value.
If you have any questions or thoughts about PancakeSwap and the supported wallets, you can leave a comment below.
To fund your crypto wallet with BNB, CAKE, USDT and other BEP20 tokens, you can use Binance which supports withdrawals via BSC.
To learn how to use Binance and open your Binance account with a 20% fee discount, check out our tutorials below: