If you trade cryptocurrencies on decentralized exchanges, then you should be tracking various DEX stats such as trading volume and orders to make successful trades.
Trading volume is one of the most important indicators when it comes to decentralized exchanges, as most of them usually suffer from a lack of trading volume.
Scaling can be seen as the main reason why decentralized exchanges have not come to the fore yet in terms of trading volume.
But, there are already many new projects trying various approaches to address different problems of current DEXs, so the future of exchange seems to be more decentralized.
If you have not used any decentralized exchange so far, you can first check out the introductory guide to decentralized exchanges below:
Trading volume and number of transactions are the most important stats when choosing a decentralized exchange to trade, otherwise limited liquidity plus speed issues can end up with a very bad trader experiences.
Let's look at three different sites to effectively track trading volumes, number of users and other stats of Ethereum-based decentralized exchanges.
1- Etherscan DEX tracker
Using Etherscan's DEX tracker, traders can easily view the ranking of Ethereum-based decentralized exchanges by number of transactions in the last 7/30 days or all time.
Besides that, Etherscan allows traders to view decentralized exchange orderbooks and compare the best DEX rates by selecting DEXs and tokens.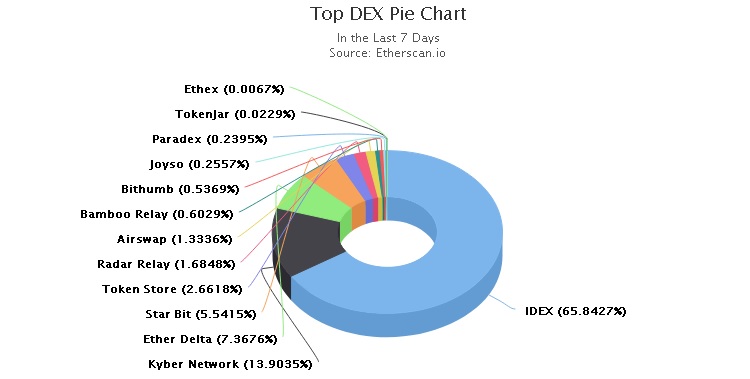 2- DappRadar decentralized exchange rankings
Etherscan allows traders to see which decentralized exchange dominates the market and overall distribution of the trades on DEXs. DappRadar, by ranking decentralized exchanges can give traders more idea regarding the liquidity DEXs have.
Now, with Etherscan DEX tracker and DappRadar, we can track the dominance, orderbooks, number of users and trading volumes of each decentralized exchange for Ethereum tokens.

3- DEXWatch
DEXWatch is a site focused on Ethereum DEXs, tracking the DEX volumes and traders on the Ethereum blockchain.
It lists the latest trades on the Ethereum blockchain with lots of information such as time, pair, traded price, exchange and seller/buyer addresses. Different than other trackers, it also lists top traders. You can see the latest trading activity of any Ethereum address.
In addition to this, DEXWatch has a chart showing the DEX volume and number of traders on Ethereum: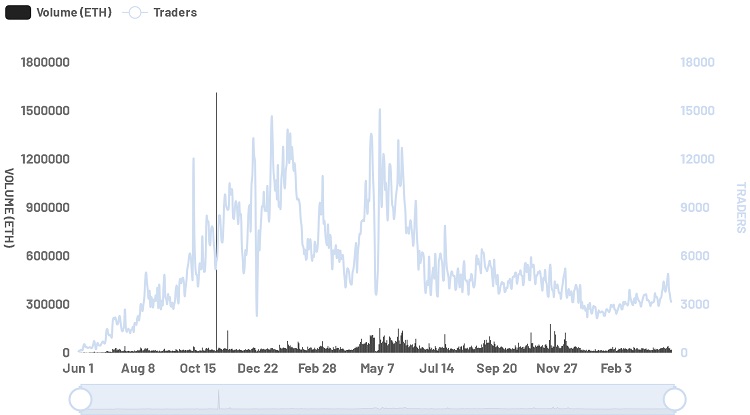 Tracking decentralized exchange stats is a part of making successful trades on decentralized exchanges, but there are also other things you should take into account such as security.
Crypto is a field that attracts hackers due to technical vulnerabilities. If you use or plan to use decentralized exchanges, you should consider getting a hardware wallet like Ledger Nano X or Trezor Model T not to regret later.
If you liked this article, please share it by clicking the buttons below and follow Dappgrid on Facebook and Twitter.
Image: Designed by starline / Freepik