Binance is the largest and most popular cryptocurrency exchange in the world.
It has hundreds of cryptocurrencies listed on the platform, and features many products and services such as spot, margin, P2P, futures, OTC, staking, farming, NFT, Binance Card and more.
To trade on Binance, the exchange with the highest volume and very low fees, and enjoy the Binance ecosystem, you can create your Binance account right on your mobile phone.
How to create a Binance account on your mobile phone
We will show you how to create your Binance account with a 20%+25% fee discount on mobile and then verify your identity and set up 2FA on Binance.
You can also set up your Binance account using the code "WRYOO8BZ" on desktop / the website by clicking the button below, and receive a 20% fee discount.
Step 1: Download the Binance mobile app
First open Google Play or the App Store on your mobile device, and search and download the Binance mobile app.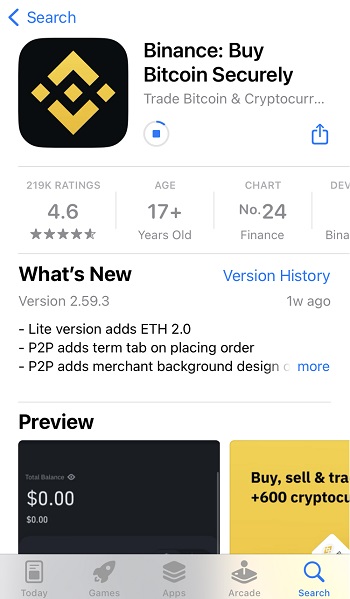 Step 2: Select your preferred language for the Binance mobile app
When you open the Binance mobile app, it may ask you to choose your preferred language.
Select the language that you want the Binance mobile app to be displayed in and click the next button.
Step 3: Fill out the Binance registration form
Now the signup page can show up automatically on the app or you can click the sign up button on the Binance homepage to create your account.
Click the "sign up with phone or email" button.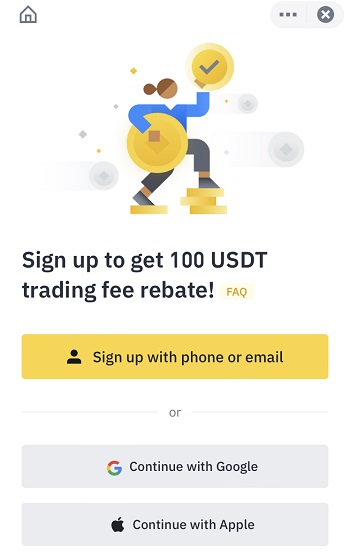 Enter your email address, password (min 8 characters, at least 1 number and 1 upper case letter), agree to the terms, and click the "create personal account" button.
You can use the code "WRYOO8BZ" when opening your Binance account and receive a 20% fee discount.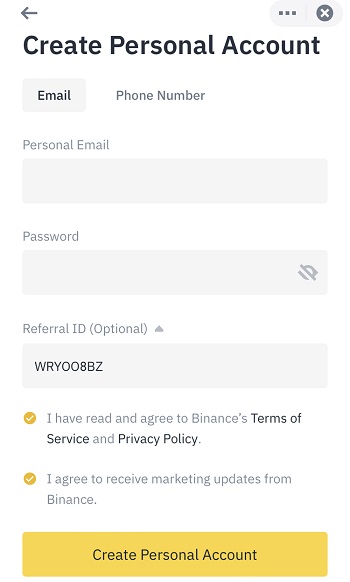 Step 4: Verify your email address
After clicking the create personal account button, verify your email address by entering the code that is sent to your email address.
Now you can log in to your Binance account and start using it. But you should first verify your identity.
Binance identity verification on mobile
Complete the identity verification with your personal information, ID card and face photo. It will be much easier when you're on mobile.
You can use your mobile device's camera to take photos of your ID card and face, and easily upload them.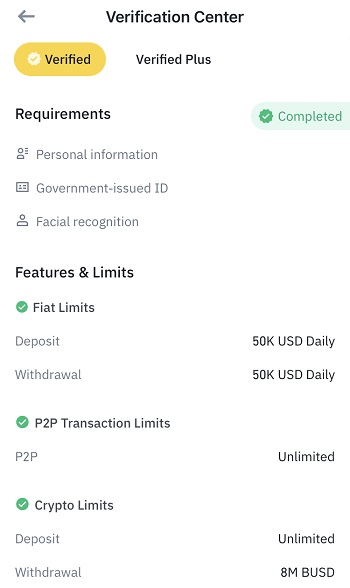 If you need higher fiat deposit and withdrawal limits, you can also verify your account at the "plus" level with a proof of address document.
Binance 2FA setup on mobile
To get everything ready in your Binance account, click the user icon > security, and enable at least one of the 2FA methods.
It will make your account much more secure, the use of "authenticator app" for 2FA is recommended. You can also enable other methods if you want.
Binance BNB fee discount on mobile
If you want to receive an extra 25% fee discount by paying fees with BNB, first click the user icon on the Binance mobile app and then enable Binance Pro.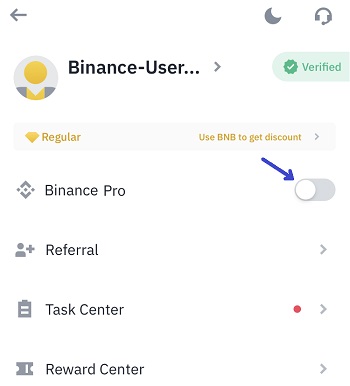 After enabling Binance Pro, click "use BNB to get discount".
Enable the option to use BNB to pay fees, and make sure to have enough BNB for your trading fees in your spot wallet.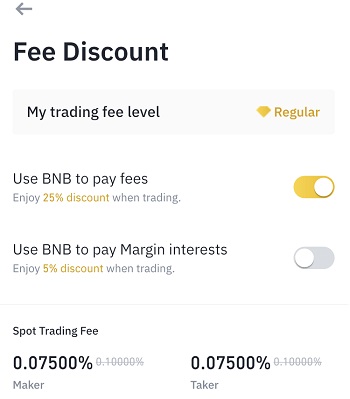 You don't need to hold a certain amount of BNB in your wallet, but it should be enough to cover your trading fees.
This way you will be charged a fee of 0.075% instead of 0.10% when you trade on Binance, and if you've opened your account using the code "WRYOO8BZ", you can also get a 20% fee kickback.
To learn how to use and trade on Binance, check out our tutorials and guides below: