Lots of blockchain games launch a presale before their release, similar to ICOs but much better as the games usually can be tested by players in alpha / beta stages.
In order to participate in presale or special sales of blockchain games, you need a wallet that allows you to interact with dApps (decentralized applications).
The most popular bridge between dApps and Ethereum wallets is MetaMask. There are also mobile apps allowing users to interact with Ethereum dApps such as Trust Wallet and Coinbase Wallet.
You also don't necessarily need such wallets, some blockchain games such as Blockchain Cuties have their own wallets integrated in the game, so along with the option of using MetaMask, you can easily create and import a wallet without needing an additional wallet in such games.
In this guide, you'll learn how to install and use MetaMask to buy crypto collectibles in presales or special sales of blockchain games.
How to install MetaMask & create a wallet to participate in presales of blockchain games
The MetaMask add-on is available in several browsers: Chrome, Brave browser, Firefox, and Opera. After installing it on your browser, you should follow the steps below to create an Ethereum wallet that you will use to interact with the blockchain game.
Click on MetaMask icon at the right top corner of your browser window, and click continue.
Create a strong password, you will use it to log into your MetaMask wallet.
After creating password, you will see a unique image which will be shown when you need to confirm a transaction, move on to the next step and accept terms of use, privacy notice and phishing warning.
Write down your secret backup phrase on a paper or download it as a txt file. Click next and confirm your backup phrase. If you remove MetaMask from your browser, you will use this phrase to restore your wallet. You can log in to your wallet just typing the password you created in the second step.
How to buy cryto collectibles & participate in presales of blockchain games
First, send ETH or other cryptocurrencies that can be used for purchases in the presale to your Metamask wallet. You should have enough ETH / cryptocurrency to pay for the collectible and the gas. After unlocking your MetaMask wallet, navigate to the presale page.
Axie Infinity and Gods Unchained are one of the many blockchain games that have an ongoing presale right now. Let's get some cards in Gods Unchained's presale in less than a minute. You'll see how easy it is to participate in a presale of a blockchain game.
1- Go to the the presale page of the game. Click "connect" on the notification to accept connect request. The MetaMask notification may not appear when you land on the page, then click on "connect now" button at the bottom of the page.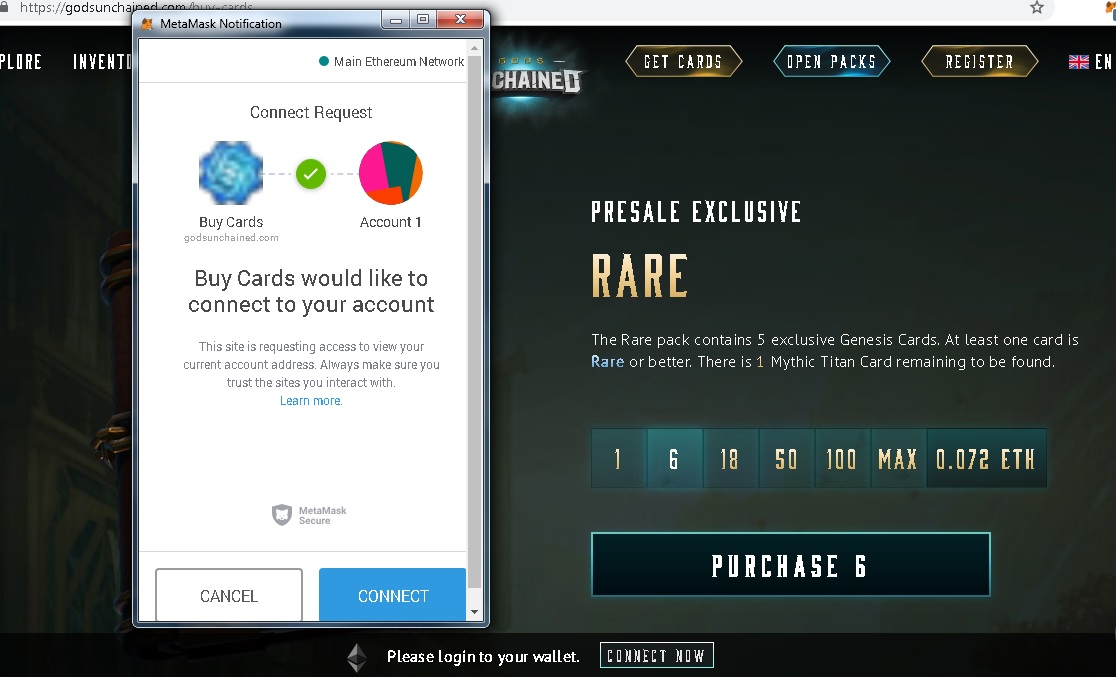 2- After connecting your wallet, choose the pack and click on purchase button, you can also buy more than one pack in the same transaction.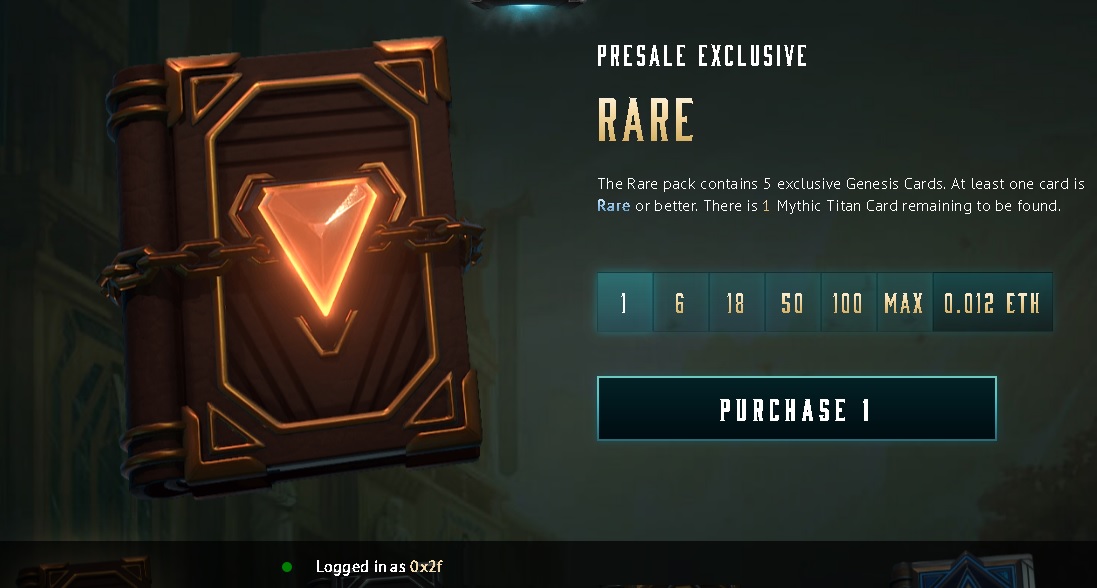 3- Click on confirm button and you are done! You can see the transaction on Etherscan.