If you trade on Binance or plan to do so, you might wonder if there are any minimum deposit limits on Binance.
The minimum crypto/fiat deposit on Binance varies depending on the currency and payment method.
There are also a few things you should consider when depositing cryptocurrencies into Binance such as minimum trade amounts and minimum withdrawal limits, which I'll touch upon in this article.
If you don't have a Binance account yet, you can enter the code "WRYOO8BZ" in the referral ID field when opening your Binance account and receive a 20% fee discount for spot and a 10% fee discount for futures.
You can simply click the button below to open your Binance account with a 20% fee discount:
If you already have a Binance account, you can use the code "10indirim" when opening your Futures account and receive a 10% fee discount on futures trading fees.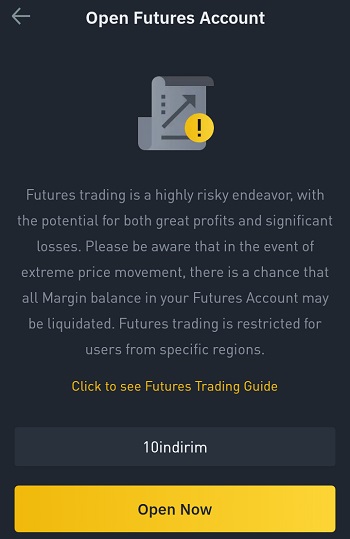 Binance minimum crypto deposit
There is virtually no minimum deposit on Binance. For example, for Bitcoin, the minimum deposit is 0.00000001 BTC.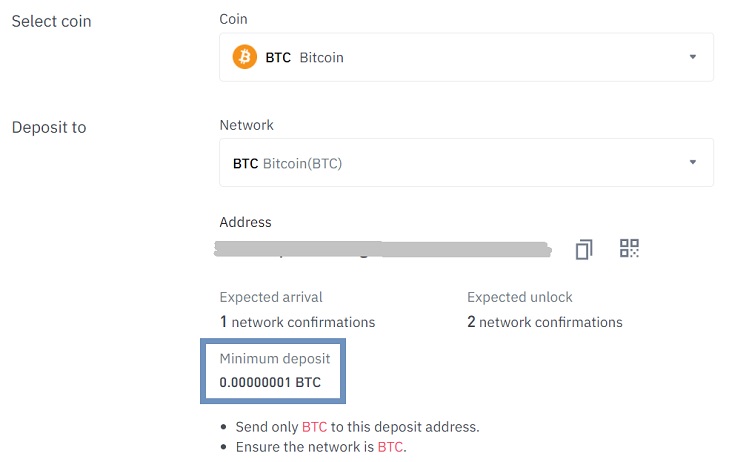 For other cryptocurrencies such as Ethereum and USDT, the minimum deposit limits, 0.00000001 ETH and 0.00000001 USDT are also no different than Bitcoin.
So you can basically deposit any amount of cryptocurrencies into Binance. But, if you want to trade, there are a few things you should keep in mind.
First, there is virtually no deposit limit, but there are minimum trade amounts on Binance.
So, if you want to trade cryptocurrencies on Binance, you should take into consideration the minimum trade amounts before depositing cryptocurrencies.
For USDT pairs like BTC/USDT, the minimum order size is 10 USDT. If you have less than 10 USDT worth of Bitcoin, you can't sell it for USDT.
So, while the minimum deposit for Bitcoin is 0.00000001 BTC, you should deposit at least 20-30 USD worth of Bitcoin to trade on Binance without any issues.
You can check out all of Binance's minimum trade amounts and other details on the trading rules page.
Second thing you should consider before depositing cryptocurrencies into Binance is withdrawal limits.
For Bitcoin, the minimum withdrawal limit is 0.001 BTC. If you've deposited and have less than 0.001 BTC in your wallet, you can't withdraw it from Binance.
For USDT, the minimum withdrawal limits are 10 or 30 USDT depending on the network used for withdrawing USDT such as Ethereum and Tron.
The withdrawal limits on Binance vary according to the blockchain network that is chosen when withdrawing cryptocurrencies.
Withdrawals via Binance Chain (BEP2) and Binance Smart Chain (BEP20) offer much lower minimum withdrawal amounts.
But you should only use them if you want to transfer your cryptocurrencies to Binance Chain or BSC and they are supported by the receiving exchange.
Otherwise, your cryptocurrencies may end up in the wrong network and you may need to recover coins sent to the wrong address.
You can check out the minimum withdrawal limits on Binance on this page and make cryptocurrency deposits into Binance accordingly.
Binance minimum Euro deposit
The minimum Euro deposit via the bank card (Visa/MC) on Binance is 15 Euro.
To deposit Euro into Binance and see the minimum and maximum deposit amounts, you can visit the fiat deposit page on Binance.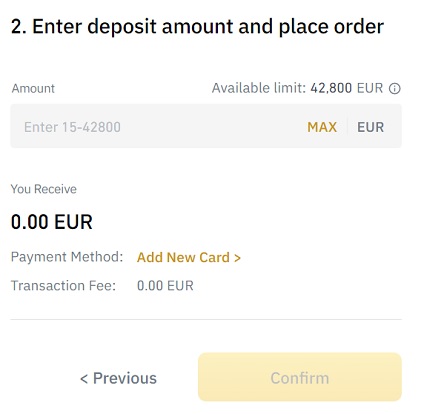 To learn how to deposit crypto and fiat currencies into Binance, you can check out our Binance tutorial.
Binance minimum USD deposit
The minimum USD deposit via the Bank Transfer (SWIFT) method on Binance is 50 USD.
Binance does not charge any fees when you deposit USD via SWIFT, but you should consider bank fees that vary according to your bank.
To deposit USD into Binance and see the limit, you can visit the fiat deposit page on Binance.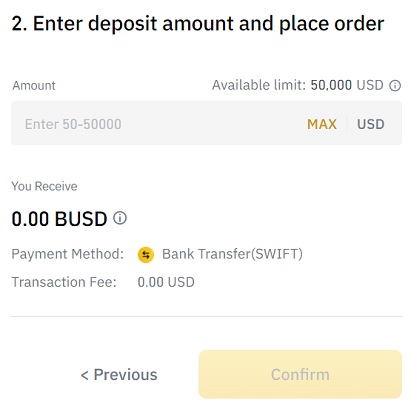 Binance buy with credit card minimum amount
The minimum amount per transaction when buying cryptocurrencies with credit/debit card on Binance is 15 USD or 15 Euro.
The minimum amount for the credit/debit card payments varies depending on the fiat currency you select, which you can check out on the platform.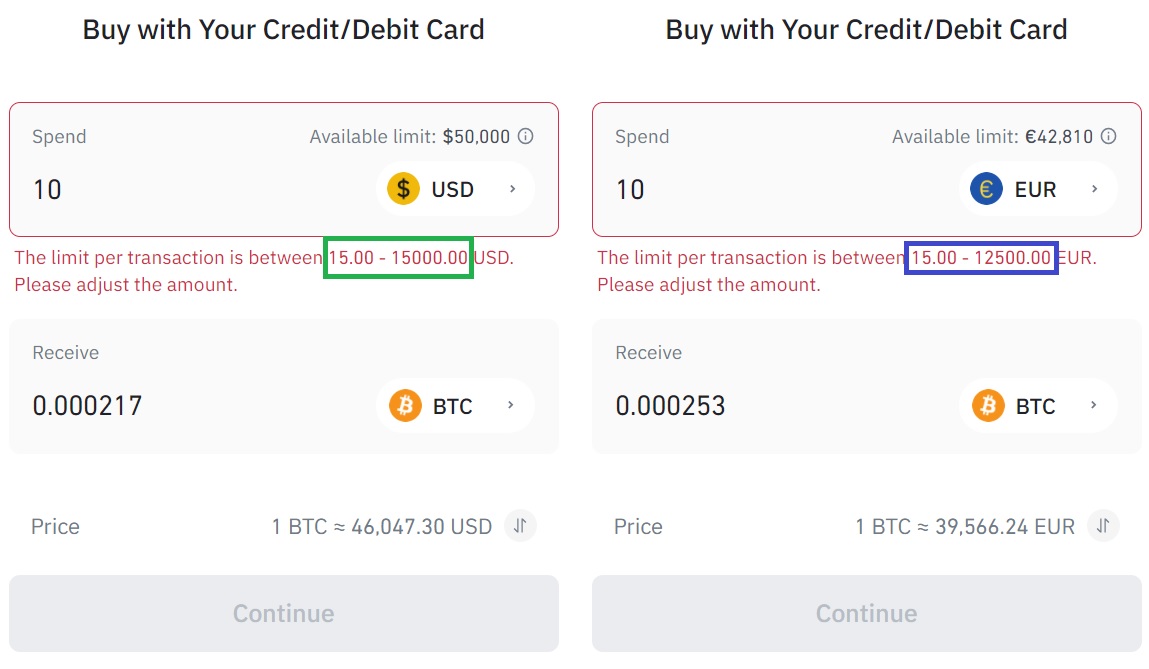 To learn more about depositing/withdrawing, fees and trading on Binance, check out the tutorials below: