YouHodler is a platform where you can get crypto and cash loans using your cryptocurrencies as collateral and earn interest on your cryptocurrencies.
The platform supports major cryptocurrencies including various stablecoins, and uses Ledger Vault, a secure custody solution with $150M pooled crime insurance, to protect and manage crypto assets.
In this review, I'll give you information about YouHodler interest rates and fees, and show you how to earn interest on your cryptocurrencies and get crypto/cash loans.
How to create a YouHodler account?
First visit the platform and click on the "get started" button on the homepage. Select your country and click on the "continue" button. YouHodler is not available in the United States.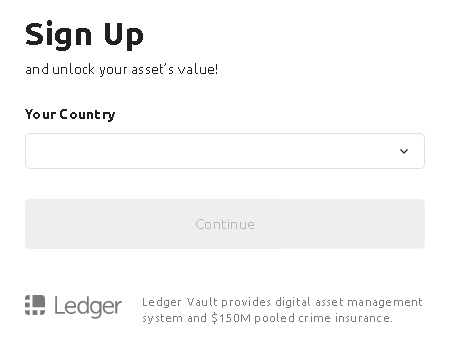 Enter your email address and password with at least 8 symbols and a digit, tick the box to agree to the terms and conditions and click on the "sign up" button.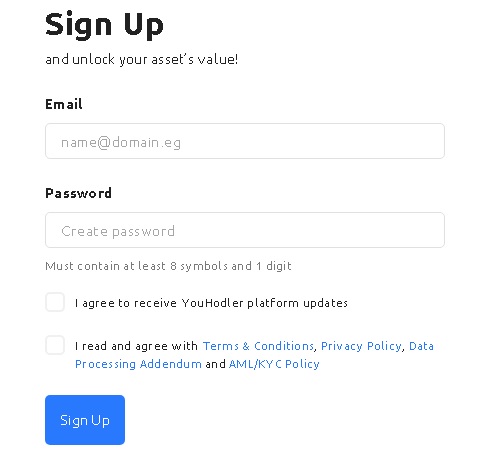 And you are done! To buy/sell cryptocurrencies, take loans and earn interest, you first need to verify your identity. If you have any issue completing the identity verification process, you can refer to this article.
After the verification process, you can start using the platform. For the mobile app, follow the steps below to create your YouHodler account if you have not registered on the website yet:
Download and open the YouHodler app.
Click on the "sign up" button.
Select your country.
Enter your email address and password.
Pick a passcode for the app.
Start verification or do it later.
Taking loans on YouHodler
You can get loans in USD, EUR and USDT for 30, 60 and 180 days on YouHodler. Loan-to-value (LTV) rate for 30-day loans is 90%.
So, if you get a 30-day loan in USD with a collateral of 1 BTC, the loan you'll receive will be $16,457 USD while Bitcoin price is around $18,325 at the time of writing.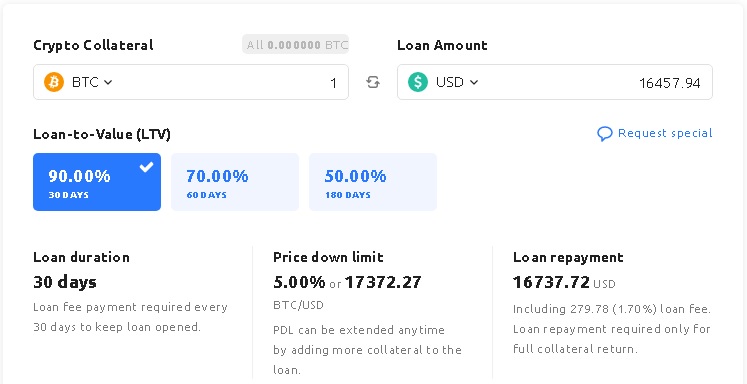 The fee rate for a 30-day loan is 1.70%. You can just pay the fee every 30 days to keep your loan open or it can be paid when returning collateral.
As you can see in the image above, price down limit, aka margin call level, is 5%. And the price ($17,372) is close to current BTC price ($18,325) as the LTV rate is very high.
To mitigate the risks related to PDL, you can rather get loans for 60 or 180 days, or add more collateral if the collateral price goes down too much.
YouHodler Turbocharge
YouHodler has also other features such as Turbocharge which you can check out on the platform.
Turbocharge automatically converts loans to collateral currency and allows users to take multiple loans simultaneously.
The number of loans one can take using the turbocharge feature can be as high as 10. You can choose between 3 and 10.
If you are a beginner or have not taken a crypto loan before, we don't recommend using this feature initially as it could be much riskier than taking one loan.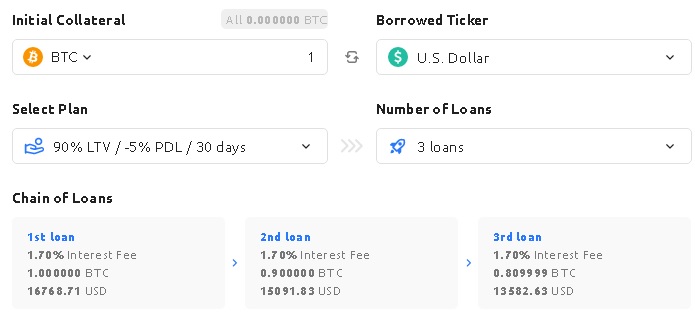 YouHodler minimum loan amount
The minimum amount of loan you can get on YouHodler is 100 USD, 100 EUR, or 100 USDT.
YouHodler interest rates
YouHodler has very competitive interest rates and currently offers much higher rates than other alternatives in the industry.
The interest rates for some of the supported cryptocurrencies can be seen in the image below. For the full list and other details, visit the platform.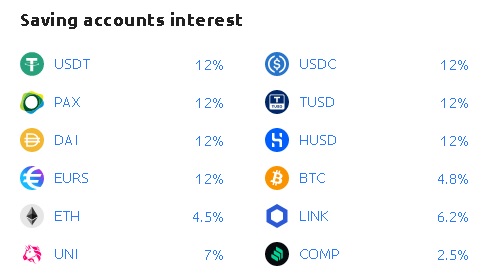 YouHodler minimum deposit amount
by crypto – 5 USD in crypto equivalent
by bank wire – 1000 for USD; 100 for EUR; 500 for CHF and GBP
YouHodler minimum withdrawal amount
by bank card – 2 USD / 2 EUR
by bank wire – 1000 for USD; 100 for EUR; 500 for CHF and GBP
YouHodler fees
Deposits
Bank wire – 0 fee
Credit card (loan repayment): 4,7% (1 USD/EUR minimum)
Crypto – 0
Stablecoins – 0
Withdrawals
Bank wire: USD (SWIFT) – 5% (min 70 USD), EUR (SEPA) – 5 EUR, EUR (SWIFT) – 55 EUR, GBP/CHF – 0.15%
Credit card conditions and fees
Cryptocurrency withdrawals
Note that transaction fees are not included in the withdrawal fees below.
BAT – 10 BAT
REP – 0.2 REP
LINK – 0.3 LINK
XRP – 0.5 XRP
PAXG – 0.002 PAXG
UNI – 1 UNI
COMP – 0.04 COMP
MKR – 0.01 MKR
Other coins – 0 (except the blockchain fee aka. Miners reward)
Min withdrawal amount – 5 USD in crypto equivalent
Stablecoins:
EURS / USDT / USDC / PAX / TUSD / DAI / HUSD – 3 USD (in the stablecoin units)
Min withdrawal amount – 5 USD in Stablecoins equivalent
The fee for loans taken for 30 days is 1.70%. If you get loans for 60 or 180 days, the loan fee will be higher. For 60-day and 180-day loans, the fee rates are 2.90% and 7.50% respectively.
Loans are also subject to fees below:
Close now fee – 1%
Reopen – Interest fee + 1% service fee
Extend PDL – 1.5% from extened amount
Increase LTV – 1.5% from increased amount
YouHodler supported coins
YouHodler supports major cryptocurrencies including several stablecoins such as USDT, USDC and DAI.
Of the supported coins, many can be used as collateral when taking a loan. Some of the cryptocurrencies you can use as collateral are Bitcoin, Chainlink, Ethereum, Compound, Uniswap and Ripple.
Is YouHodler safe?
YouHodler is a member of the Crypto Valley Association in the Western Switzerland Chapter and works with Ledger to secure and manage crypto assets.
Ledger provides a cryptocurrency security solution with its service "Ledger Vault" which includes $150M pooled crime insurance and is used by YouHodler.
It is overall a safe platform for taking loans and earning interest on cryptocurrencies. You can also check out the reviews on Trustpilot.
If you plan to get a crypto or cash loan on YouHodler, make sure you understand how it works and check out all the related fees before taking a loan.