TronTrade is one of the most popular TRON-based decentralized exchanges. In this review, I'll show you how to trade on TronTrade and give you information about TronTrade fees and supported tokens.
What is TronTrade?
TronTrade is a TRON-based decentralized exchange where you can trade TRC10 and TRC20 tokens from your own wallet. In terms of trading volume, TronTrade is currently one of the leading decentralized exchanges based on the TRON network.
TronTrade is a web-based DEX but you can also use it on mobile devices through GuildChat which is a chat app for the TRON community but also functions as a wallet and dapp browser.
TronTrade supported wallets
As TronTrade is a dapp, you need a TRON wallet to trade on TronTrade. There is no need to create an account to trade on TronTrade.
TronTrade supports GuildWallet and TronLink. Both wallets are available on the Chrome Web Store. You can install them on your browser to start using TronTrade.
TronTrade fees
TronTrade charges a 0.2% fee for trades. The trading fee rate is same for both makers and takers.
You also need bandwidth and energy in your wallet to trade on TronTrade without paying gas fees. Dapps consume energy in addition to bandwidth, so you should also have energy in your wallet.
You can freeze some TRX in your GuildWallet or TronLink wallet to get energy or extra bandwidth.
TronTrade supported tokens
TronTrade supports a variety of TRC10 and TRC20 tokens. Some of the supported tokens are DICE, BTT, JST, 888, USDT, WIN and SOUL.
You can see all of the supported tokens and the trading pairs on the platform.
How to trade on TronTrade?
First log in to your GuildWallet or TronLink wallet and visit TronTrade.
You can click on your address located at the top right corner of the page and view your tokens and also freeze TRX to get energy.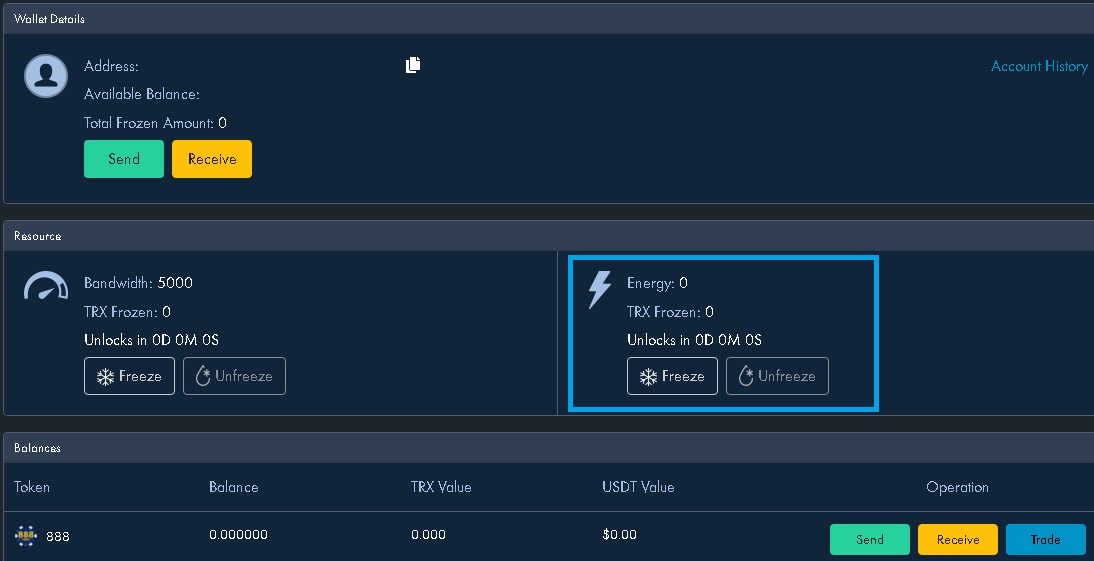 To start trading on TronTrade, click on the exchange tab. You'll see various trading pairs and their order books. You can click on the pair you want to trade and start making trades.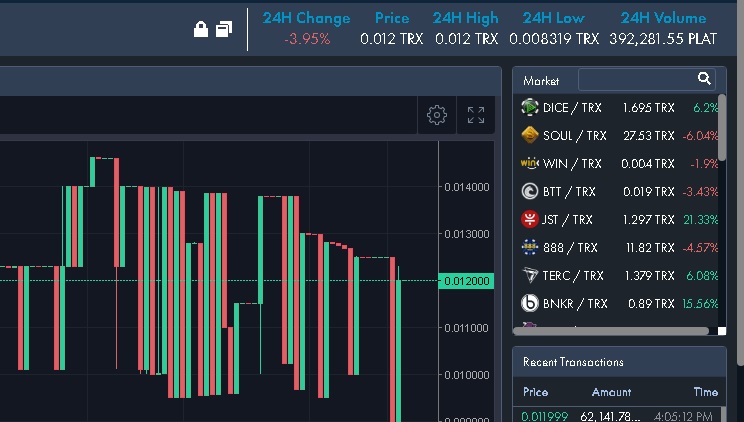 For other decentralized exchanges, you can check out this list in which you can find various information about DEXes such as fees, supported wallets, etc.
If you want to trade ERC20 and BEP20 tokens, you can also use the decentralized exchanges below: