For most traders, liquidity is one of the most important factors when choosing an exchange regardless of its type decentralized or centralized, so the number of transactions created through the decentralized exchange and the volume matter.
Other factors like user experience or layer 2 scaling solutions which are directly linked to the volume can be seen as more important factors and also a challenge for decentralized exchanges.
We will use Etherscan's DEX Tracker and other sites about dApps to look through the data and analyse it to find out the best Ethereum based decentralized exchanges by now as well as the rising ones.
Ethereum Based DEXs by total transactions 
According to DappRadar, a site providing metrics related to dApps, there are currently 50 Ethereum based decentralized exchanges. There are actually more Ethereum based DEXs, but that does not matter much since only those in top 10≈ have significant volume and users.
Etherscan creates the pie chart below according to the number of transactions (orders). IDEX has a total of 35,785 transactions in the last 7 days which accounts for 58.9684% of the all DEX transactions. IDEX is not a truly decentralized exchange but uses a hybrid model to overcome the speed problem, which most decentralized exchanges suffer from.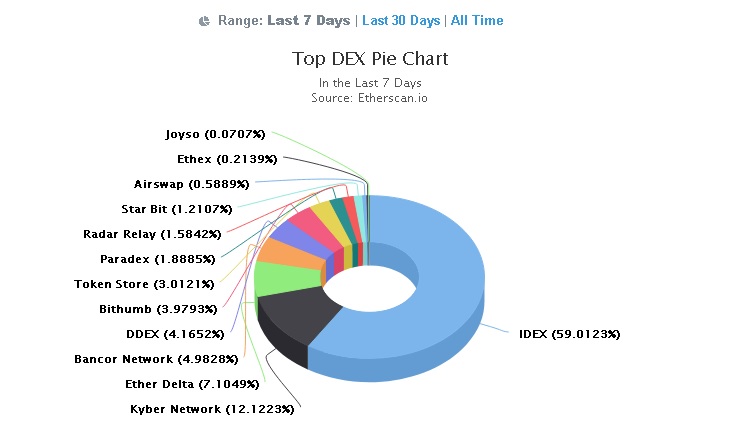 IDEX is followed by Kyber Network with a total of 7,363 transactions, Kyber enables token swaps with its on-chain liquidity protocol. Another network, Bancor, which ranks fourth also uses similar model.
Paradex, Radar Relay and Star Bit are platforms based on 0x, an open protocol for peer-to-peer exchange of assets on the Ethereum blockchain. Current and coming decentralized exchanges tend to use hybrid models, so most of the time decentralization is usually about the custody of the assets.
Top 10 Ethereum Based Decentralized Exchanges (DEXs) by Volume
According to the data provided by DappRadar, top 10 Ethereum based decentralized exchanges by daily volume as follows:
IDEX –

$

370.5k
Kyber –

$

157.1k
ForkDelta –

$

139.2k
LocalEthereum –

$

40k
Ethex –

$

33.2k
Ethfinex Trustless –

$

16.1k
Singular X –

$

11.1k
Token Store –

$

4.4k
---
IDEX ranks first in terms of both number of transactions and the volume. ForkDelta have more transactions but less transaction volume whereas Kyber has more volume with a number of transaction less than ForkDelta.
Top 10 Ethereum based decentralized exchanges (DEXs) by daily users
The chart provided by Etherscan counts every transactions, whereas other platforms providing statistics about dApps such State of the DApps counts only unique addresses, so it gives better insights about the usage and the liquidity. The ranking as follows:
IDEX – 764
ForkDelta – 674
0x – 620
KyberNetwork – 542
Bancor – 370
LocalEthereum – 170
Token Store – 147
Uniswap – 117
AirSwap – 86
Augur – 84
---
IDEX ranks first again though other exchanges are also closer to IDEX in terms of daily active users. The list includes 0x instead of the platforms built on it. Radar Relay, built on 0x, is the most used platform. Statistics of other platforms utilizing 0x protocol can be seen from 0xtracker.