What is OAX
OAX is a decentralized exchange project for Ethereum tokens using various technical developments such as 0x, Sprites and Whisper, with a core values of being open, transparent and decentralized.
OAX DEX, which utilizes state channel technology, one type of the layer 2 scaling solutions, successfully executed transactions at over 1,000 TPS (Transactions per Second) in the tests in December last year.
Following that, in January, the team deployed OAX DEX with its layer 2 solution on the Ethereum Rinkeby testnet, allowing users and potential partners to test the platform using the software development kit.
After a long period of development, the project is now in its important stage of partnerships, which will enable OAX to reach mainstream adoption. OAX DEX is expected to launch in Q3 2019.
How is OAX different from other DEXs
Using many blockchain solutions to provide efficiency and user experience of centralized exchanges while ensuring true decentralization, OAX is an decentralized exchange project that have already gained traction.
But OAX is more than a DEX, it is rather an open ecosystem consisting of a DAO (decentralized autonomous organization), a non-profit foundation (OAX Foundation) and many different market participants:
Exchange users
Asset Gateways
Order book sponsors
KYC/AML services
Dispute referees
Voting members
Users will be able to assess the risk involved in these third party service providers with various means such as the posting of collateral, membership levels, verified identification information, and dispute resolution mechanism. According to the team, these key components of OAX platform are needed for the mass adoption of decentralized exchanges. Those who wish to trade with real world assets will experience the platform as follows: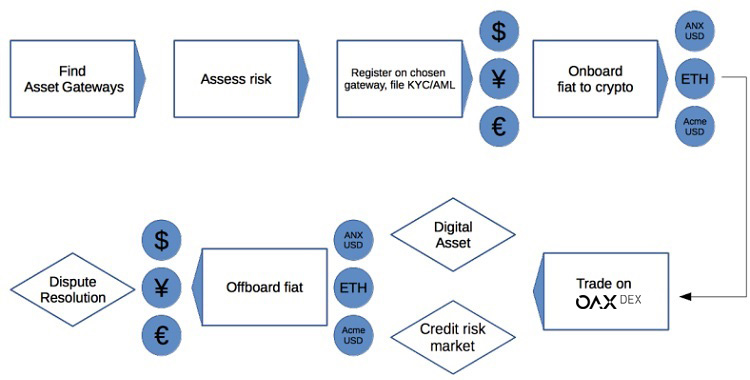 OAX tokens, currently traded on Binance, Gate.io, LATOKEN and HitBTC, will be used to participate in OAX platform and be exchanged for memberships. Once exchanged for membership, tokens will be destroyed which will decrease the OAX token supply as the platform grows its user base.

Decentralized exchanges in the current market and decentralization
Current Ethereum token market is dominated by IDEX, accounting for 69.62% of all DEX transactions in the last 7 days. IDEX, as a decentralized exchange, controls the settlement of signed trades to Ethereum to overcome speed problem. Therefore, like most decentralized exchanges using hybrid models, as stated in its whitepaper, IDEX is a semi-decentralized exchange.
In OAX DEX, while the final settlement is delayed as a result of layer 2 scaling solution, users are still in full control of the final settlement.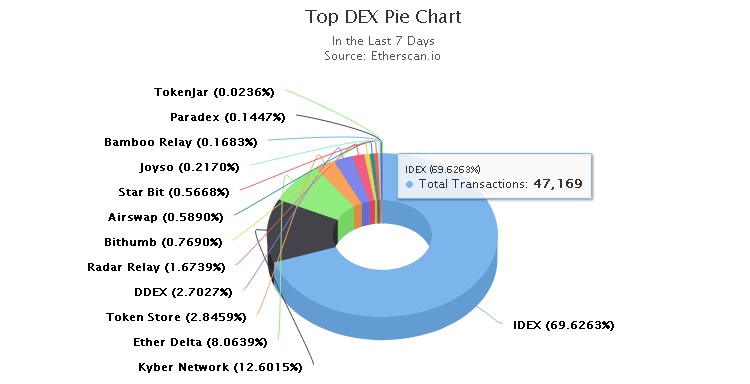 Similarly one of the most anticipated decentralized exchange projects namely Binance DEX is also far away from being decentralized. But, this is rather a choice than a trick as the CEO of Binance clearly states that it will be more centralized solution compared to other networks, so decentralization is not a priority for most projects, but it is one of the core values of OAX:
With every decision we made, it shaped the way our product evolved. And in that evolution of our DEX, we always challenged ourselves with the simple question: "Is it decentralized?"
While decentralization is a very generic term in the ecosystem, it is at the same time a multi-dimensional concept depending on the type of dapp, so it is hard for most users to understand all aspects of decentralization and for developers to provide truly decentralized projects.
You can check the article, the source of the quotation above, written by Wayland Chan, technology Director of OAX Foundation to learn more about decentralization concerning exchanges and OAX's vision.