Looking for the best decentralized exchange for Ethereum tokens with high trading volumes? According to Etherscan's DEX tracker, there are currently only 17 decentralized exchange which have been used by traders in the last 30 days. But, only few have decent trading volumes.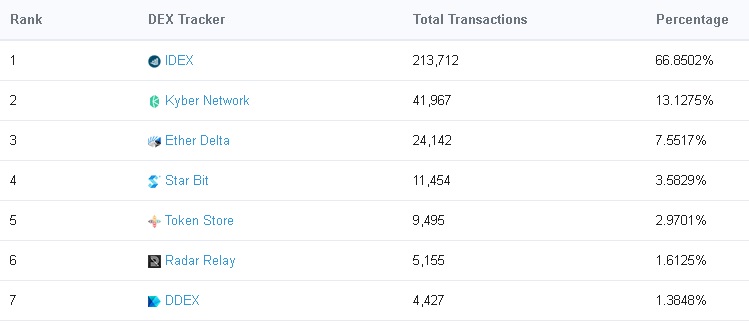 In fact, there are more than 200 Ethereum-based decentralized exchanges including protocols right now , of which around half in the development stage and half is live but not actively used.
IDEX is right now by far the most used decentralized exchange on the Ethereum blockchain, capturing 66.85% of the all transactions.
Excluding protocols allowing token swaps such as Kyber, Uniswap and Bancor which use different models and have pretty good volumes, there are only 3 classic decentralized exchange standing out in the market in terms of usage and volume: IDEX, Fork Delta (Ether Delta) and The Token Store.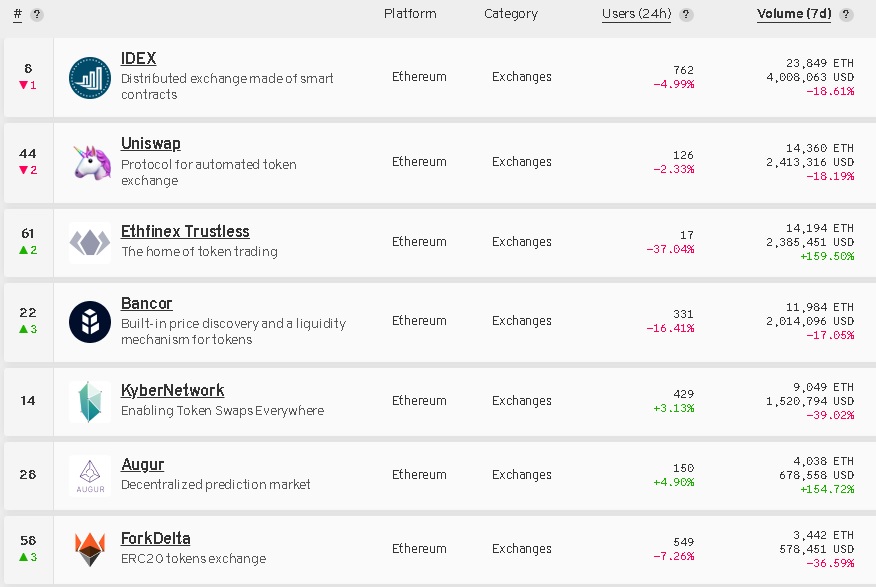 IDEX, Fork Delta and The Token Store stats
The number of active users
1- IDEX:
Daily

760

Weekly

4,257

Monthly

15,701
2- ForkDelta:
Daily

551

Weekly

2,431

Monthly

8,336
3- The Token Store:
Daily

150

Weekly

542

Monthly

1,385
Transaction volume in the last 7 days:
1- IDEX: 4,008,063 USD
2- ForkDelta: 578,451 USD
3- The Token Store: 96,143 USD
The data was taken from State of the DApps on April 16.
---
2 decentralized exchanges with relatively high liquidity
IDEX
IDEX is a hybrid, semi-decentralized exchange, controlling the settlement of signed trades to Ethereum to overcome speed problem with over 450 trading pairs. IDEX has also 2 different utility tokens: AURA and IDXM. Auro is a staking token which users can stake and earn fees collected by IDEX. IDXM, similar to BNB token, is used for reducing trading fee etc.
ForkDelta
ForkDelta is forked version of EtherDelta with improvements in the back-end and a new token listing system. It currently uses EtherDelta's original smart contract. Anyone can trade Ethereum-based tokens by creating or importing an Ethereum wallet on ForkDelta in a decentralized manner through smart contracts. ForkDelta can also be used with Ledger Nano S which is a far better option to keep private keys secure while trading.
Protocols for decentralized token swaps
Uniswap
Uniswap is a protocol and an interface for seamless exchange of Ethereum-based tokens. Many Ethereum-based tokens including stablecoins can be easily swapped on Uniswap Exchange, with a MetaMask wallet enabled on the browser. Unlike other protocols, Uniswap has no central token. The detailed explanation of the model Uniswap protocol uses can be found here.
Uniswap ranks second in the market in terms of transaction volume in the last 7 days with a volume of 2,413,316 USD.
Bancor
Bancor is a decentralized cross-chain liquidity network based on the Bancor Protocol. It allows users to convert a lot of tokens with automatic price determination and autonomous liquidity mechanisms which are powered by smart contracts. Bancor, after Uniswap, has the highest volume.
Kyber Network
Kyber enables decentralized atomic token swaps with its on-chain liquidity protocol. KyberSwap is a platform based on Kyber's protocol which you can use to swap between various ERC-20 tokens. You can connect to KyberSwap with MetaMask, Ledger and Trezor hardware wallets, keystore files and private keys.
---
To conclude, there are many Ethereum-based decentralized exchanges and protocols enabling decentralized token swaps in the market. Among Ethereum's classic DEXs with order books, IDEX can be seen as the only successful DEX on the Ethereum blockchain, which accounts for around 60-70 percent of the all transactions and is able to compete with the DEXs based on EOS and TRON.
Besides that, the protocols for decentralized token swaps using different approaches mentioned above seems to perform better than many other decentralized exchanges in terms of usage and volume.