What is Coinbase Wallet?
Coinbase Wallet is a mobile cryptocurrency wallet and Web 3 DApp browser. Users can store, send and receive supported coins and ERC-20 tokens on Coinbase Wallet.
Private keys are owned by the user and stored on their device, so Coinbase Wallet is a non-custodial wallet and users have full control over their crypto assets.
Besides being a cryptocurrency wallet, Coinbase Wallet also allows users to explore and use dapps and store crypto collectibles (non-fungible tokens) on their mobile wallets.
Most people use MetaMask to interact with dapps on their browsers. Mobile dapp browsers like Coinbase Wallet make it possible to use lots of dapps and trade collectibles on mobil devices in an easy way.
In this guide, I'll show you how to install Coinbase Wallet, and use it to explore dapps and buy & sell crypto collectibles.
If you are interested in cryptocurrency trading and use decentralized exchanges and DeFi apps, you should also check out the guide below to learn why a hardware wallet like Ledger Nano X is a must and you should get one:
How to create a Coinbase Wallet?
Firstly, you need to get Coinbase Wallet from App Store or Play Store. After installing it on your mobile device, you can easily create a Coinbase Wallet in just two steps.
Step 1 – Open Coinbase Wallet and click on create a new wallet button. You can also import a wallet with your recovery phrase. Continue to the next step by accepting terms and privacy policy.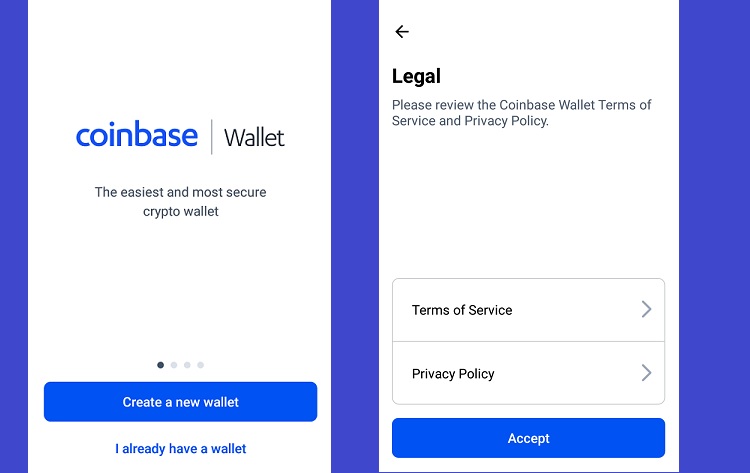 Step 2 – Pick a username and press enter to continue, then you need to choose a PIN which you will use to open your wallet and confirm transactions.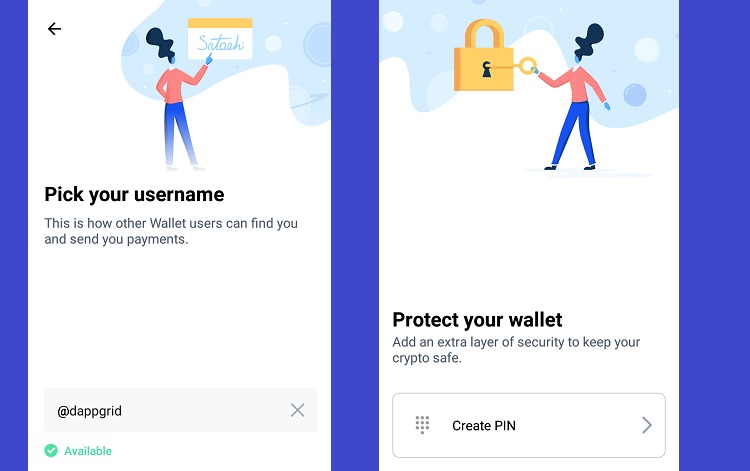 After creating the PIN for your wallet, you are done. You'll see a simple user interface where you can check your cryptocurrencies and crypto collectibles. You can simply explore many dapps including blockchain games, trading platforms, marketplaces etc. in dapps menu.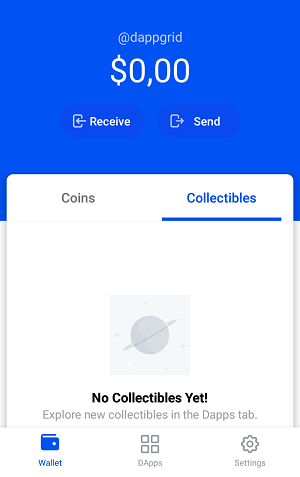 If you lose your mobile device, you need your recovery seed to restore your wallet. This is why it is important to keep it in a safe place.
Instead of keeping the recovery seed on a piece of paper which can easily be lost or damaged, you can use CRYPTOTAG as your ultimate backup solution, which is made out of titanium and designed to last a lifetime.
How to purchase a crypto collectible using Coinbase Wallet?
The first thing you need to do before exploring dapps and buying crypto collectibles is sending some ETH to your Coinbase Wallet.
You can use many ERC-20 tokens on dapps but most of the time you need ETH, which is also required to pay gas. Click on receive button and send some ETH to your Ethereum address.
After getting enough ETH, you can go to a blockchain game under DApps menu to buy a collectible asset, or you can use it on any other dapps you wish such as DeFi cryptocurrency lending apps or decentralized exchanges.
Let's purchase Gods Unchained cards from the presale by using Coinbase Wallet:
Step 1- After sending ETH to your Ethereum address, click on Gods Unchained which is listed under popular dapps and click visit godsunchained.com.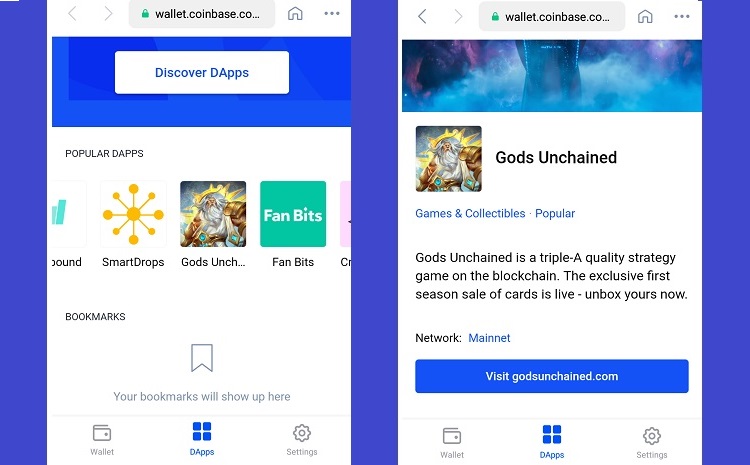 Step 2- Find the presale page on the site and click on buy now button. After that, you can select the number of pack you want to buy and purchase it.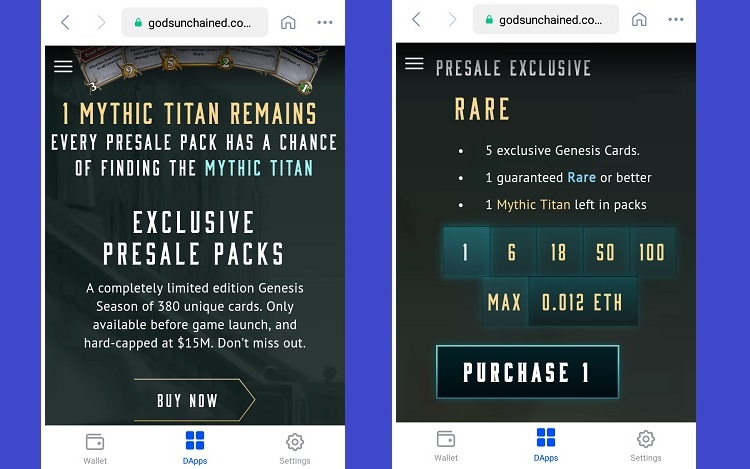 Step 3- After clicking on purchase button, you need to confirm your payment with your PIN. This step may make your mobile device laggy, we recommend waiting to see if the transaction is done before trying again.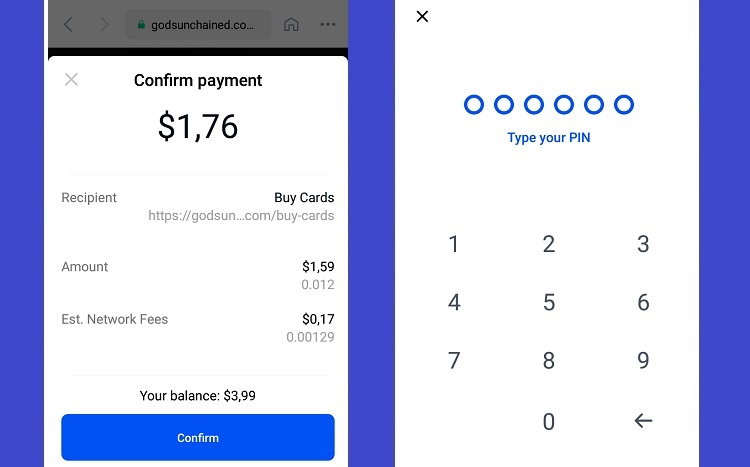 Step 4- After you confirm the payment and buy the cards, you need to convert your cards into ERC-721 tokens by activation process which you can find in the sidebar menu. That requires gas as well.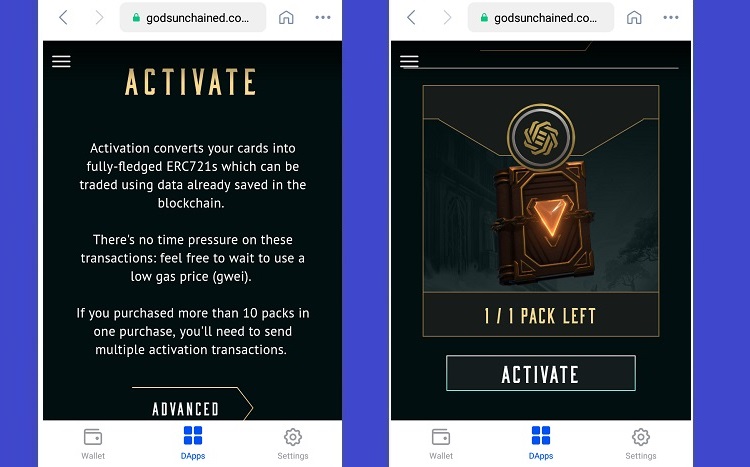 Now you can see your cards in a single gallery on your Coinbase Wallet: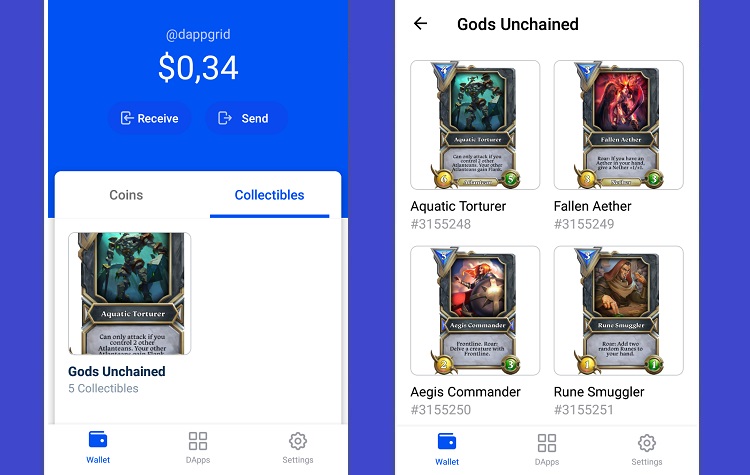 How to sell a crypto collectible?
You can sell your ERC-721 tokens on marketplaces for crypto collectibles such as OpenSea, which is the largest digital marketplace for crypto collectibles right now.
If your crypto collectible is very rare, you may not need to do anything except accepting an offer. Collectibles like those of Gods Unchained are automatically listed on OpenSea once they are born and everyone can bid on them.
To sell your crypto collectible you bought, go to OpenSea on Coinbase Wallet, which is listed under marketplaces. You can see your items by clicking "my account" and then "my items" which can be found under OpenSea icon.
There are two options for selling your items: setting a fixed price or starting an auction. You can also put a bundle of items on sale through bundle option. The good point is that listing is free, you only pay fee when your collectibles are sold.
You can also check the transactions on Etherscan and see your crypto collectibles on OpenSea simply going to the address below in your web browser:
https://opensea.io/accounts/paste your Ethereum address
For a more detailed guide about buying and selling crypto collectibles on OpenSea, you can refer to the article below. I used MetaMask in the guide below but it does not matter which wallet you use, it is pretty much the same.