BitMEX is a cryptocurrency exchange where you can trade Bitcoin with up to 100x leverage without identity verification (KYC).
BitMEX is one of the exchanges with the highest trading volume. Users can also trade other cryptocurrencies such as Ethereum and XRP on BitMEX.
Trading with leverage might seem complicated at first to those who only engage in spot trading. But, it is actually very easy, the harder part is making profit.
In this guide, you'll learn everything you need to know to trade on BitMEX: Opening long & short positions on BitMEX, BitMEX fees and funding, stop loss orders and profit / loss & liquidation calculator.
How to open a BitMEX account – Registering on BitMEX (Get a 10% fee discount)
You can open your BitMEX account with a 10% fee discount by following the steps below. You'll pay 10% less trading fees for your long and short positions on BitMEX.
First go to the BitMEX registration page by clicking the link: Register on BitMEX
Enter your email, password and first and last name. Accept the terms and click on "register".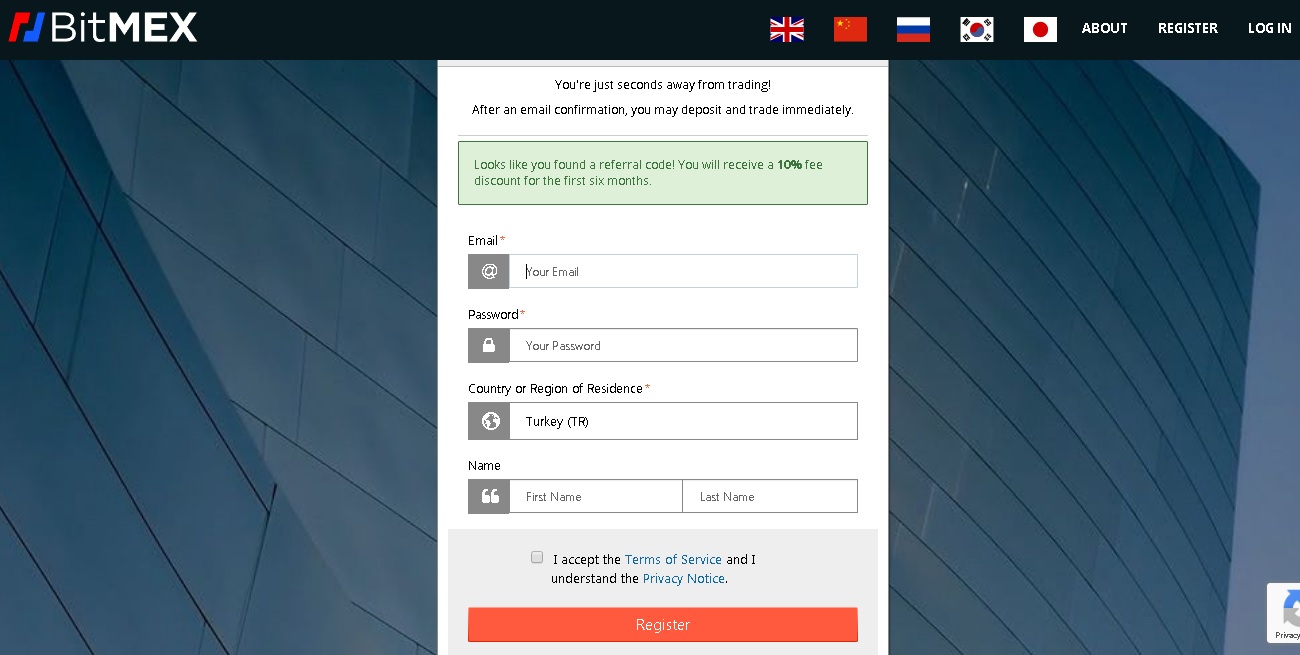 After that, click on the link sent to your email address by BitMEX to verify your email address, and you are done. You can start using BitMEX.
How to use BitMEX – Opening long & short positions on BitMEX
BitMEX only accepts Bitcoin deposits, so you first need to deposit some Bitcoin into your BitMEX account.
You can find your Bitcoin deposit address by clicking on "account" and then deposit button.
Minimum amount of Bitcoin you can deposit into your account is 0.0001 BTC. BitMEX uses XBT instead of BTC, both are same.
How to open leveraged long & short positions on BitMEX
I'll open a long position with 3x leverage. You can set your leverage using slider. As I use 3x leverage, my initial margin (cost) is 0.0018 XBT
If you think Bitcoin will rise, you need to go long, otherwise you should open short positions. Short positions allow you to make money while coins decrease in value.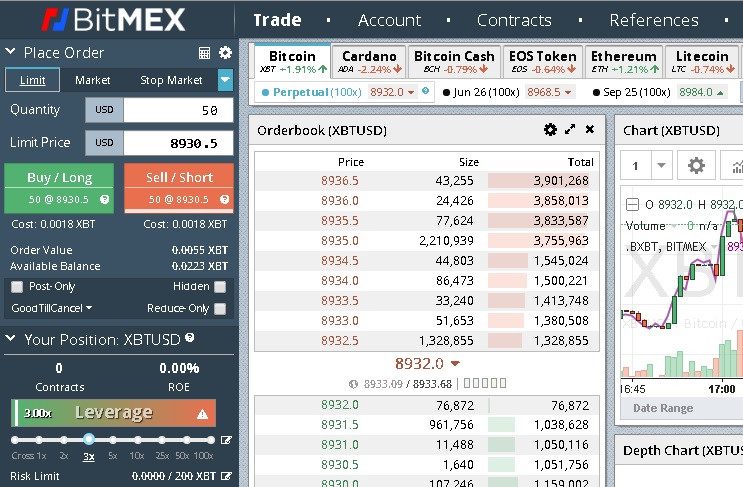 After clicking on buy / long or short / sell buttons, check out the values such as liquidation price, leverage, etc. before confirming your order: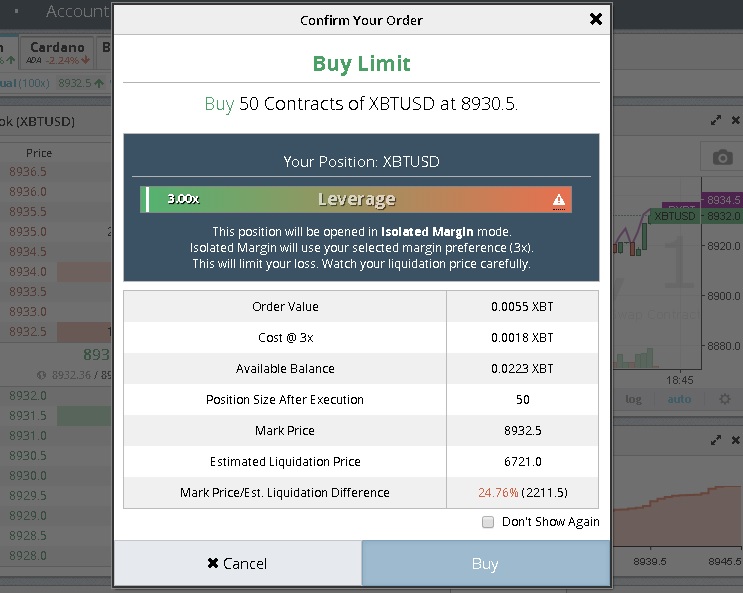 When your order is filled, you can see it under positions. Unrealised PNL shows your profit based on price changes. Liq. price refers to the price at which your positions will be liquidated.
As I opened a long positions, if things don't go as I expect and BTC will decrease, my position will be liquidated when BTC hits 6721 USD.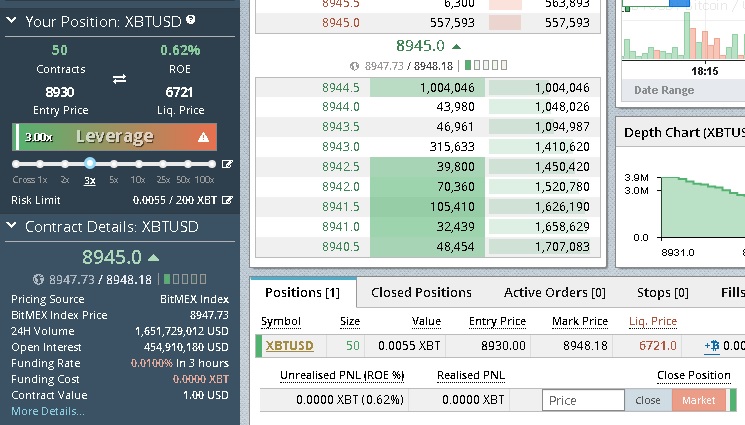 You can close your position by clicking on "market" or entering a limit price and clicking on "close".
BitMEX leverage calculator – BitMEX profit calculator
How to calculate BitMEX liquidation price
Before opening long or short positions on BitMEX, you can calculate the liquidation price of a specific order by entering values into the calculator.
In the example below, our long position with 10x leverage will be liquidated at 7300.5 USD. As the leverage is 10x, our initial margin (cost) is 2500 USD.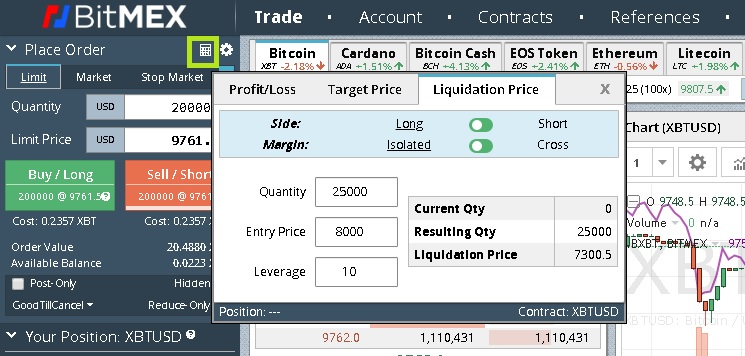 BitMEX profit / loss calculation
You can calculate your profit by entering your entry price, exit price and other values into the profit/loss section of the calculator.
It will allow you to see how much profit you can by certain price changes before actually opening a long or short position.
For the values you can see below, if we close our long position when Bitcoin rises $200 and hits $9200, we make a profit of 0.0602 BTC. Our initial margin (cost) for this position is 2500 USD and the leverage is 10x.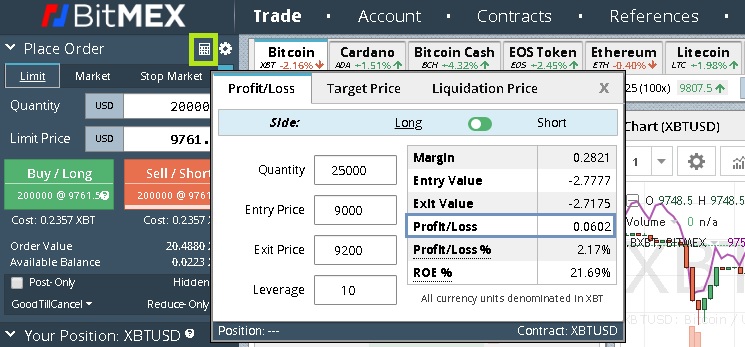 BitMEX stop limit order explained
You can incorporate stop limit and take profit limit orders into your trading habit to limit losses and have a better control of your positions.
Let's say you want to go long or short only when Bitcoin hits a certain price, then you can open a stop limit order instead of regular limit order.
In the example below, when Bitcoin hits 10.000 USD, the order will be activated and put on the market. And, the order will be filled at 10.025 USD (limit price).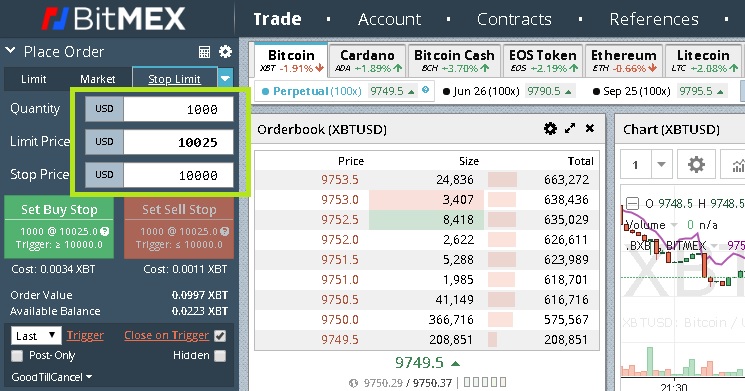 If you already have a long or short position, you can open a stop limit order to sell or buy at certain prices to minimize losses.
BitMEX take profit limit order explained
You can use take profit limit order to take profit from your positions when a certain price is reached. You need to set a trigger price and a limit price at which you want to buy or sell.
Our take profit limit order will be activated at 14.000 USD in the example below: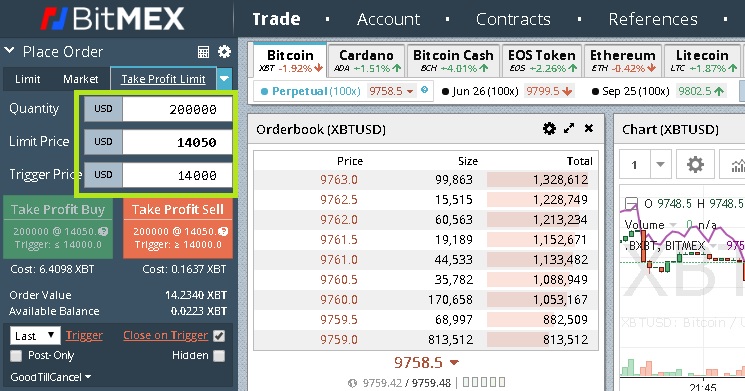 BitMEX trading fees
The trading fees on BitMEX for Bitcoin, Ethereum and Ripple is -0.0250%, and 0.0750% for makers and takers respectively.
Negative fee rate means that BitMEX will pay you for market making orders which provides liquidity to the exchange.
For further information about BitMEX fees, you can refer to this page.
BitMEX funding rate
Funding is exchanged between users and take place every 8 hours. BitMEX just like Binance Futures does not get any fees from this payment.
If the funding rate is positive, those who have long positions pay those who have short positions. If the funding rate is negative, the opposite happens.
You can see funding transactions in your trade history.
BitMEX deposit & withdrawal fees
BitMEX does not charge any fees on Bitcoin deposits or withdrawals. When withdrawing Bitcoin from your BitMEX account, you need to pay a transaction fee, which is paid to miners.
Bitcoin withrawals are processed manually by BitMEX once a day for security purposes.
You can also trade Bitcoin and other cryptocurrencies with leverage on Binance. Binance Futures allows users to open Bitcoin positions with up to 125x leverage. Check out the Binance Futures guide: