1inch is an exchange and a protocol that splits orders across more than 90 liquidity sources to get users better rates.
You can use 1inch to get better rates when swapping tokens on Ethereum, BSC, Polygon and various other networks.
The platform is available on various blockchain networks and supports many crypto wallets such as MetaMask, Ledger, MEW, Trust Wallet and Coinbase Wallet.
1inch fees explained
1inch is an exchange that makes use of more than 90 liquidity sources including its own, 1inch Liquidity Protocol, to get you better rates when you make a swap on the platform.
1inch Liquidity Protocol has a swap fee of 0.30%.
But it does not mean that you will be charged a 0.30% fee when you make a swap on 1inch Exchange.
Because your swap orders can be completed through any of the supported liquidity sources such as 1inch LP, Uniswap, Balancer, Curve and Bancor or split across more than one liquidity source.
So how much swap fee you will be charged when you make a swap on 1inch actually depends on liquidity protocols from which liquidity is sourced for your trade.
Liquidity protocols (decentralized exchanges) usually have trading fees that can range from 0.01% to 1%.
But the good thing is that the swap fee is already included in the price / exchange rate. So there are no hidden fees or extra calculations need to be done by you.
Imagine you make a relatively small swap on 1inch such as swapping 1 ETH to USDC as shown below: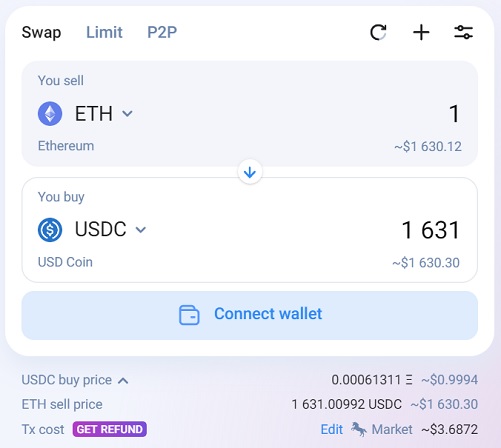 For a small trade like this, usually only one liquidity source is used which you can see under routing or by clicking "route".

The swap fee is already included in the rate and 1inch tries to get the best rate across many liquidity sources. So you don't need to worry about the swap fee.
1inch gas fees explained
When making a swap on 1inch, you can click "tx cost" and adjust the gas fee as you wish.
You can leave it at "market" or change it to "aggressive" if you want your swap to be completed faster.
Or you can select "custom" and increase the gas price (max base fee) and also include a tip (on top of the gas fee) for miners (miner priority fee) to prioritize your swap.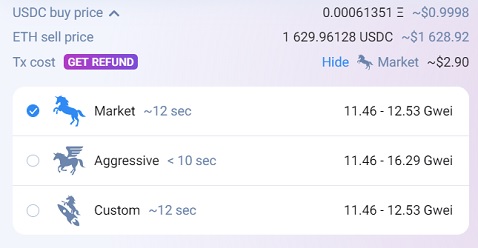 If you are just making a small, regular swap, you don't need to change it, just leave it at the "market" gas price.
1inch staking gas refund
If you regularly use 1inch to swap tokens, you can also consider staking 1INCH token on the platform to receive 1INCH tokens as gas refund.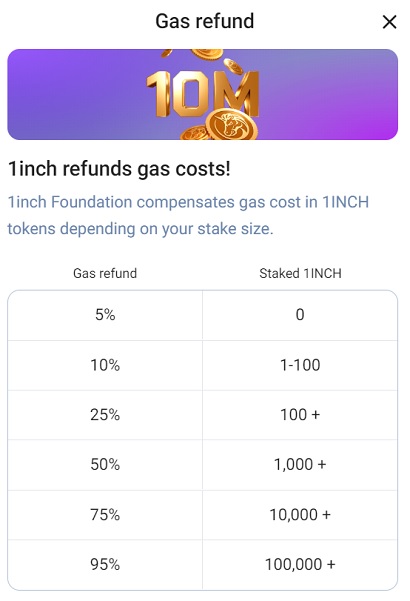 To get monthly gas refunds in 1INCH, go to the staking page under the DAO menu on 1inch, and stake your 1INCH tokens.
1inch Exchange benefits
When you make large swaps on 1inch, your order can be split between multiple liquidity sources to get the best possible rate:

Imagine you make a really large swap such as 150 WBTC to ETH, the routing can be this complex below.
This routing for the extremely large trade saves a trader around 10,000 USD (7 ETH) compared to making the same swap on Uniswap.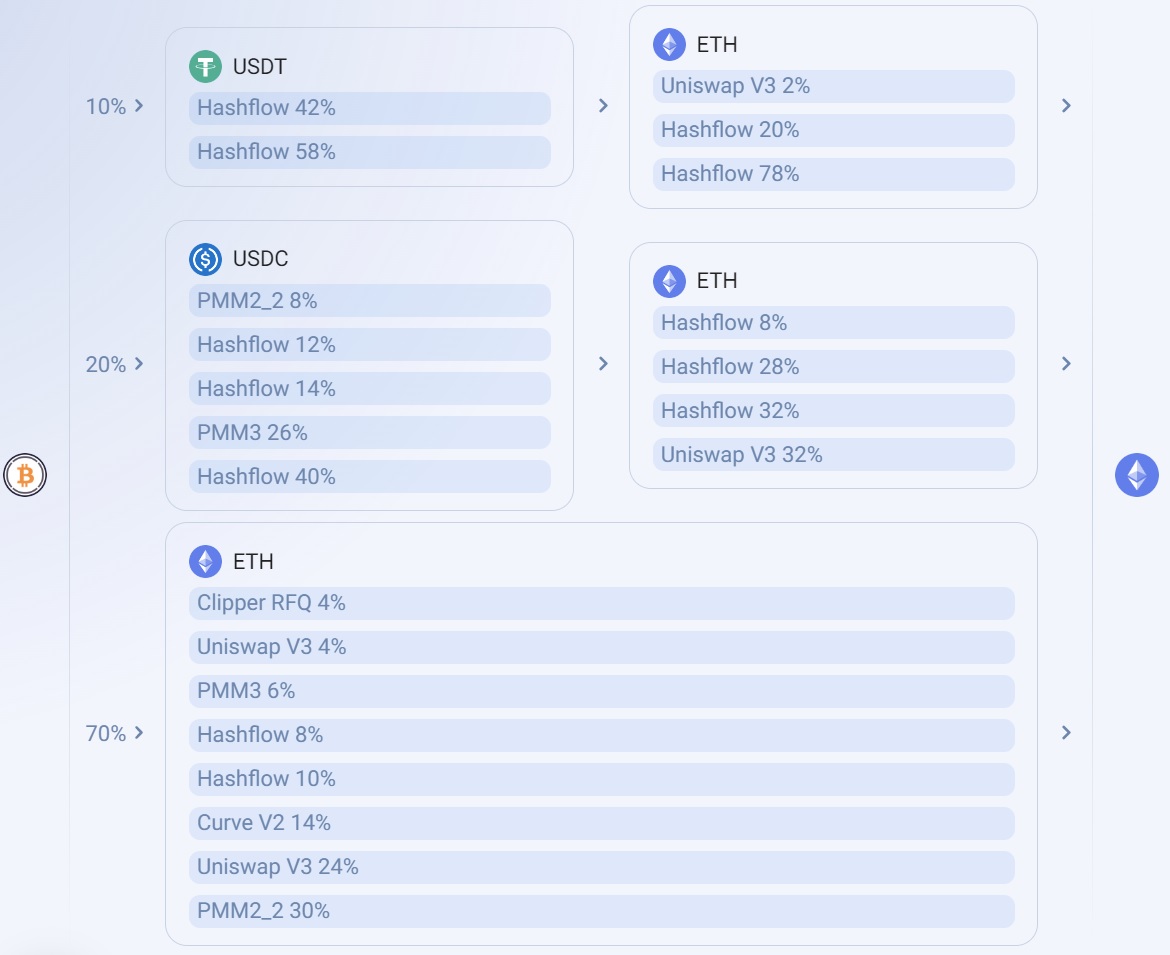 1inch is a very useful platform especially for large swaps.
If you rather make small swaps, you can also always check 1inch to see if it offers better rates even if you use a different decentralized exchange.
1inch fees vs Uniswap vs PancakeSwap
1inch Liquidity Protocol fee: 0.30%
1inch DEX aggregator fee: No extra fee is charged by 1inch. Fees depend on liquidity sources and are already included in the price.
Uniswap fee: 0.01%, 0.05%, 0.30% or 1.00% depending on the pair.
PancakeSwap fee: 0.25%
1inch is a DEX (decentralized exchange) aggregator, so you can be charged varying fees depending on liquidity sources from which liquidity is sourced.
As the fee is already included in the price, you should rather check the exchange rate to see if 1inch offers you a much better rate.
If 1inch can find you a better price, you can use 1inch to make a swap instead of using other decentralized exchanges.
When you want to make a small swap, 1inch may give you a price from a popular exchange such as Uniswap and PancakeSwap, or may not offer a significantly better price even if it sources liquidity from a different exchange.
In that case, you can just use the exchange that you already use whether it is Uniswap, PancakeSwap or 1inch itself.
For small swaps, you may just check 1inch to see if and which liquidity source offers a significantly better price.
For large swaps, you should definitely check and use 1inch as it can offer much better prices and save you a lot of money.
In terms of fees, sometimes using centralized exchanges could be much better. Check out our tutorials below to learn how to use and trade on Binance, Kraken and BitMEX:
Do you have any questions about 1inch fees? Leave a comment below.