BetFury is one of the most popular TRON-based gambling dapps. The platform has over 1000 games and offer users dividends in BTC, TRX, USDT and BTT as well as up to 25% cashback.
In this review, I'll show you how to play on BetFury and give you information about BetFury dividends and cashback model.
What is BetFury?
BetFury is a gambling dapp based on the TRON blockchain with 1000+ games. It is currently one of the most popular gambling dapps.
Just like many other gambling dapps such as 888TRON and RocketGame, BetFury has its own token called BFG which can be held by users to receive dividends in BTC, TRX, USDT and BTT.
BetFury differs from other gambling dapps in that it pays dividends also in Bitcoin. You can take advantage of BTC, TRX, USDT and BTT dividend pools by playing on the platform.
Is BetFury legit?
The TRON casino, BetFury, is not licensed yet. According to BetFury's roadmap, the platform plans to get a Curacao iGaming license in Q4 2020.
Update: BetFury now holds a Curacao license and is authorized by the Government of Curacao to conduct gaming operations for all games of chance and wagering.
BetFury is one of the most popular TRON casinos right now. Also, there are no red flags regarding the platform and complaints from users other than simple issues.
You can check out its topic on Bitcoin Forum and Telegram channel to have a better idea of the platform and connect with the community.
As gambling might be quite addictive and risky, you should play on the platform with caution. You can also refer to this page to learn about the fairness on BetFury.
BetFury supported wallets
BetFury supports TronLink, the most popular TRON wallet available in the Chrome Web Store as a browser extension.
After logging in to your TronLink wallet on your browser, you can go to the platform and login with your wallet by clicking "TronWallet".
You can also create an account on BetFury and start using the platform with your account instead of your TronLink wallet.
Besides TronLink, other wallets such as MetaMask can also be used to login with the on the platform.
BetFury dividends
For your every bet on slots on BetFury, you'll earn BFG tokens.
BetFury distributes 3% of the total profit on the platform for every cryptocurrency to those who hold BFG tokens while the rest is accumulated for the next day which ensures the stability of payments.
The minimum amount required to start receiving dividends is 10 BFG. The current mining prices can be seen in the image below.

BetFury cashback model
The platform also offers cashback to users for lost bets paid twice a week with the rate ranging from 2% to 25% depending on your rank.
Your rank on the platform increases as you play. For example, a user with 20 BTC wagered in total receives a 10% cashback. You can check out the further details on the platform.
How to play on BetFury?
There are a lot of games on BetFury. You can play BetFury's in-house games, slots, table games and live casino games.
If you want to take advantage of the dividends model, you should rather stick to in-house and slot games. Table games and live games have no mining feature.
To start playing, first log in to your TronLink wallet and then go to BetFury. After logging in to the platform with your wallet, you can deposit TRX, BTT and USDT from your wallet into the platform. You can also deposit BTC into your account.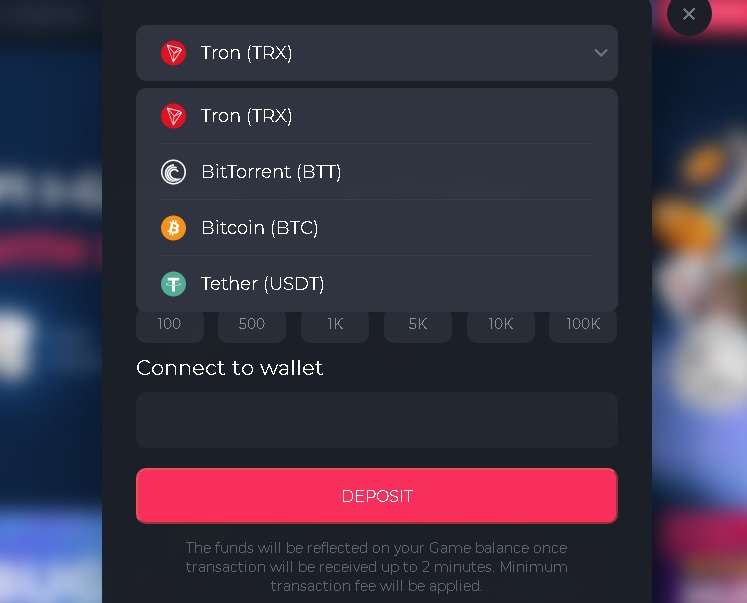 After depositing cryptocurrencies into your account, click "all games" to check out the games on the platform and start playing.
There are a great variety of games on BetFury. For example, this is how the classic game of gambling dapps "dice" looks like on BetFury: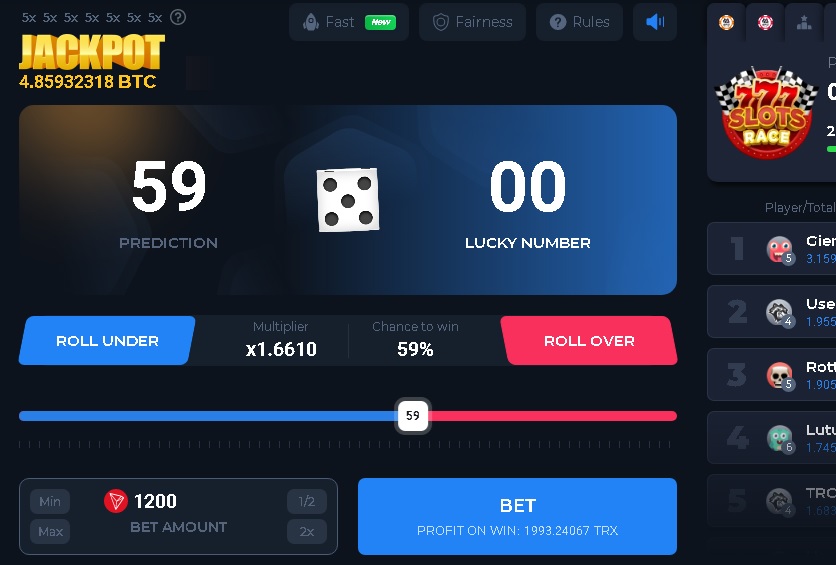 Check out other gambling dapp reviews: